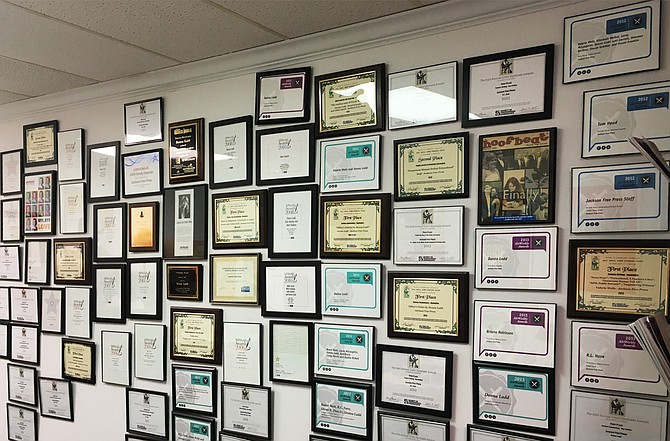 Due to questions from non-journalists on how the journalism awards process works each year, here's a primer. Every year, Jackson Free Press editor-in-chief Donna Ladd chooses a wide selection of the newspaper's best work to submit for awards in a variety of contests. Each individual entry requires a fee, ranging from $10 to $75 depending on the contest, and we work within a budget set by Publisher Todd Stauffer each year that must cover all contests. (It's a tedious process.) Because of the typical high quality of JFP work, we cannot afford to put up all of our journalism for awards, and we only put up work we feel confident can and should win a category. Ladd selects work by multiple writers based on her own experience with contests and understanding of the kinds of work appropriate for various categories and with input from current and past writers who reach out with suggestions/lists of work they and other members of the team did for various categories. Although we win a lot of awards typically, not all the work we believe should win, or that is put up, ends up winning, so cheers to the winners from the JFP and other outlets that won awards.
Due to the limited budget and to honor our team approach to beats and journalism, Ladd prioritizes collaborative work by teams, which often win special awards, such as the team work this year on police shootings and the gang law. Individual awards are the second priority, and she favors the best-written and -reported work of current and past writers (including interns and freelance) based on the followed criteria: (1) greatest community impact, (2) most enterprising reporting and solutions-driven content, and for drafts turned in (3) on deadline and (4) that did not require significant editing or rewrite by anyone other than the writer before final draft (an ethical consideration as well).
Community-service prizes, of which the JFP has won many over the years, typically honor collaborations of breaking news reports, cover stories, investigative work, editorials and columns (often by freelancers as well, such as when a large team won for our work on the failed Personhood amendment), and they typically include work outside the calendar year.
Work by individual staffers who left without notice, did not return the Jackson Free Press' work product (notes, recordings, files, etc.) for their staff work and did not respond to messages during the contest period is the lowest priority for award submission, although those writers are certainly included in collaborative entries.
Several of the contests are open to freelance writers who wish to submit and pay fees for their own additional work to be considered, which is a common practice at news outlets for entries a publication cannot afford to submit. This newspaper does, and is happy to, coordinate with freelance or former writers to avoid overlap in content entries if they reach out or keep up communications, including returning messages during the contest period.
More stories by this author
Support our reporting -- Follow the MFP.