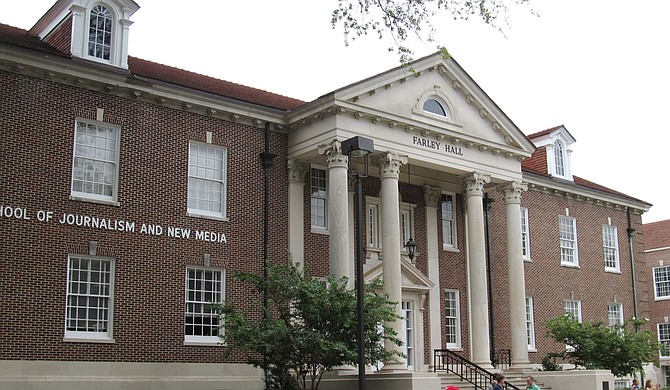 JACKSON — Ed Meek, the man whose $5.3-million donation in 2009 cemented him as the namesake of the Meek School of Journalism and New Media at the University of Mississippi, requested over the weekend that his name be removed from the school. His Sept. 22 announcement came just 24 hours after UM's faculty at the journalism school released a statement giving him three days to request his name be removed. They also invited Meek "to be part of a conversation about charting a path forward that speaks to our core values and should guide our future relationships with all constituents."
This decision follows controversy around Meek's now-deleted Sept. 19 Facebook post of two black women attached to a post criticizing Oxford's plummeting property values and rising crime.
"I have asked the University of Mississippi to remove my name from the School of Journalism and New Media," Meek wrote on Facebook. "This past week I made a post on Facebook that reflected poorly on myself, the School and our University. It was never my intention to cast the problems our community faces as a racial issue. I do not believe that to be the case. I heartily apologize to all I have offended. I particularly apologize to those depicted in the photographs I posted. I was wrong to post them and regret that I did so."
He added: "I have spent my life in service to the Oxford-University community and have prided myself that I was a proponent of integration and diversity at all times. I helped to transform the Department of Journalism into a School because of my passion for a free press, free speech, and an independent student media. My desire then and now is for the School of Journalism to be a global leader in Journalism education. I recognize that the attachment of my name to the School of Journalism is no longer in the best interest of that vision. I love Ole Miss too much to be one who inhibits the University and the School from reaching the highest potential and it is with that in mind that I make this request."
UM Chancellor Jeffrey S. Vitter issued a statement the evening of Sept. 22, following Meek's announcement, thanking the Meek family for their ongoing and permanent contributions to the university.
"While his request tonight to remove his name from the Meek School of Journalism and New Media was made selflessly to permit the university to move forward, it is nonetheless regrettable and poignant," Vitter wrote. "A primary hallmark of leadership is the willingness to sacrifice personal gain for the betterment of the whole. We commend the Meek family for their heartfelt response to the concerns of the UM community."
The name-change process was set in motion following outrage from past and present UM students, including the women captured in Meek's Facebook post. Mahoghany Jordan, a UM senior, responded to Meek in an editorial at the Daily Mississippian.
"In closing, I relinquish being over-sexualized, scapegoated and invalidated by anyone. I deserve to feel secure in my skin on this campus and in this town just as my counterparts do and I will continue to carry on as such," she wrote.
With more than 2,800 signatures, the Change.org petition requesting Meek's name to be removed from the school is now closed, claiming victory.
Vitter's open letter from Sept. 21 said the name change will be the first of a two-pronged process to address students' concerns. The chancellor outlined the lengthy process in his letter.
The faculty committee of the academic unit must approve a recommendation to make a name change. Pending that approval, the undergraduate and graduate councils, comprised of faculty across the university and one voting student on each council, will also have to consider the name change. That decision would go to the Council of Academic Administrators before ultimately going to Vitter, "who would decide whether to make a request to the IHL Board for consideration and a final vote."
Vitter's letter also addresses a sometimes unwelcoming environment he said students pointed out at a Sept. 20 listening session following Meek's Facebook post. In response, the second, "longer-term" prong involves the vice chancellor for diversity and community engagement, Kristina Caldwell, leading an "expedited acquisition of additional feedback and consideration of new actions and strategies to address concerns around university and community climate."

At last week's listening session, The Daily Mississippian reported that both Jordan and Ki'yona Crawford, the other woman in Meek's post, aired their grievances.
"Meek has put a crack in my foundation," Jordan said at the forum. "Am I really accepted? Am I protected? I can't give you a wholehearted 'yes' anymore. I really can't, and that's sad to say."
"When I first saw the post, I was confused as to why our pictures were being shown—and only our two pictures," Crawford said. "And then I critiqued his statement. He said something about the drop in enrollment rate, and he said something about the property values decreasing. And I'm sitting here like ... is he trying to imply that we're prostitutes? Like what is he trying to imply?"
Vitter closed his letter thanking the students from the listening sessions for sharing emotional comments and perspectives that will help move the university forward.
"I want to close by reiterating my thanks to the students who shared many emotional comments and perspectives at last night's listening sessions," Vitter wrote. "Your willingness to step forward and discuss how this week's events affected you in a frank and civil manner reflected the best of what we want for our university. It is the constructive way for families to deal with the tough stuff in life, and it's how our university family will address these issues going forward."
Meek was also the founder and publisher of HottyToddy.com, a local website in Oxford that pledged to give all proceeds to the journalism school. The Clarion-Ledger reported that the board of HottyToddy.com, which includes representatives from the journalism school, gave the website to the university within the last two weeks.
Email city reporter Ko Bragg at [email protected].
Support our reporting -- Follow the MFP.