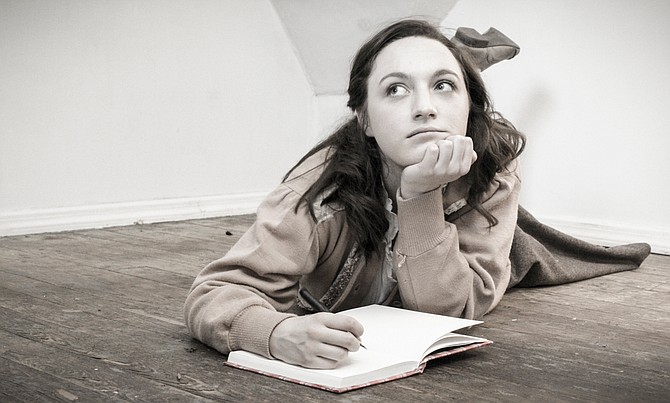 Numerous conversations filled the air at New Stage Theatre's rehearsal space, as the actors in "The Diary of Anne Frank" talked during a 10-minute break. After the sound of classical music came out of a small boombox, the actors quieted down.
"Saturday, January 1, 1944," actress Elizabeth Thiel said. "Another new year has begun, and we're in the middle of the great terror known as winter. We've been here one year, five months and 25 days. We're all thinner, paler and a lot hungrier. We've been plagued by medical problems. Someone's always suffering from something, and although we can't call a doctor, our favorite dentist is never far away."
Thiel stars in the theater's production as Annelies "Anne" Marie Frank, a young Jewish girl who went into hiding in a hidden annex with her family during the Nazi occupation of the Netherlands. During that time, she documented her thoughts and living conditions in her diary, which was published in 1947, two years after her death in the Bergen-Belsen concentration camp.
For Thiel, the most challenging part of her role is playing Frank not just as a teenage girl but as who she was, she told the Jackson Free Press.
"Luckily, we all have her diary, so if I have a question about something, I can literally go look up exactly what she thought about it," she said. "... It's essential research. It's her heart on paper."
"The Diary of Anne Frank" is part of New Stage Theatre's 53rd season, the theme of which is "The Power of Place." Artistic Director Francine Reynolds said she came up with the idea when she noticed a connection between many of the plays this season, including "A Christmas Carol," "Sweet Potato Queens" and "Sweat."
"All of them seemed to have something to do with home and horizons and finding a place and sense of place with the southern shows in the season ... characters finding their places or seeking their places or defining their place, or relating to their place," she said.
Eventually, she and Ginny Holladay Jessee, a marketing associate for New Stage, came up with the phrase, "The Power of Place." While it may not share the southern setting of some other productions, "The Diary of Anne Frank" also fits that description in its own way, Reynolds said.
"I think, with 'The Diary of Anne Frank,' what I keep saying is that her diary in real life created or solidified her place in enduring history because what is actually a great piece of literature has become like the embodiment of hope and humanity," she said. "Without this dairy, we wouldn't have this look at the Holocaust. We'd have other looks. We have a lot of looks, but this was the look of the Holocaust through two years of writing by a young girl from age 13 to 15."
The day after German police arrested the Franks and van Pels, Miep Gies, one of the Dutch citizens who helped hide the family, went back to the secret annex and gathered all of Frank's papers. She kept them safe until Otto Frank, Anne's father and the lone survivor of the group that had been transported to concentration camps, returned from Auschwitz. He made the first transcription of her diary for friends and relatives in Switzerland, who convinced him to submit for publication. Since then, "The Diary of Anne Frank" has been published in more than 60 countries and 70 languages, and sold more than 25 million copies.
Frances Goodrich and Albert Hackett adapted the first version of Frank's memoir for the stage in the 1950s, and it premiered at Cort Theatre in New York City in 1955. Playwright and actor Wendy Kesselman wrote the 1997 Tony Award-winning revision of the play, which New Stage is adapting for its production.
Hayden Schubert, who portrays Peter Van Daan in New Stage's production, said playing a character who was a real person is more complex than playing a fictional one.
"You're really representing their stories," he said. "It's not just a character that was created out of thin air. It was a person who lived and breathed, and so you really want to make sure that you are keeping true to who they were. Something I like to keep in mind is, if they were sitting in the audience, would they be proud of the performance? Would they like the representation that we're giving?"
Emily Wright, who plays Anne's mother, Edith Frank, is a teacher at Northwest Rankin Middle School. She said that for the past few years, students have not read "The Diary of Anne Frank," instead reading newer books such as "Night" by Elie Viesel or "The Boy in the Striped Pajamas" by John Boyne.
"We don't want to forget her story," Wright said. "It's really nice to remind people of her."
"There are so few historical accounts and particularly war stories told by young people, and told by women," Thiel said, "and here, we have a young girl giving nothing but a personal account of herself and her family. I would really hate to see that disappear from the canon. ... There's room for all of them. As long as we're talking about it, let's talk about it from these different perspectives."
Schubert said it is important to tell stories like Frank's so the next generation will know about them.
"These historic plays really don't get done often enough," he said. "As beautiful as fiction is, there are still stories that need to be told. No matter what, they should always be told."
In the wake of events such as the "Unite the Right" rally in Charlotte, N.C., in 2017, Reynolds said she wants people to know what was actually happening in Nazi-occupied Germany, as opposed to what society is telling people now.
Despite the tragic end to Frank's life, Reynolds said that one undeniable thing about "The Diary of Anne Frank" is the message of hope and faith in humanity that it gives, even in the midst of tragedy and turmoil.
"There was a person and people who had great courage and great faith in humanity, and great hope," she said. "... The play itself is sad, but the thing that is illuminating about the play is that people can, under extreme circumstances, still have hope in humanity."
One of Anne's last entries in her diary was on July 15, 1944. She wrote: "It's really a wonder that I haven't dropped all my ideals, because they seem so absurd and impossible to carry out. Yet I keep them, because in spite of everything I still believe that people are really good at heart."
"The Diary of Anne Frank" is at New Stage Theatre (1100 Carlisle St.) from Oct. 23 to Nov. 4. Showtimes are Tuesdays through Saturdays at 7:30 p.m. and Sundays at 2 p.m. Tickets are $30 per person, and $25 for seniors, students and military.
New Stage will host panel discussion "Anti-Semitism: The Holocaust and Today" on Wednesday, Oct. 24, at 6:30 p.m., with Aaron Ahlquist, the director of the Anti-Defamation League South Central Region. On Thursday, Oct. 25, at 4:30 p.m., New Stage will have its annual Teacher Preview event, where local educators can preview the season's touring shows and then watch "The Diary of Anne Frank" at 7:30 p.m. For Youth Night that evening, participants ages 18 and under can reserve tickets in advance for $10. On Oct. 23, Oct. 25, Oct. 27, Nov. 1 and Nov. 3 at 6:45 p.m., students from the New Stage's Youth Acting Troupe will also perform a short scene from Michael Slade's "And a Child Shall Lead."
For more information, visit newstagetheatre.com.
More stories by this author
Support our reporting -- Follow the MFP.