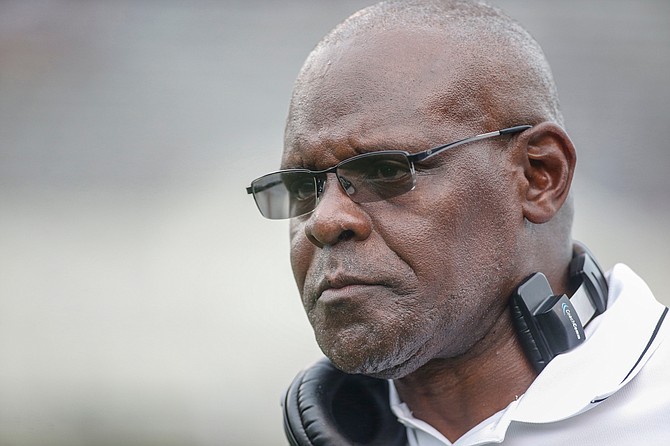 Tony Hughes has not found a quick fix for the Jackson State University football program since becoming the 19th head coach in school history in December 2015.
Hughes, a former assistant coach at MSU, earned his first victory as a head coach with a 32-20 win against the University of Arkansas at Pine Bluff on Sept. 24, 2016. He earned his first two-game winning streak the next week when the Tigers beat Mississippi Valley State University 16-14.
Jackson State picked up just one more win in Hughes' inaugural season, defeating Texas Southern University 21-13 on Oct. 22, 2016, and then closed out the year with four straight losses. It was a rough start for Hughes, who went 3-8 overall and 3-6 in Southwestern Athletic Conference play.
Year two started out with the program nearly hitting rock bottom, as the Tigers lost their first seven games. Jackson State earned the first win of the 2017 season with a 24-6 win over Mississippi Valley State on Oct. 28; however, the Tigers could not sustain the momentum the next week and lost to Alabama State University.
Hughes led the Tigers to back-to-back wins for the second time under his guidance with a 10-7 victory over Alabama A&M University on Nov. 11 and a 7-3 upset over Alcorn State University on Nov. 18 to end the season. The Tigers finished with another 3-8 record and a 3-5 record in SWAC play.
Coming into the 2018 season, Hughes was sitting at a 6-16 overall record and 6-11 SWAC record, and Jackson State was hoping for better results after three consecutive 3-8 seasons.
Jackson State has not posted a winning record since 2013, when the team went 8-4 and played in its second straight SWAC Football Championship Game. The Tigers finished the 2014 season with a slightly better 5-7 record, but that still began the team's four-year losing streak. The JSU program is still trying to rebound after surprisingly parting ways with head coach Rick Comegy.
Hughes spent his first two seasons at JSU laying a foundation for the future. It looks like he is ready to continue to build on that in 2018 with signs of improvement, especially on the defensive side of the ball.
The Tigers were outmatched in the season opener against the University of Southern Mississippi on Sept. 1, losing 7-55, but they have played much better in their other four games.
Discounting the USM game, Jackson State is allowing an average of only 17.8 points per game on defense. In contrast, the Tigers gave up an average of 31.3 during four similar games last season. Currently, JSU has a 3-2 record, and the last time the it managed that was in 2015.
The Tigers are learning to win close games this season. They beat Florida A&M University 18-16 on Sept. 15 and came from behind to defeat the University of Arkansas at Pine Bluff 30-27 on Oct. 6.
Hughes and the Tigers are also learning to play all four quarters. On Sept. 29, Jackson State built a 16-0 lead over Alabama A&M University before they were unable to keep up the fight. The Bulldogs overcame the deficit for a 21-16 win.
The evolution of Hughes' program continues after the Tigers' 23-7 win over Mississippi Valley State—their first homecoming victory since 2015. After defeating Arkansas-Pine Bluff and the Delta Devils in back-to-back weeks, the Tigers will next need to learn how to handle success.
JSU steps out of conference to battle the University of North Alabama at home on Oct. 20. The Tigers will be looking for their first three-game winning streak since 2013. North Alabama is moving from Division II to the Football Championship Subdivision but has had a fairly successful season thus far. The Lions currently have a 4-3 record.
This game will give Hughes a chance to capitalize on the success of the early season. A victory can set JSU up for a strong run in the team's final four SWAC games. Everything the program and fans want will be in front of the Tigers.
Currently, Hughes has his squad in second place in the SWAC East behind Alcorn State University. JSU will travel to Southern University on Oct. 27 before hosting Prairie View A&M University on Nov. 3. Jackson State will then finish the season on the road against Alabama State University on Nov. 10 and Alcorn State University on Nov. 17.
But first, Hughes and the Tigers will have to tame the Lions this Saturday at Veterans Memorial Stadium. The kickoff will be at 2 p.m.
More stories by this author
Support our reporting -- Follow the MFP.