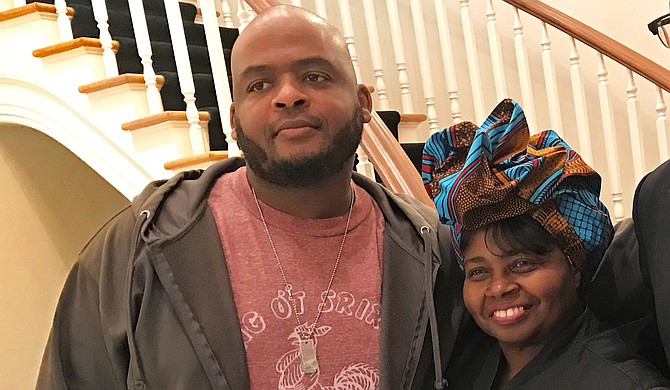 JACKSON — Mayor Chokwe Antar Lumumba continued a trend of honoring homegrown authors when he delivered a proclamation to Jackson native Kiese Laymon for his writing this morning.
Laymon is the Ottilie Schillig Professor of English and Creative Writing at the University of Mississippi. He recently released his memoir, "Heavy: An American Memoir," about "growing up a hard-headed black son to a complicated and brilliant black mother in Jackson, Mississippi," as his website describes the work. This book joins his expanding collection of works that include critically acclaimed essays and a novel.
"I just would like to express my gratitude for Kiese joining us today," the mayor said at the podium in the council chambers. "I'd like to express my gratitude for his tremendous work. We really don't focus on the tremendous talent that Jackson has given birth to—all of these great literary geniuses—and so I'm happy to have Kiese standing with us because he falls in line with that. This is a homegrown author who has nationally and world-renowned writings that have been recognized."
Laymon told the Jackson Free Press that the honor made him feel overwhelmed, happy and thankful.
"My book is about Jackson, so just the fact that folks from Jackson would appreciate and really love me in anticipation of the book just says everything," Laymon said.
Laymon grew up in Jackson, but left after getting kicked out of Millsaps College when he was 19 years old. He says he came back within the last three years and appreciates being honored, but believes the real credit should go to those Jacksonians who never left.
"I think it's important to honor people who come back, but to really, really, really honor people like my aunt who stayed here and fought and made a way for a lot of people who wouldn't have had a way," Laymon told the Jackson Free Press.
Laymon's aunt, Carolyn Coleman, stood beside him as he received the honor from Lumumba. Coleman is a local pastor whom many council members thanked more profusely than Laymon. She said before the council that she appreciated that God had placed Laymon in her life and allowed him to take his own route "and trust that what was in him was so great that the world would want to see it."
Laymon credits his aunt, along with the other women in his life including his mother and his grandmother, for raising him to believe that "radical art necessitates radical politicians."
"Everywhere I go in this nation, and in this world, everybody is asking me about Jackson and about Antar and about our city," Laymon said in council chambers. "I hope we can continue to artfully, critically assess our City, and I hope we continue to love our own."
Laymon told the Jackson Free Press that he believes Lumumba's leadership and his charge to become the most radical city in the world has given the city more renown that trickles down to the people that live here.
"Now when I talk about Mississippi, they ask about Jackson, and they talk about it as potentially one of the most radical, liberated cities in the country," he told the JFP. "It's a place that I think a lot of people are really proud to be from. We should have always been proud to be from here, but I think the leadership now makes us doubly proud."
Email city reporter Ko Bragg at [email protected].
Support our reporting -- Follow the MFP.