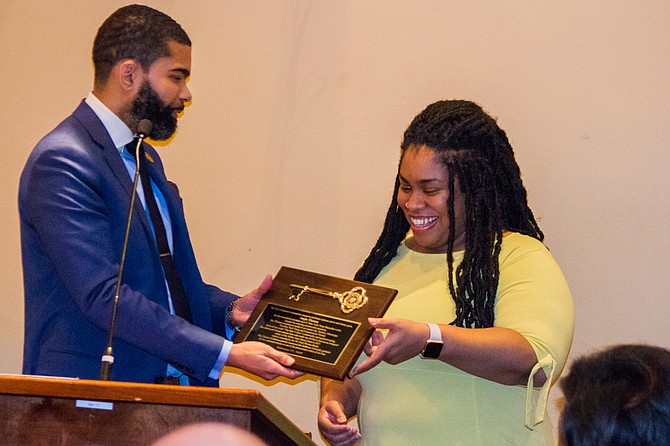 JACKSON — Angie Thomas was 6 years-old when she was caught in the crossfire of a shootout in Georgetown, the Jackson neighborhood where she grew up. Her mother, Julia Thomas, could not get to her at the time and prayed her daughter would be safe.
The little girl got onto her bicycle and rode up the street where they reunited, both unharmed. The pair went straight to the library after that because the mother wanted to show her daughter that there was more to the world outside Georgetown like bigger houses and endless possibilities. Angie said this moment changed her life.
"Your neighborhood is just where you lay your head to sleep at night," Julia said Feb. 27 after Mayor Chokwe A. Lumumba presented her daughter, Angie, with the first key to the city under his administration.
Angie's best-selling novel, "The Hate U Give," follows a young teenager named Starr who witnesses a police officer shooting and killing her childhood best friend at a routine traffic stop after they fled a shooting at a nearby party. The book follows Starr's journey to find her voice while coping with tragically losing her friend, violence in her neighborhood, and code-switching between her home and the majority-white prep school she attends miles away.
"People are always like, 'Why would you put a word 'hate' in a book like this? Hate offends people,'" Angie said in council chambers after receiving her key. "But you know what? I want us to look at hate and think about the hate we give, that's what the whole title is about. I want us to think about the hate that we give young people and how it's affecting our entire City of Jackson—that's the entire message of the book."
The book's title derives from rapper Tupac Shakur's notorious acronym T.H.U.G. L.I.F.E., and Angie told Mayor Lumumba that she "geeked out" when she met his late father a few months before he died because he had been Shakur's lawyer.
Parts of the novel are uniquely Jackson. For instance, Angie told the Jackson Free Press that the soul-food restaurant Starr's family goes to 3is "definitely based on Bully's here in Jackson." But, the book, and perhaps the reason for its wide acclaim, is not specifically set in Jackson and successfully resonates throughout the nation and world.
"I always knew that I didn't want to name a specific city or state," Angie told the Jackson Free Press. "I wanted to be able to say that this could, unfortunately, happen anywhere. But, as you're writing, you can't help but put parts of where you're from in there."
"The Hate U Give" will debut in movie form later this year with a celebrity cast including Issa Rae, rapper Common, Amandla Stenberg and Regina Hall. Angie's next book, "On the Come Up," is expected in June and is currently available for pre-order. It follows an aspiring teen rapper named Brianna who deals with poverty especially when her mother loses her job. As a teen rapper herself, Angie said this book is semi-autobiographical.
"Brianna's big tragedy in her life is unfortunately when her mom loses her job—that was my big tragedy growing up," Angie told the JFP. "So, I know some of that struggle. It didn't get as bad for me as it got for Bri, but that struggle of trying to figure out knowing you have a voice and then trying to realize the power of that voice, and then being in this circumstance and being so desperate that you want to change it, that's me."
Angie and her mother travel the world together to promote her literature, and the city council thanked her for not only continuing to live in Jackson, but for representing the capital city well to the rest of the world.
In her acceptance speech, Angie credited Jackson with giving her the motivation to overcome the obstacles of her upbringing here.
"Don't ever let anyone tell you nothing good comes out of Georgetown, because I'm proof," Angie said in City Hall. "And don't let them tell you nothing good comes out of Jackson. I'm a product of the Jackson Public School District."
Email city reporter Ko Bragg at [email protected].
Support our reporting -- Follow the MFP.