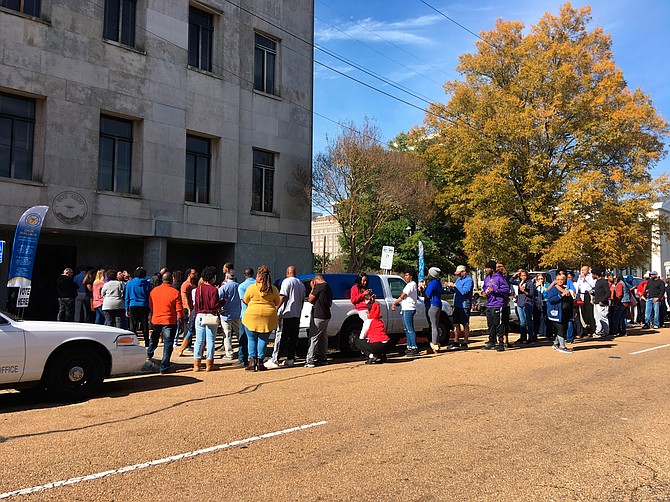 JACKSON — Rukia Lumumba was the last person in a long queue of voters waiting to cast a ballot on the final day of in-person absentee voting on Saturday, Nov. 24. The line snaked from the basement of the circuit-clerk's office outside to the sidewalks. Volunteers passed out water, and the nonprofit organization Pizza to the Polls said via Twitter that it sent 10 boxes of cheese pizza to ease hunger pains.
Lumumba is an attorney and founder of the People's Advocacy Institute, an organization that leads grassroots voter awareness and registration drives. Inside the circuit-clerk's office, she signed her name across the flap of the envelope, and cast her vote in the U.S. Senate run-off between U.S. Sen. Cindy Hyde-Smith and Mike Espy. She basked in the peer-to-peer encouragement, and said when some people in the queue wanted to give up and go home, five more would turn around to emphasize the importance of casting a vote in this midterm election.
"It was really good energy," Lumumba told the Jackson Free Press. "[W]hat I heard over and over again is more of a message around wanting to have representation who cares about them."
Hinds County is predominately African American and tends to vote Democratic. On Election Day, more than 57,000 people in a county of more than 200,000 voted for Espy, and a little more than 17,000 voted for Hyde-Smith.
As of 10 a.m. today, Mississippians requested more than 46,000 absentee ballots ahead of this run-off election. Nearly 3,000 of those come from Hinds County. The secretary of state's office counts about 69,000 absentee ballots in the Nov. 6 election.
While the long lines made for charming news stories about voter engagement and eye-catching social-media posts, the wait times also pointed to flaws in the state's electoral system. Lumumba saw many people leave the Hinds County Courthouse after hours of waiting because they had to get to work or pick up their kids. Mississippi does not have early voting, and the mail-in process can deter people because the paperwork has to be notarized and stamped. Lumumba said early voting and online voter registration could assuage some of these issues.
"It can be really cumbersome for folks," she said. "It doesn't feel like an easy process. I'll say that. Also, not having online voter registration has been a barrier."
Mississippi Rising
Lumumba emphasized that the reason people have been willing to endure long lines, even for a midterm election run-off when voter interest usually drops significantly, is because of how high stakes this race has become following Hyde-Smith's inflammatory comments about public hangings and voter suppression.
"I think, had this race not been one that excited people's emotions where people feel like it's critical that (they) stand in line and wait, other people would have walked away," Lumumba said.
She and a coalition of Mississippi grassroots organizations in a statewide coalition called Mississippi Rising have been mobilizing voters throughout the state. Lumumba said 106 volunteers came out on a Saturday during a holiday weekend for get-out-the-vote efforts in Lowndes County. Black Lives Matter also organized in Tunica, Miss., over the weekend. Lumumba said she even took canvassing efforts to nightclubs in Jackson to make sure people know about Nov. 27. She found that most people know about Hyde-Smith's comments, but some are not totally aware that they can do something about them at the polls.
As the co-director of her brother Chokwe Antar Lumumba's mayoral campaign, Rukia Lumumba said that she has never seen energy and excitement like this throughout the state, especially for a midterm election.
"People speak their truth, and (Hyde-Smith) has been very clear throughout this entire process that she is not concerned about the harm, the impact that her comments have had on nearly 40 percent of the population of the state," Lumumba said. "I think that this is important, and the number of folks that have engaged in this process because of that shows people do care about who represents them."
Arekia Bennett, executive director of Mississippi Votes, said on Twitter that she is impressed with how motivated college-aged voters in the state have become, despite popular opinion that millennial are disengaged.
"College students across the state of Mississippi—especially ones with precincts on their campus, turned out in record numbers during a midterm election! That's rare!!" Bennett wrote. "AND let's also note, that students commute and many of them voted in their respective locations as well.
"Ain't no apathy! Ain't no disengagement! Young people ARE voting!!!" She continued.
Lumumba said she hopes that pattern continues across all demographics.
"Stand in the lines. Make the sacrifice to exercise our right to demand better government," she said. "It's time that we take back our democracy, and Tuesday is just the start; it is not the end. It's a continuation of a struggle we've always been waging in Mississippi because what happens in Mississippi really does matter to the world."
Hyde-Smith Faces Espy in Nov. 27 Run-off
No matter who wins, the Nov. 27 run-off will be historic. When Gov. Phil Bryant appointed Hyde-Smith, Hyde-Smith became the first woman to represent Mississippi in Congress and could be the first duly elected come November. If Espy wins, he would be the first black U.S. senator from the state since Reconstruction ended, when Sens. Hiram Revels and Blanche K. Bruce represented the state in Washington, D.C., until the end of Reconstruction brought the disenfranchisement of black voters.
Around 900,000 Mississippians voted in this year's election—a midterm turnout record of 40 percent, up from 29.7 percent in 2014. Anyone who registered to vote by Oct. 29 will be eligible to vote in the run-off, even if they could not vote in the Nov. 6 election. Voters must have a valid form of photo ID, such as a driver's license or student ID. The Secretary of State's website has a full list of acceptable forms of identification. Polls are open in Mississippi from 7 a.m. to 7 p.m.
Read more at jacksonfreepress.com/2018elections.
Support our reporting -- Follow the MFP.