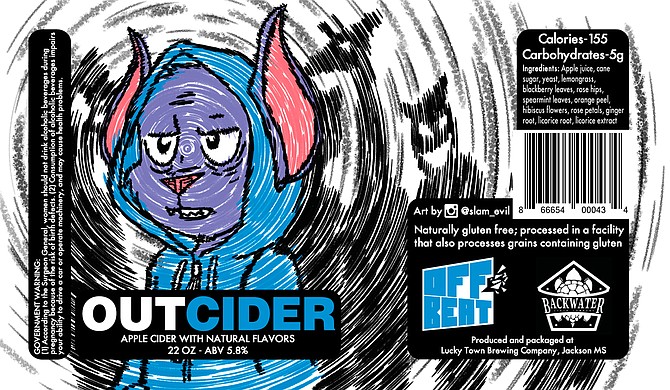 Offbeat (151 Wesley Ave.), Jackson's only vinyl record store, will hold a special sale in conjunction with the national Record Store Day Black Friday on Friday, Nov. 23, from noon to 7 p.m. All of the shop's used records will be on sale, as well as a selection of newly released records.
The sale will also feature the release of a new hard cider called "Outcider," which Backwater Cider Company brewed at Lucky Town Brewing Company in collaboration with Offbeat. "Outcider" is steeped with orange peels, lemongrass, rose hips, ginger root and more. Backwater will only brew one barrel of the cider and will sell it in 22-ounce shareable bottles.
"I wanted a special hard cider for Black Friday both because I'm allergic to certain beers and because a lot of my customers lean toward cider, especially when cold weather comes around," Offbeat owner Phillip Rollins told the Jackson Free Press. "This is a collab I've wanted to do with Lucky Town for quite a while in order to give the city something different."
For more information, call 601-497-2549 or visit Offbeat's Facebook page. Find a list of special record releases available at the sale at recordstoreday.com.
Operation Shoestring Conversation About Community
Operation Shoestring, a Jackson-based nonprofit organization that focuses on academic enrichment programs, will celebrate its 50th anniversary on Friday, Nov. 16, with its "Conversation About Community" event.
CAC will feature a celebratory breakfast, four interactive workshops and a lunchtime presentation from Columbia University professor Christopher Emdin, creator of the #HipHopEd movement, which works to develop and implement hip-hop based interventions in science, technology, engineering and mathematics subjects, and therapy, literacy and school leadership. The workshops will take place at the Jackson Convention Complex (105 E. Pascagoula St.) from 8:30 a.m. to 1:30 p.m.
The four workshops are "The Power of Partnership," "Walking the Talk: From Communication to Transformation," "Pencils, Playgrounds and Possibilities: Connecting Classroom Learning and Afterschool Programs," and "Relationships and Reflection: Keeping Volunteers and Community Partners Engaged." Guest speakers will include representatives from the Jackson Council Parent Teacher Association, Alignment USA, Fahrenheit Creative Group, Junior League of Jackson and more.
From 7 p.m. to 10 p.m., Operation Shoestring will host the "Rise to the Future" concert at the Mississippi Museum of Art (380 S. Lamar St.). Local artists including rapper PyInfamous with Eric Stracener and the Frustrations, and DJ Sean Mac, will perform during the event, and local poet C. Liegh McInnis will serve as its narrator.
At the event, the organization will also unveil its Rise to the Future 50th Anniversary Capital Campaign, which will fund the renovation of Operation Shoestring's building at 1711 Bailey Ave.
For more information on CAC and details on the event's four workshops, call Ayana Kinnel, communications director for Operation Shoestring, at 769-226-3725 or visit operationshoestring.org.
Northpark Hosting 'Painting in the 'Park' Ladies' Night
As part of a planned weekend of events celebrating Northpark's grand re-opening after a large-scale renovation, the mall will host a ladies' night event called "Painting in the 'Park" on Saturday, Nov. 17, from 6 p.m. to 8 p.m.
Jackson artist Henry Muse will help women of all skill levels create a painting of magnolias, the Mississippi state flower, to take home after the event. Cosmetics store Sephora will give out prizes and raffle items, and will offer free treatments from MAC Cosmetics. Painting in the 'Park will also feature live music, and free wine and cheese.
To register for Painting in the 'Park, go to visitnorthpark.com. For more information, call Christy Pender, Northpark's marketing and business development manager, at 601-863-2300 or email her at [email protected].
Northpark's grand opening will begin on Thursday, Nov. 15, and run through Sunday, Nov. 18. Other events include a cooking class with chef Nick Wallace, pictures with Santa, story time with Mrs. Claus, the Glow in the 'Park 5K, a pet adoption event, a magic show in Discovery Park, a petting zoo, a cornhole tournament and more. For a complete list of events and times, visit Northpark's website.
Lounge 114 Named to 25 Best Black-Owned Bars in America List
Travel Noire, a digital publishing platform that highlights black-owned businesses and travel destinations, recently named Lounge 114 (105 Capitol St.) on its "25 Best Black-Owned Bars in America" list.
D'angelo Johnson opened Lounge 114 in downtown Jackson on Dec. 1, 2017. The 5,500-square-foot bar features a full-range kitchen and a lounge area with couches for guests. The venue offers blues, jazz and R&B music at least twice a week.
Lounge 114 also hosts "Jackson Got Talent," an open-mic singing competition that takes place every Wednesday. Every fifth Wednesday, the bar hosts a "finals" event where the winners from the previous four weeks compete for a cash prize and the chance to perform at one of Lounge 114's "Friday Night Live" events.
The restaurant menu at Lounge 114 includes fried wings, fried or sauteed crab claws, sweet chili shrimp, Cajun chicken and sausage pasta, blackened catfish and grits, burgers, grilled or fried chicken sandwiches, and more.
Lounge 114 is open Wednesday through Thursday from 4:30 p.m. to 9 p.m., Friday and Saturday from 8 p.m. to 2 a.m., and Sunday from 6 p.m. to 10 p.m. For more information, visit Lounge 114's Facebook page.
Support our reporting -- Follow the MFP.