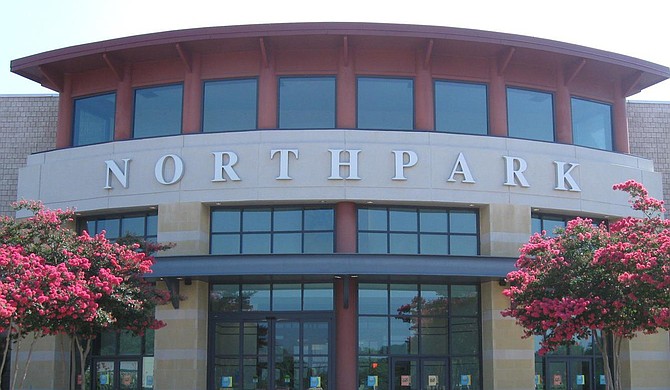 Northpark (1200 E. County Line Road, Ridgeland) will hold a grand-opening celebration for its newly remodeled facilities from Thursday, Nov. 15, to Sunday, Nov. 18. The mall announced the large-scale renovations in November 2017, and work began earlier this year.
The renovations to the two-story, 958,000-square-foot shopping center include changes to the entrances, children's play area, restrooms, interior and exterior landscaping, furniture, fixtures, lighting and common areas. The food court is now a café-style space called the Eatery, and the mall also has a Discovery Park for children and a family lounge with baby-changing stations and private nursing areas.
Northpark's grand opening will begin on Thursday, Nov. 15 at 10 a.m. with brunch, tours of the property and a ribbon-cutting ceremony. Other events over the weekend include a cooking class with Jackson chef Nick Wallace, pictures with Santa, story time with Mrs. Claus, the Glow in the 'Park 5K, a pet adoption event, a magic show in Discovery Park, a petting zoo, a cornhole tournament and more. For a complete list of events and times, visit Northpark's website.
To commemorate the grand opening, Northpark commissioned Douglas Panzone, a Jackson-native artist who currently lives in Charleston, S.C., to create a mural on the property. The 1,200-square-foot mural will feature four etched magnolias, the state flower of Mississippi. Panzone began work on the mural at the end of October and should complete the project before the grand opening on Nov. 15.
Northpark will also host a culinary competition called Taste for the Space on Saturday, Dec. 1, from noon to 3 p.m. in the parking lot near the new Eatery café. The event will feature 13 local restaurants, food trucks and chefs competing to win a dining space at the mall along with a $50,000 investment, six months of free rent and a prize package totaling $140,000 from Northpark.
Each participant will prepare one signature dish for the contest, and a judging panel of Ridgeland community members and Northpark stakeholders will sample it. The cooks' scores, along with the votes of attendees, will decide the winner. Taste for the Space will also include games, kids' activities, refreshments, music from Hunter Gibson and a Cathead Vodka tasting bar.
The competitors are 2 for 7 Kitchen, Beyond Pastabilities, Big Apple Inn, Fratelli Italian Ice, Gumbo Girl, Kalico's Kitchen, M&W Tasty Foods, Monte's Steak & Seafood, Nick Wallace Culinary, Shaniq's Unique Catering, Small Time Hot Dogs, The Stuffed Baked Potato Factory and Urban Country Kitchen.
Tickets to Taste for the Space are $7 per person. Children ages 10 and under get in free with the purchase of a preregistered ticket and a donation of canned food upon entering. Adults must accompany children. Proceeds from the event will benefit Mississippi Food Network.
South Street Live Grand Opening and New Year's Eve Blues Bash
Mario Nocentelli, John Thurmond and Chadrick Odie, the owners of South Street Live (110 W. South St.), will host a grand opening for their new Jackson nightclub on Saturday, Dec. 15.
The 9,500-square-foot venue, which previously housed Club 110, is located on the corner of Farish Street and West South Street next to Cathead Distillery. The club also features a bar and a restaurant that will offer small-plate Cajun, Creole and soul food dishes.
The week after the grand opening, South Street Live will host a Christmas mixer on Friday, Dec. 21. The club will also host its inaugural Mississippi New Year's Eve Blues Bash, featuring performances from Andrea Staten, Libby Rae Watson, Bill Abel, Eric Deaton and Kenny Brown. Early tickets to the New Year's Eve event are available online for $40 per person. Tickets will be $60 per person the day of the event.
South Street Live is open Wednesday through Saturday from 4 p.m. to 2 a.m. For more information, call 601-980-3006, visit southstreetlive.net or find the club on Facebook.
JSU Student Wins Outlets of Mississippi Art Contest
The Outlets of Mississippi (200 Bass Pro Drive, Pearl) recently named Jackson State University student Dipannita Saha as the winner of its "Arts Around the Outlets" scholarship and art contest.
For the competition, the Outlets asked art students from local colleges to submit designs reflecting Mississippi culture to display around the shopping center. The Outlets put six designs on display and asked shoppers to vote for their favorite. Saha will receive a $1,000 scholarship for winning the contest.
Saha was born in Malda in the West Bengal state in India. She moved to the United States to pursue graphic design and art. She attended Hinds Community College in Raymond, where she received her associate degree in graphic design technology, and is currently working toward a bachelor's degree in art with a focus on graphic design at JSU. She is set to graduate in the fall of 2019.
Support our reporting -- Follow the MFP.