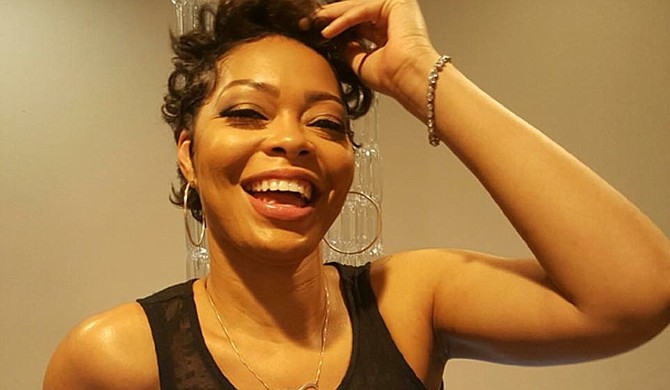 Members of the community such as Jackson State University English instructor C. Liegh McInnis, The Nest at Highlites co-owner Mac Epps and others will host an event tonight, Nov. 1, to honor the life and legacy of Carmen Hendrix, a Jackson native poet, writer and activist who died on Sept. 10 as a result of domestic violence.
McInnis, who is also a poet and author, says that he encountered Hendrix, a JSU student at the time, around 1996 when he performed at his first poetry event. He describes her as "outstandingly humorous and smart."
"There have always been a few women (in the poetry scene), but there were always more males than females, and Carmen was one of those females who could hold her own," McInnis says. "She was not intimidated, she knew what she wanted to do as a writer, she knew what she wanted to be, and she was not intimidated, and she could go line for line, image for image with her poetry."
Jerrica Banner was Hendrix's best friend but says the relationship between them was more like sisters.
"She was an angel," she says. "... She was an amazing woman. She was an amazing friend. She was an amazing sister. She was very giving, very humble, very helpful, the epitome of a wonderful person inside and out. Very caring. She literally would stop what she was doing to help anybody."
Banner says she was around the age of 13 when she met Hendrix, who did everything from helping her learn to drive to inspiring to pushing her to finish college. Banner graduated from JSU this year with a bachelor's degree in business administration and currently works as an operations lead for BankPlus.
Hendrix was born on Jan. 20, 1978, in Jackson. She moved to Coral Gables, Fla., in 1996 to study creative writing and broadcast journalism at the University of Miami, but left for personal reasons in 1998 and moved to Texas. She founded her publishing company, Magnolia Babies Publishing LLC, there in 2005 but decided to step away from writing for a while soon after that.
She published her first book, "When Honeysuckles Fall," a collection of short stories that explore issues such as infidelity, childhood abuse and domestic violence in 2016, and moved back to Florida in 2017, where she re-established Magnolia Babies.
Hendrix was an outspoken activist on domestic violence and childhood abuse, and often worked to shed a light on those problems through avenues such as novels, blogging and her podcast, "Honey Pot Podcast."
"That was something that she had suffered, particularly the sexual abuse, sexual assault, that she had suffered," McInnis says. "She wanted to use it as a vehicle not only for herself, but more importantly for her, as a vehicle to help other young women."
In spring 2018, she and Leah M. Forney founded SAAVE Me (SAAVE stands for Sexual Assault Advocates for Victims Everywhere), an organization that seeks to bring awareness to sexual assault, and give survivors and victims a voice.
With her work in those areas and the tragedy surrounding her death, the organizers for the event tonight wanted to also use it as a way to raise awareness of domestic violence, sexual assault and rape culture. JSU professor RaShell Smith-Spears and Shanna L. Smith will perform poetry at the event, and artist Christine Johnson will display work and discuss its themes and connections. McInnis says a representative from JSU's Latasha Norman Center for Counseling, named after a JSU student who died as a result of domestic violence, will also be present.
"It's going to be a collective of art and social awareness where we're again celebrating the memory of Carmen, but also a true celebration in the memory of Carmen is to light a fire under sexual abuse, sexual harassment and rape culture that unfortunately exists," McInnis says.
Smith-Spears says that after McInnis sent the notice out about the event, she looked up some information about Hendrix and her writing.
"I was really moved by what she was trying to accomplish, and so I thought that it would be good to be able to participate in the event," she says.
Though people talk about domestic violence and sexual assault a lot, Smith-Spears says, some may overlook the problem or think that it does not apply to their lives.
"I think that it is something that we all need to be aware of," she says. "We all need to work to bring awareness to it, to try to help eradicate it."
Epps first saw Hendrix perform at Highlites in the late '90s. After her passing, he reached out to McInnis about hosting an event in her honor at the venue.
"I just was a fan, heard her work early on and was really struck by how (she) passed," he says. "... I'm in a position to try to bring some attention to her cause, but also recognizing her life, and just giving the poets the opportunity to do what they do, and just to share their expression through spoken word or poetry."
Banner says: "The legacy that she has left is one that definitely proves the woman that she was, that proves her to be who she was. Everybody can attest to and relate to her being this ... amazing person."
The artist gathering for Hendrix is tonight, Nov. 1, from 6 p.m. to 8 p.m. at The Nest at Highlites (501 County Line Road, Tougaloo). For more information, call 707-687-9273 or email [email protected].
More stories by this author
Support our reporting -- Follow the MFP.