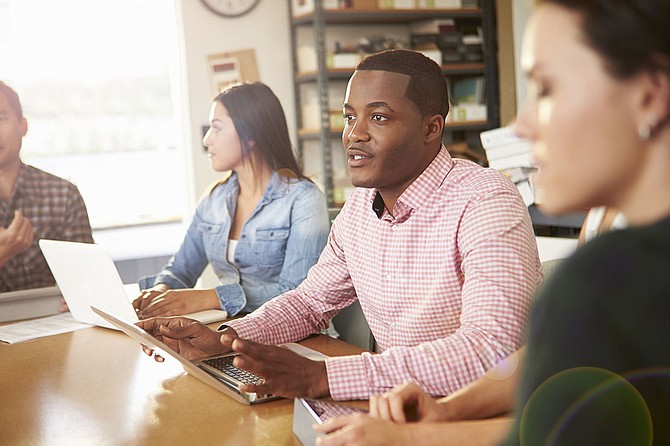 EQ Meet Up
Near the beginning of this year, Mangia Bene Marketing Manager Susan Farris and Mantle. City Club co-owner Christopher Lomax met and developed the concept for an event called Entrepreneur Quarterly to help local entrepreneurs connect and discuss topics that affect them such as marketing and branding. The first EQ was on March 1 and featured panelists such as Nader Dabit, the brain behind Jackson Area Web & App Developers; Monica Cannon, the director of community outreach for Midtown Partners; Roderick Red, who owns local film company Red Squared Productions; and Dawn Dugle of Lean in Mississippi. Farris and Lomax plan to host the event once every quarter at Sal & Mookie's New York Pizza & Ice Cream Joint (565 Taylor St.). The next dates are June 7, Sept. 6 and Dec. 6. For more information, find Entrepreneur Quarterly on Facebook.
Economic Development Series Part 2 of 4: Human Capital & The Creative Economy
On Thursday, March 29, Jackson Professional Group will continue its economic-development series with part two of four, "Human Capital & The Creative Economy," which will have focuses on film; the arts; science, technology, engineering and math, or STEM, fields; and the community. The event will include panelists such as Mississippi Light Collaborative Director Anik Kurkjian, Greater Jackson Arts Council Project Manager David Lewis, comedienne Cherita Brent (Rita B) and Robin Kurtz, the chief administrative officer of community-based organization Center for Social Entrepreneurship. The event is from 5:30 p.m. to 8:30 p.m. in the State Room (952 State St.). For more information, find the event on Facebook.
Startup Weekend
If starting a business seems daunting, why not spend an entire weekend learning about what it takes to become an entrepreneur? Startup Weekend, which is a national event that started in Seattle in 2011, is designed to coach people to business ownership. During the weekend, participants pitch a new idea and create a prototype of a product that fits the needs of their customers. The entrepreneurs will receive feedback and work more on the idea. The event includes mentoring, networking, coding, design, and food, coffee and more. Startup Weekend Jackson, which Innovate Mississippi will host, is April 20-22 at Coalesce Coworking (109 N. State St.). For more information, find the event on Facebook or visit communities.techstars.com.
MVMT 2018
On Tuesday, May 8, C Spire will host MVMT 2018, which showcases innovations and trends in technology. The event includes keynote speaker Stephen Bye, president of C Spire; Randi Zuckerburg, founder of Zuckerberg Media and Sue's Test Kitchen; Sarah Bond, the general manager of business development for Microsoft; and Howard Wright, vice president of global business development for Intel Sports Group.
It will also have exhibits such as virtual-reality simulations and one on advancing the technology of assisted- or self-driving cars. People can choose to participate in the Tech Experience, which includes the speakers and exhibit access; however, those who want to delve more into information technology, MVMT also has tickets for the Infosec + Tech Experience, including half-day admittance to the Infosec Summit. The summit brings together IT thought leaders and industry experts for a series of talks and breakout session to discuss trends and technology in the industry, and also potential threats to it. MVMT 2018 is free to attend for students and educators. The event will have a breakout session for educators and a panel on the future of the workplace for students. Tech Experience tickets are $45, and the Infosec + Tech Experience is $89. The event is Tuesday, May 8, at the Jackson Convention Complex (105 E. Pascagoula St.) from 8 a.m. to 5 p.m. For more information, find the event on Facebook.
Mississippi IT Symposium
On Wednesday, May 2, Executive Functions Management will host the Mississippi IT Symposium. The event's website, mississippitsymposium.com says the event's goal is to create an environment that is conducive to peer-networking about information-technology executives, management and their vendors.
The event includes keynote speakers such as Jeremy Graves, the lead instructional designer and supervisor of instruction for the Boise State University Center for Professional Development; Scott Augenbaum, a retired supervisory special agent for the FBI; and Frances Lucas, the former president of Millsaps College. The symposium will cover topics such as multi-generational workforces, decision-making in IT, third-party-vendor management, data and intellectual property, and IT strategy. The event is from 7:30 a.m. to 4:45 p.m. at the Jackson Convention Complex (105 E. Pascagoula St.). For more information, find the event on Facebook or you can visit mississippitsymposium.com.
Co.Starters
On May 2, Co.Starters Jackson, a nine-week event for people who want to start or grow a business, will begin. It walks business owners through creating a business plan, interviewing potential customers and partners, and refining their business "pitch." On the last week, they present their pitch deck to friends and family. The program will also give participants a good idea of whether their business idea is viable, if it can be profitable and if there's a chance they can get some funding or customers to make it grow.
Must Go
1 Million Cups
If you're an entrepreneur or have dreams of being one, make plans to start attending 1 Million Cups. The event, which is each Wednesday at Coalesce (109 N. State St.), gives entrepreneurs a chance to present their businesses and ideas in front of community members. Recent events have included presenters such as marketing expert Adam Collins, and the team behind Campusknot, a learning system for students and professors. For more information, find 1 Million Cups on Facebook.
Email [email protected].
More stories by this author