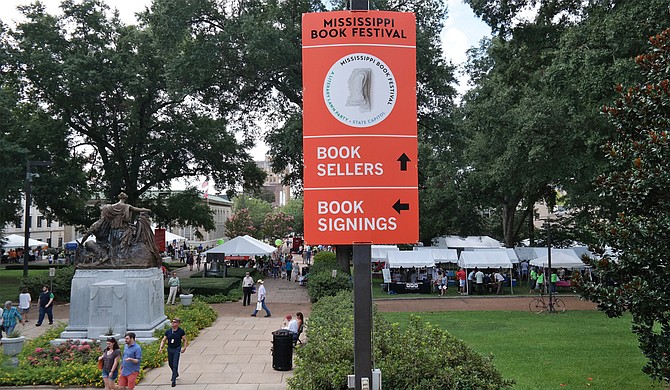 This year's fourth annual Mississippi Book Festival is bringing more authors and books to children by reaching past the Jackson area. This year's event will expand from the Mississippi State Capitol and Galloway United Methodist Church (305 N. Congress St.) to schools on the coast.
"Each year, our goal was to put more authors in schools on our dime to visit with children and to really simply just encourage their love of reading," says Holly Lange, a festival co-founder and its executive director.
The festival will have kick-off readings leading up to the main event, which is Saturday, Aug. 18. On Thursday, Aug. 16, a handful of children's authors will go to schools on Mississippi's coast and read their books to students.
On Friday, Aug. 17, the festival will host two authors at Galloway. There, authors Charles Waters and Irene Latham will read, "Can I Touch Your Hair?"—a book of dialogue poems between two children—one black and the other white, to fifth graders from Jackson Public Schools. After the reading, each student will receive a copy of the book.
Lange says this form of outreach has been a long-sought-after goal for the festival.
"[W]hen you hand a child a book, and you see their face light up, and you tell them that is their own personal copy of the book, they are 
so happy," she says.
Data from 2017 shows that nearly $300,000 was raised for the event through contributions. Lange says this is quite the feat for one of the last independent book festivals in the country. These contributions help fund not just the festival, but these kick-off readings, too, Lange says. She believes experiences like this will encourage a life-long love of reading and literature, and this will make the largest impact on the state's literacy rates.
"We are not going to sit here and throw (literacy) percentages that we hope to improve and move the needle on the literacy rate in Mississippi," she says. "All we want to do is make kids excited to read and to continue their love of reading because that will then in turn affect the rest of their life, and they will ... move the marker themselves."
The Festival's deputy director, Kristen Guinn, says that while the festival makes an effort to reach children, the event's purpose is to serve the interests of every reader.
With hopes of reaching a diverse audience, Guinn says the festival will host more than 160 authors on more than 40 panels, each contributing to a wide variety of genres, including lifestyle, sports and more.
"We want to be reflective of a lot of different kinds of people with a lot of different kinds of interests, and I think that is not an easy thing to do, but I think ... in particular this year, they have done a really good job," Guinn says.
She is married to writer and Belhaven University associate professor of creative writing, Matthew Guinn.
Panels will be in the Capitol and at Galloway, which has ties in Mississippi's literature, as this is the church Eudora Welty attended, Guinn says.
Outside of those events, participants will have the opportunity to meet other writers on "Author's Alley," a large tent in front of the Capitol.
Scott Naugle, owner of Pass Christian Books on the coast, has been involved with the festival from the beginning and serves on the 
board of directors.
"It's another source of pride in our literary community within Mississippi, and another opportunity to put us in a positive way on the map," he says. "... It encourages attendees to purchase real books and interact with the authors. And then take away a tangible, visible object—not only in reference to meeting the author, i.e. the book, but it encourages them to buy 
the physical books."
Guinn says that, moving forward, the festival's goal is to host more kick-off readings in the northern part of the state, in addition to the coast, before convening book lovers at the capitol. She says the event is for the entirety of Mississippi, not just Jackson.
"I think that the book festival is one of those things that unites us all in a way that is so tangible and so positive and so fruitful," Guinn says.
This year's Mississippi Book Festival is Saturday, Aug. 18, from 9 a.m. to 5 p.m. at the Mississippi State Capitol (400 High St.) and Galloway United Methodist Church (305 N. Congress St.), and is free and open to the public. There will be food trucks, music, activities for kids and more. The festival will host writers such as Jon Meacham, Jesmyn Ward and more.
For more information or to see this year's Mississippi Book Festival schedule, visit msbookfestival.com.
Support our reporting -- Follow the MFP.