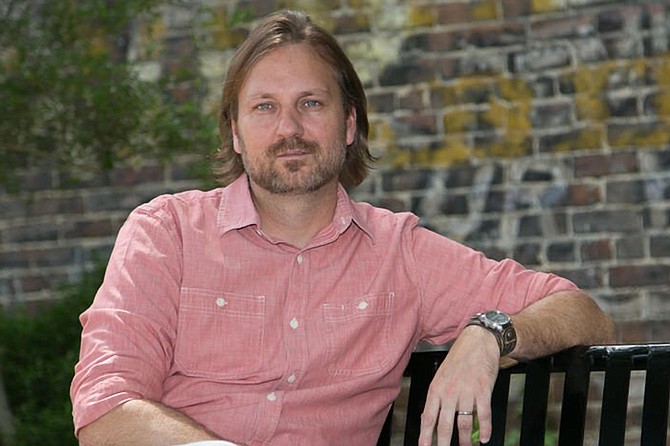 JACKSON — For the second year in a row, the Mississippi Book Festival will be at the Mississippi State Capitol on Saturday, Aug. 20.
The book fest is a nonprofit that was established in 2013 by a group of literacy advocates. Two years later in 2015, the book festival had its inaugural year in front of the state capitol.
"A lot of our sister states do them, and Mississippi has produced a whole lot more authors than (many) other states with successful book fairs," Jere Nash, who is one of the founders of the festival, told the Jackson Free Press in August 2015 about the basis for starting it. "No one had ever put together a day-long event here to celebrate people who write books and those who read them."
Last year's event had 3,700 attendees and 200 volunteers, 60 self-published authors and 15 exhibitors and a total of $325,500 in economic impact for the state.
This year's event will have more than 200 authors and more than 30 panels. Seventy authors and artists will be in the Authors Alley, including Oren Renick, who wrote "Smoke Over Mississippi," which details the life and legacy of unsung civil-rights hero William Penn Davis, a former president of the Mississippi Baptist Seminary and secretary of the Mississippi Baptist Convention's Department of Work with National Baptists.
"In many ways, he broke the mold of a traditional Baptist minister in the Deep South," Renick told the Jackson Free Press earlier this week. "... He had a great ability to work across racial lines, across faith-community lines or distinctions, and to quietly, consistently and without hesitation, do work to try to improve situations primarily for African Americans but also from the standpoint of building a better understanding between races."
Novelist Michael Farris Smith is also participating. Smith, the author of "Rivers" and the upcoming "Desperation Road," published a column in the Jackson Free Press against House Bill 1523, that went viral. He also appeared recently at Coalesce in downtown Jackson for a One-on-One conversation with JFP editor Donna Ladd, in which he talked about a variety of issues from his creative process to Mississippi's state leaders.
"Our people have fought for decades to rid ourselves of stigmas, both earned and unearned, to make Mississippi a place anyone can call home. A place where anyone can walk down the street or walk into a place of business and not feel like an alien," Smith wrote in the column.
"Seventy years ago, a Confederate symbol flew over our state, and our laws were filled with language that allowed and encouraged discrimination to certain segments of our population. Guess what? Today, a Confederate symbol flies over our state, and our laws are filled with language that allows and encourages discrimination to certain segments of our population."
Authors Alley also includes participants such as local artist Laurin Stennis, local photographer and graphic designer Talamieka Brice, Jackson author Pam Franklin, who wrote psychological thriller "My Five Sisters" (Freality Publications, 2015, $14.99), and organizations such as Mississippi Writers Anonymous and the Mississippi Animal Rescue League. Other exhibitors include New Stage Theatre, the Mississippi Humanities Council and the Margaret Walker Center.
Throughout the day, the event will have panels at the capitol, the Galloway United Methodist Church sanctuary and at The Foundery at Galloway. The panel topics cover everything from the mystery and thriller genre to historical fiction to comics to Southern cooking, and panelists include Anton DiSclafani, who wrote "The Yonahlossee Riding Camp for Girls"; comic-book artist Tim Fielder, who created "Dieselfunk" comic "Matty's Rocket"; and former rapper and Jackson native A.C. Thomas, who wrote "The Hate U Give."
Jesmyn Ward, who wrote "The Fire This Time: A New Generation Speaks Out About Race," in which writers of color speak about race in the present day and its shadows in the past, will moderate a panel on race called, "Jesmyn Ward and The Fire This Time." Jackson native author Kiese Laymon, who wrote "How to Slowly Kill Yourself and Others in America," will be a panelist, along with Garnette Cadogan ("Black and Blue"), Honorée Jeffers ("The Glory Gets") and Kima Jones ("Homecoming, A.D.).
The event will also include a Library of Congress exhibition, a Smithsonian learning lab and a 3-D printer experience. The book fest will also have food trucks, live music, book signings and a kids corner.
The Mississippi Book Festival is on Saturday, Aug. 20 at the Mississippi State Capitol (400 High St.). It is free and will be open to the public at 9 a.m. Panels begin at 9:30 a.m. For more information, visit msbookfestival.com. To see a schedule of events, visit msbookfestival.com/schedule.
More stories by this author
Support our reporting -- Follow the MFP.