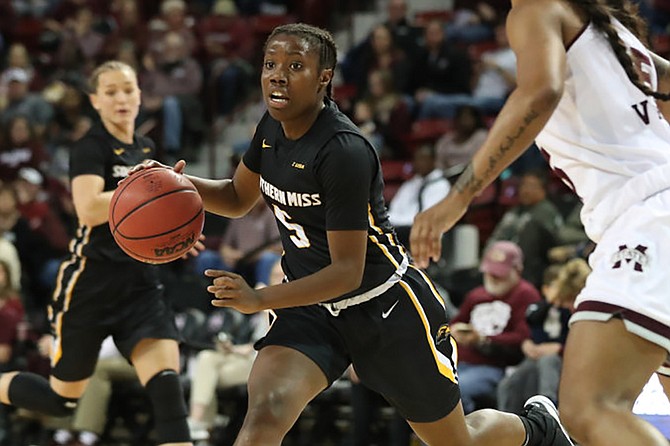 The University of Southern Mississippi women's basketball team is hoping to make its second consecutive appearance in the postseason, and sophomore guard Shonte Hailes is helping lead the way. The Golden Eagles are on a three-game Conference USA winning streak after beginning conference play with two losses.
Hailes' play is a major reason why USM is back in the C-USA regular-season title hunt. On Jan. 11, she had 17 points, six rebounds, three assists and a steal in a 65-50 win over Louisiana Tech University, the Golden Eagles' first conference win of 2018.
Last week, the Quitman, Miss., native stepped up her game with a career-high 28 points in addition to four assists, two rebounds and two steals, leading a blowout 80-63 win over the University of Alabama at Birmingham.
Two days later, Hailes recorded another career milestone, this time in rebounds with 13, while scoring 20 points with six assists and one steal in a 61-53 win over Middle Tennessee State University. The two games also mark the first time that she has scored 20 or more points in back-to-back games at the collegiate level.
Her new career records in scoring and rebounding earned her C-USA Women's Basketball Player of the Week honors. This is the second time that the conference has named Hailes its Player of the Week this season, with the first coming on Nov. 20, 2017. She also earned the award once as a freshman on Jan. 9, 2017.
Thanks to Hailes' performance over the last three conference games, USM is now 3-2 in C-USA play and 11-7 overall. USM is a stellar 8-1 at home this season but has struggled on the road with a 3-6 record.
She is second on the team in scoring with a 12.7-points-per-game average but is scoring 15.6 points on average in conference games. She also averages 3.4 rebounds per game, 5.4 assists per game, 1.7 steals per game, and has one block this season.
This season, she has played in all 18 games and started in 17. Hailes has scored double digits in 11 games this season, and scored 20 or more points in four games this season.
As a freshman, Hailes played in 32 games and made 29 starts. She averaged 6.4 points per game with 3.4 assists, but scored in double figures four times. She earned C-USA All-Freshman honors after her first season with the Golden Eagles.
At Quitman High School, Hailes played in 90 games during her high-school career. She left high school with an average of 11.8 points, 3.5 rebounds, 3.2 assists and 1.9 steals per game. She received invites to play in the North-South All-Star Game and the Mississippi-Alabama All-Star Game.
USM will try to avenge a road loss to the University of North Carolina at Charlotte today, Thursday, Jan. 25, at home and will stay in Hattiesburg for a Jan. 27 date against the University of Texas at San Antonio. If the Golden Eagles can win both games, it will put them on a five-game winning streak.
Southern Miss gets its first chance to change its road woes on Feb. 1 against Rice University. This one of the Golden Eagles' four final road games this season. USM plays seven of its final 11 games at home, which could lead to a strong finish to the season and help set up a postseason berth. The upcoming three-game road stretch from Feb. 15 to Feb. 23 could make or break the Golden Eagles' postseason hopes if they fail to win the conference tournament.
More stories by this author
Support our reporting -- Follow the MFP.