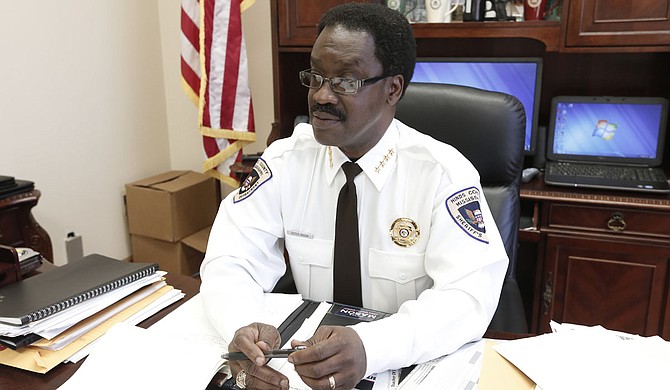 JACKSON — Hinds County Sheriff Victor Mason wrote a memo to his employees Thursday basically saying they need to get on board with his leadership or "get out of my way." In a departmental memo dated Jan. 18, 2018, Mason called out "dissenters" in his office, while praising his own leadership to date.
"I am aware and have been for quite some time of the dissension in the ranks," Mason wrote. "... I know who you are. I know what you are trying to do, and I will take care of it."
However, in an interview this morning, Mason said he had not yet identified those dissenters, nor did he threaten anyone in this letter.
"I'm not threatening anybody," Mason told the Jackson Free Press. "If you notice, I didn't put any names down there, no ma'am. I know better than that. If I was threatening them, don't you think I would have called them in my office?"
Mason called low attendance at a staff General Assembly an "embarrassment." The memo, titled "State of the Hinds County Sheriff's Office," clarifies that the meeting on Saturday, Jan. 13. was not mandatory. In today's interview, he said the event was the department's annual awards program.
"It was a blatant disregard and an embarrassment to my office that a large majority of you chose not to attend the event," Mason's opening paragraph reads.
Mason continued, saying in the memo that he has tried to be fair "and do what is right by each of you," while the department deals with the consent decree to satisfy the Department of Justice over prison conditions, which "has caused the loss of many valuable employees," he wrote.
Mason told the Jackson Free Press that he does not have the numbers of how many people have left during his tenure, but that he has "lost a few," largely because of bad fits for the job and the jail's reputation "with violence and stuff like that," he said.
"A lot of people just say, 'oh I can't handle this,'" Mason told the Jackson Free Press. "I don't know an accurate count. With any job—It's just like your job with journalists—some people will say, 'I can't, this is just not the job for me.'"
The U.S. Department of Justice and the Hinds County Jail entered a consent decree in 2016 requiring the county to improve conditions that include a number of prisoner escapes, riots and prisoner-on-prisoner violence.
Mason faces two open lawsuits for a sexually hostile work environment and sex discrimination, among other allegations that he denies. Belendia Jones, who served as a reserve deputy for the Hinds County Sheriff's Department and worked in the private sector, filed a complaint against Hinds County Sheriff Victor Mason on Feb. 21, 2017. In many texts included in the legal filing, Jones responds "no," to Mason's sexual advances calling them "yucky," or laughing them off. A jury trial is set for July 2, 2018, in Gulfport, before District Judge William H. Barbour Jr.
In another lawsuit, Cheryl Matory and Tomeca Barnes filed a joint complaint stating Mason began frequently texting Matory about Barnes in attempts to try to have sex with her. It also says that, allegedly, Barnes became so uncomfortable being left alone with Mason, even at work, that she asked Matory to accompany her during briefings. The trial is set for Aug. 6, 2018, in Jackson before U.S. District Judge Tom S. Lee. Mason said he can't talk about the open litigation.
Mason views himself as a good leader, despite the allegations. In the memo, he referred to himself as "a good person probably the best boss many of you have ever had the pleasure of working with but some of you are taking my kindness for weakness." He said today that some people took his memo the wrong way because his intent was to put these ideas on paper so that everyone would undoubtedly get his message that he sees as a booster for department-wide morale, unity and support.
"What's wrong with firing up your organization?" Mason said this morning. "... All I want to do is just kickstart. That's all it was."
In the interview this morning, Mason said he also received a lot of good praise about the memo, "believe it or not." He said some staff and people in the community told him that he should have done this earlier and that the memo was a "great move."
Mason knows everyone is not going to like his style, but that his staff needs to "stop dragging" and get moving without trying to "sabotage nothing." In his memo he said his "eyes are open," and he is watching his staff. In the interview, he underscored his final line in the memo as the kicker for what he really wants out of the second half of his term.
"If you are not for the Hinds County Sheriff's Office, you are not for me," Mason wrote in that final line above his signature.
Email city reporter Ko Bragg at [email protected].
Support our reporting -- Follow the MFP.