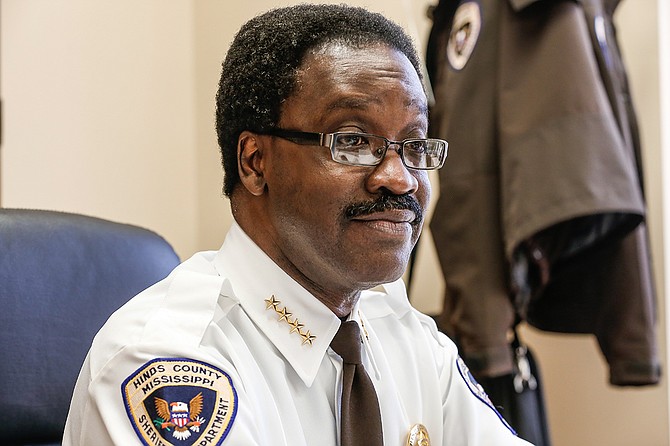 JACKSON — This story has been updated with responses to the Thompson v. Vance et al litigation.
The "Weinstein era" of exposing sexual misconduct has launched many powerful and high-profile men out of their career posts and into the spotlight for their raunchy and violating behaviors in the workplace by the end of 2017. But long before the #MeToo movement rocked the nation, Jackson and Hinds County's highest-ranking officials faced allegations of sexual harassment and physical abuse with far less attention, and none of them was forced out of office, although a previous mayor was not re-elected and the police chief is now retiring, with no evidence that the allegations led to either.
Some, like outgoing Jackson Police Chief Lee Vance, are accused in multiple lawsuits of allowing inappropriate conduct on the job and in the community. Women brought forward or led on the following civil lawsuits and criminal charges against Vance, Hinds County Sheriff Victor Mason, former Mayor Tony Yarber and Hinds County District Attorney Robert Shuler Smith. Most are still unresolved legally.
Hinds County Sheriff Victor Mason
Belendia Jones filed a complaint against Hinds County Sheriff Victor Mason on Feb. 21, 2017, alleging sex discrimination, a sexually hostile work environment, sexual harassment and intentional emotional harm. Jones served as a reserve deputy for the Hinds County Sheriff's Department and worked in the private sector. In a bizarre series of exchanges, Mason allegedly texted Jones questions posed as "Mrs. Wilson," a fictional character, and often asks her to repeat what he refers to as Wilson's "third question: "Mrs. Wilson wanted to know if I wanted to fuck you!" In many texts included in the legal filing, Jones responds "no," calling the advances "yucky," or laughing them off.
Mason, Jones says, demoted her, transferred her to another department and cut her pay over a period of time. Mason denies all of the allegations. A jury trial is set for July 2, 2018, in Gulfport, before District Judge William H. Barbour Jr.
In another lawsuit, Cheryl Matory and Tomeca Barnes accuse Mason of a sexually hostile work environment, sex discrimination and race discrimination. Their joint complaint states that in 2015 Mason asked Matory to work for him in anticipation of his election to the sheriff's office and that Mason promised her that she would be his undersheriff if he won the election. He also promised Barnes she would be head supervisor of the Internal Affairs Division, she alleges.
Court documents allege that Mason began frequently texting Matory about Barnes in attempts to try to have sex with her. "Will she give me some?," Mason allegedly asked Matory about Barnes in September 2015, texts in the legal documents show. "Matory told Mason that she was not going to arrange for him to have sex with Barnes. Mason became angry and began to distance himself from Matory and Barnes," the complaint reads. It also says that, allegedly, Mason requested selfies from Barnes on numerous occasions after he got her number, and she became so uncomfortable being left alone with Mason, even at work, that she asked Matory to accompany her during briefings.
In July 2016, Matory and Barnes were demoted and replaced with a white man and a black man, respectively. Barnes' and Matory's suit also brings sex and race discrimination charges against Mason. The trial is set for Aug. 6, 2018, in Jackson before U.S. District Judge Tom S. Lee.
Mason also denies these charges.
Former Mayor Tony Yarber
Former Mayor Tony Yarber had two sex-discrimination lawsuits brought against him while he was in office; one has been settled, but another is still alive. At a council meeting in August 2017, the Jackson City Council voted to resolve all claims in his former assistant Kimberly Bracey's lawsuit. In Oct. 2016 Yarber countersued for defamation and damages.
On Nov. 3, Bracey agreed to settle her claim, which she filed Aug. 29, 2016 against Yarber and the City of Jackson, alleging sex discrimination, sexual harassment, a sexually hostile workplace, and unlawful retaliation. Details of the settlement were not disclosed.
Bracey alleged that she, the city attorney Monica Joiner and other female staffers engaged in sexual relationships with Yarber. When Bracey said she halted the relationship with Yarber to return to her husband, Yarber allegedly threatened to fire her if she didn't continue.
The lawsuit Stephanie L. Coleman, then equal opportunity business manager, brought against Yarber and the City on Feb. 2, 2017, is still alive, however. She alleged sex discrimination, sexual harassment, a sexually hostile workplace, being unlawfully retaliated against for refusing to participate in illegal activities and refusing to make false public statements, is set for trial on June 18, 2018, in Judge Henry Wingate's courtroom in Jackson. Yarber has denied all allegations.
Former Police Chief Lee Vance
Wallace v. Vance
In an amended complaint from September 2017, Tina L. Wallace accuses Police Chief Lee Vance of "deprivation of her right to Equal Protection to be free from race and sex discrimination and retaliation." On several occasions, Wallace allegedly brought issues to Vance's attention, such as officers having alcohol on the premises, an officer attending nursing school and working at a hospital while on the clock, and even sexual images circulating throughout the department via text, which Vance allegedly laughed off at least once, she alleges in the documents.
Wallace states that Vance did not launch investigations or polygraph examinations for other allegations against officers and staff, but did against her to investigate statements she made against other officers. She says she was demoted from deputy chief of patrol operations to the communications unit "in retaliation for reporting misconduct by African American male officers," the complaint reads. Wallace was then demoted to Precinct Two in June 2017. She says her removal from the communications unit came two months after she reported allegations that an African American male JPD officer had sexually assaulted an African American female JPD employee in her home. Vance, who retired at the end of December 2017, denies all allegations. The trial is set for Sept. 4, 2018, at 9 a.m. in Jackson in front of Judge Daniel P. Jordan.
Thompson v. Vance et al
In December, Melodee, Cordarius and Kenneth Thompson filed a complaint demanding a jury trial against Chief Vance and other JPD officers for "negligence, excessive force, and denial/delay of medical treatment" after a police-involved altercation on or about March 22, 2017. The complaint says that Melodee was at home with her son Cordarius who was waiting for a friend to come over. Officers allegedly followed the unnamed friend onto the property.
Melodee says she went outside when she saw police in her yard, but that Officer Brandon Caston did not give her any information and instead instructed her to move back, "displaying an extremely hostile disposition," the complaint says.
 Caston allegedly arrested the friend and called for his partner, Officer Kourtney Kelly, to assist him. Kelly allegedly threw her elbow into Melodee's chest, knocking her into her son Cordarius and causing a contusion to her chest area. "Officer Caston sprayed the mace at Cordarius, but sprayed Melodee in the eyes instead. Plaintiff Melodee fell to the ground and began to suffer a seizure," court documents read.
It says that Melodee suffered a second seizure as her other son, Kenneth, arrived at the scene and was placed under arrest shortly after. It says officers "football tackled" Cordarius when he began to record officers' actions, and he and his brother Kenneth were transported to Jackson Police Department. Melodee was eventually transported to Baptist Medical Center where she sustained her third seizure, before being taken to JPD, documents show.
The City of Jackson has submitted legal documents denying the allegations on behalf of Vance and the officers listed in the altercation. Kelly also submitted an individual reply denying the allegations.
Hinds DA Robert Shuler Smith
With a new attorney and in front of a new judge, Hinds County District Attorney Robert Shuler Smith will go back to trial Jan. 29, 2018, this time for charges of two counts of domestic violence, and aggravated stalking and robbery. Smith is under indictment for an incident that allegedly took place on Aug. 13, 2015, in Rankin County. His new lawyer, Vicki Gilliam of Clinton, wants the case thrown out based on allegations that the attorney general's office acted in bad faith. Should the trial go forward, she indicates that she will argue that Smith acted in self defense. 

Local media reported that Rankin County Circuit Court Judge John Emfinger disclosed in late November that his daughter had interned in the attorney general's office and that she sat in on a meeting between 2014 and 2016 involving Christopher Butler.
The State of Mississippi had indicted Smith for hindering the prosecution of Butler; his first trial ended in a mistrial, and then he was acquitted in his second trial.
The State had originally indicated that it would try Smith for hindering the prosecution of Donald "Darnell" Turner for felony charges, including beating, shooting at, strangling and dangling a girlfriend over a bridge, but ultimately did not pursue those charges against the district attorney for not trying Turner. The State pursued the Turner charges itself, however, convicting him and drawing a 45-year sentence last fall.
The Rankin County Circuit Clerk's office confirmed that Judge William Chapman would handle Smith's case moving forward with no foreseeable effect on the trial date.
Write city reporter Ko Bragg at [email protected].
CORRECTION: A previous version of this story mistakenly said that Barnes' and Matory's suit also brings sex and race discrimination charges against "Barnes," when those charges are against Mason. We apologize for the error.
Support our reporting -- Follow the MFP.