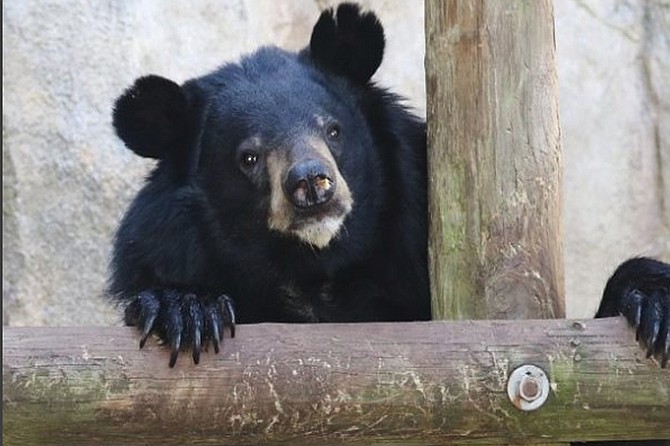 The Jackson Zoo announced on Dec. 18, 2017, that a new animal had recently arrived: Meeko the moon bear.
Meeko, who is 2 years old, came to the zoo in late November from the Metro Richmond Zoo in Moseley, Va.
Moon bears are omnivorous, meaning they eat both plants and meat. Their diets often include leaves, fruits, nuts, seeds, berries and honey from beehives, along with termites, crickets, rodents, lizards, birds and other small animals. The species can live up to 30 years in protected habitats such as zoos and wildlife refuges, a press release from the Jackson Zoo says.
The animals primarily live in Afghanistan, Pakistan and parts of southeastern Asia, occupying different types of densely forested areas, including mountain ranges, bush flats and meadows. The species is also known as the Asiatic, Himalayan or Tibetan black bear. The name "moon bear" comes from the pale fur on their chests, which often looks like a half moon. The bears share a common ancestry with American black bears but have slightly longer manes and snouts.
The International Union for Conservation of Nature lists moon bears as vulnerable on its endangered species list. Their numbers are dwindling due to habitat loss and illegal hunting, and today, there are only about 50,000 left in the wild.
"The Jackson Zoo staff hopes that Meeko will help people better understand and raise awareness of the importance of sustainable practices, even so far away from the endangered habitats," the zoo press release says.
The Jackson Zoo (2918 W. Capitol St.) will host Meeko's third birthday party from 10 a.m. to 1 p.m. on Saturday, Jan. 20. The first 50 guests will receive a free slice of cookie cake from the Outlets of Mississippi's Great American Cookies store and Nesquik milk from Brown Bottling Group. Guests can also sign a giant birthday card for Meeko, make crafts and do other bear-themed activities. Keepers will give special gifts to Meeko throughout the day. For more information, find the event on Facebook or visit jacksonzoo.org.
More stories by this author
Support our reporting -- Follow the MFP.