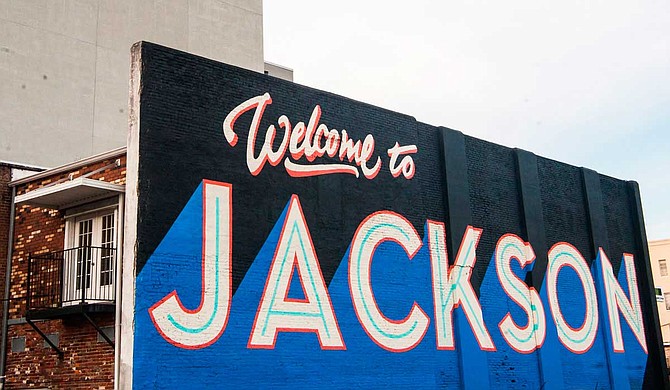 JACKSON — Down a long hallway in the Mississippi Capitol, past the grandeur of the multi-story Christmas tree and seemingly state-mandated tinsel decorations, Sen. John Horhn,
D-Jackson, convened a meeting on Dec. 18 to go over the findings of the ill-performing Jackson Convention and Visitors Bureau, also known as Visit Jackson.
This spring, the Legislature placed Visit Jackson on de facto probation, which required a consultant to develop a report about the agency for the Joint Legislative Committee on Performance Evaluation and Expenditure Review (PEER). Steve Powell, the CEO of Destination Services LLC, a Missouri-based consulting firm, presented his findings before Horhn and other lawmakers last week.
Visit Jackson's reserve fund, or fund balance, has decreased by approximately $800,000 from 2012 to 2017 due in part to the now-defunct Rhythm and Blues Festival. The festival operated from 2013 until 2017 at a net loss of $2.3 million, and was supposed to become a local staple. The most revenue the festival ever brought in was $316,958 in fiscal-year 2014.
Visit Jackson canceled the event this year, after moving it indoors to the Jackson Convention Complex in 2016.
The organization has been overspending its budget since fiscal-year 2016. In fiscal-year 2017, Visit Jackson's expenditures eclipsed its revenue by $384,743—the worst closeout in the last six years of data. The report also points to huge sponsorships that the bureau doesn't always track in terms of performance requirements. Visit Jackson gave $525,000 to the Two Museums between fiscal-year 2016-2018 and $75,000 for the Farish Street Heritage Festival in fiscal-year 2018.
As the Jackson Free Press reported a year ago, Visit Jackson pours a lot of money into personnel expenses, a line item that increased 16 percent in the last five years. In the last fiscal year, personnel sucked up 37 percent of expenditures, or over $1.5 million on its staff of about 19 then. This puts the tourism bureau's personnel costs at 7 percent above industry norms, the report states.
The PEER report also said Visit Jackson employees had not been using their time well. The consulting team reviewed JCVB's use of staff time over a two-week period in September and found that the nine-person sales department spends more time on administrative tasks than any other department—and just 55 percent on sales tasks. The consultants recommend at least 80 percent of work time on sales, to meet industry best practices.
Although Visit Jackson is cleared to operate up to July 1, 2019, it faces looming pressure to correct its shortcomings or risk de-funding like in 1998, when the Legislature yanked Jackson's tourism bureau for a year. Horhn said things are in the same place they were 20 years ago.
"There's always the reality that legislation won't pass (to continue funding) if there's a credibility issue," Horhn told the Jackson Free Press. "Right now the Bureau does have a credibility issue in how it utilizes resources and makes a lot of decisions and measures its effectiveness. So we've got to close the gap on those credibility questions and see them put together an effective strategic plan and master plan."
Mayor Missed Key Deadline
Rickey Thigpen, the interim president and CEO of Visit Jackson, took the helm in October after 31 years with the organization, replacing Wanda Wilson. He said morale has gotten better in the last few months as they went from 19 employees to 16, reevaluated position descriptions and implemented a hiring freeze.
"One of the employees stopped me and said, 'There's air in the building,'" Thigpen said to the Jackson Free Press after the meeting. "So there is excitement about all this new opportunity."
Still, he has much work ahead of him. Thigpen inherits a bleeding Visit Jackson without a fully set board of directors.
Even under legislative pressure, Mayor Choke Antar Lumumba missed the July 12, 2018, deadline to make appointments to the board required in House Bill 1637. As of the Dec. 18 meeting, to which the mayor sent his chief of staff as a proxy, three or four members sit on the board with expired terms, but are apparently legally able to serve in carryover terms, and one seat is totally empty.
Rep. Earle Banks, D-Hinds, was so fed up that he suggested usurping the mayor's power all together and redirecting appointment power to the governor.
Safiya Omari, the mayor's chief of staff, said she and the mayor at least made sure the board always had a quorum as they vetted potential candidates for appointment.
"We understand that there was a legislative mandate that we had to follow," Omari said. "But we were not willing to sacrifice due diligence to make those appointments." Omari promised to have the appointments in place within the first 30 days of 2019.
A year ago, Visit Jackson's wobbly footing came to light when then-CEO Wilson asked the Jackson City Council to request the Legislature to not only reauthorize Visit Jackson, but double the 1-percent restaurant and hotels tax that funds the bureau.In 2017, the tax generated $3.5 million in revenue for the bureau, but Wilson said she had no concrete plans for what Visit Jackson would do with more money so the council voted to support reauthorization only.
This spring, as it came time for the Legislature to re-authorize the tourism bureau, state legislators including Horhn expressed concern with how it operated.
Gov. Phil Bryant then signed House Bill 1637 that allowed Visit Jackson to stay in business, with monitoring in place and benchmarks to clear. Lawmakers this session will decide whether to continue the tax that funds the bureau.
Amping Up 'City With Soul'
Not all of the findings in Powell's presentation were bad, however. He praised the City for having a Westin hotel, and recommended that the convention center should be taking much larger clientele than it currently does.
The City is in the process of developing the nine acres of land around the Jackson Convention Complex as part of a plan to repay a $7-million debt to the U.S. Department of Housing and Development. Construction could begin in April 2019 if the City sticks to its plan.
More competition is also threatening the convention center. The suburban town of Flowood is working on a $50-million project that will feature a 200-room luxury hotel and a 54,000-square foot conference center adjacent to the city's golf course.
Jackson restaurateur Jeff Good went over the history of the convention center and visitors bureau at the Capitol meeting last week. He said the restaurant business in Jackson is underperforming due to too many restaurants and not enough people dining in them. A revived tourism market would fill that void, he suggested.
Good stressed the urgency of rectifying the issues with Visit Jackson as soon as possible, especially with Flowood's new center on the horizon.
"If we do not work together, we will perish," Good told those gathered at the Capitol. "Working together works."
Beyond correcting the day-to-day machinations at Visit Jackson, the bureau also appears to have a communications issue that fosters confusion and tension with stakeholders like Good who should be working as partners to encourage people to visit more often.
Powell also said Jackson has a lot to offer in its culinary options, music and history. He recommended Visit Jackson continue and beef up its "City With Soul" marketing efforts that play to Jackson's strengths and feature local comedian Rita Brent.
Pam Confer serves on the Visit Jackson board as one of the members who would like to be reappointed. She wants to "give the Soul back to the City of Jackson" by doing a better job at being open to the local community and metro area. She believes that promise in the air.
"There are probably people in the state and in the City that have yet to see a lot of things, so they're also tourists,"
Confer told the Jackson Free Press after the Dec. 18 meeting.
"If you stay in the suburbs, and you've never come to the downtown area, you're a tourist. … We have to look at these stakeholders as family and also as outsiders as we bring them in."
Email city reporter Ko Bragg at [email protected]
Support our reporting -- Follow the MFP.