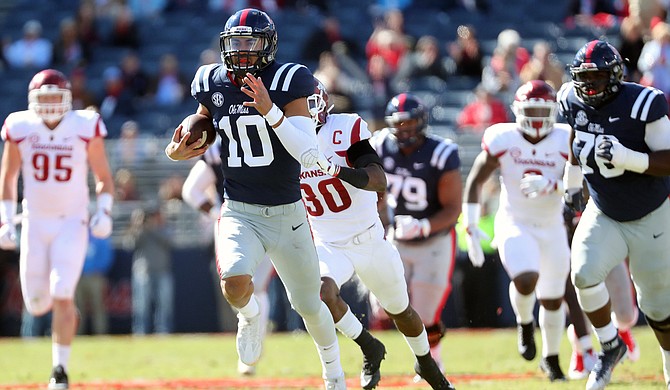 If it was not clear from our hats, t-shirts, license plates, banners and bumper stickers, Mississippians are, by and large, pretty into college football. For many fans, though, there just is not enough time in the day to keep close tabs on every important aspect of the game, from off-the-field shenanigans to off-season staffing changes to preasons statistics.
While the Jackson Free Press cannot keep up with all the big moments in the game, we do divert our attention once a year for the JFP College Football Preview. In this issue, we will walk you through some of the memorable wins and tragic losses of last season, and point you toward the potential of things to come for teams in the Magnolia State seeking gridiron glory.
Whether you are routing for the Mississippi State University Bulldogs to come out as top dog or for the Millsaps College Majors to score a major victory this season, this issue can help the football fans among us to plan ahead.
Read ahead to find out coaching records, game schedules, last-season recaps, power players on the field and on the sidelines, where you can listen to the games, and more for Mississippi teams of all sizes and statures.
University of Mississippi Rebels
Head coach: Matt Luke (6-6 at UM, 6-6 overall, entering second season)
2017 record: 6-6 overall, 3-5 SEC
Radio: 97.3 FM
Stadium: Vaught-Hemingway Stadium
2017 Recap
There is a reason the powers-that-be removed the interim tag from Matt Luke and officially gave him the University of Mississippi head coaching job.
Everything looked like it was going to fall apart for the Rebels last season when Hugh Freeze resigned and the NCAA cloud still lingered over the university.
Luke kept the program together even after quarterback Shea Patterson went down with a knee injury. Players and fans rallied around Luke while he got the Rebels ready to play each week, even without the carrot of a bowl game.
The team saw some ugly losses, including a 3-66 bout against the University of Alabama, but UM managed some hard-fought wins, as well, such as a 31-28 victory over Mississippi State University in the Egg Bowl. The Rebels finished 6-6, and Luke did a fantastic job overall in what could have been a dumpster fire of a season.
Season Overview
The NCAA is finally done with the Rebels, and the dark cloud has cleared. Now that the program is not waiting to hear its fate, UM can recruit players who want to be part of its future success.
Luke earned the job by coaching like there was no tomorrow. Now that he has the reins of the Rebels, he will have to avoid coaching conservatively and take calculated risks like he did in his first season.
The offense should be one of the best in the SEC, even after some players left due to the NCAA sanctions.
UM will need to make the most changes on defense if this team is going improve over last season, when the Rebels finished near the bottom of several defensive categories for the SEC, giving up more than 450 yards and 35 points per game.
2018 Outlook
Patterson transferred to the University of Michigan, giving the starting position to backup quarterback Jordan Ta'amu. However, Ta'amu stepped in and showed out in a big way after Patterson's injury, and he should still be up for the task this season.
He will have no shortage of targets to find in the passing game, either. The Rebels might have the best receiving unit in the SEC with A.J. Brown, D.K. Metcalf and DaMarkus Lodge, among others.
UM will have to find a replacement for running back Jordan Wilkins, whom the Indianapolis Colts drafted. D'Vaughn Pennamon is the leading rusher to return, but only has 217 yards and two touchdowns. The Rebels may nominate the "running back by committee" approach until one player takes over as the leading man.
Halting opponents' running game will fall to defensive tackles Benito Jones and Josiah Coatney, the top returning player in sacks and tackles for a loss. Detric Bing-Dukes may lead the linebacker unit.
The return of safeties C.J. Moore and Zedrick Woods will help with the secondary. Myles Hartsfield and Ken Webster are back at the corners, meaning the secondary will have experience all around.
2018 Prediction
The Rebels will face Texas Tech University, Alabama and Louisiana State University in the first five weeks of the season. UM also gets Southern Illinois University, Kent State University and University of Louisiana at Monroe mixed in the first six games. That means the season will end with six consecutive SEC games.
Injury management will become key as the season progresses. The Rebels' hope of a winning season could be derailed if the injury bug hits early in the schedule.
UM plays back-to-back road games only once in the season, heading to Texas A&M University and Vanderbilt University. On the flipside, the Rebels play back-to-back home games with Alabama and Kent State and then consecutive home games with Auburn University and the University of South Carolina.
Offensively, the Rebels have enough firepower to stay with any time on their schedule. Defensive improvement will be key for UM staying in the hunt for a winning season. Depth could be a bit of an issue after some players transferred at the end of last season.
Luke will have to keep this team focused, even without a bowl game at the end of the season. There are six wins on the schedule, but plenty of factors will try to keep this team from another .500 record.
Record prediction: 6-6
Schedule
Sept. 1 Texas Tech (neutral location); Sept. 8 Southern Illinois; Sept. 15 Alabama; Sept. 22 Kent State; Sept. 29 @ LSU; Oct. 6 Louisiana Monroe; Oct. 13 @ Arkansas; Oct. 20 Auburn; Nov. 3 South Carolina; Nov. 10 @ Texas A&M; Nov. 17 @ Vanderbilt; Nov. 22 MSU
University of Southern Mississippi Golden Eagles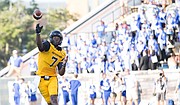 Head coach: Jay Hopson (15-11 at USM, 47-28 overall, entering third season at USM, eighth overall)
2017 record: 8-5 overall, 6-2 C-USA
Radio: 105.1 FM
Stadium: M.M. Roberts Stadium
2017 Recap
In year two under Jay Hopson, the USM program made small improvements and went from a 7-6 record to 8-5. Losses to the University of Kentucky and 
University of Tennessee weren't a shock. For a second season in a row, USM also lost to University of North Texas, which ended up winning the C-USA West in 2017.
Most of the season, USM took care of business, though, putting together a pair of three-game winning streaks. USM even dealt with injuries at quarterback that didn't send the season into a tailspin. Florida State University beat the Golden Eagles 42-13 in the Independence Bowl to end the season.
Season Overview
USM returns three starters on the offensive line and quarterback Kwadra Griggs, which is good news. Keon Howard, who played after Griggs was injured, left the program. Southern Miss also has to replace stars such as running back Ito Smith, and receiver Korey Robertson, who are both on NFL teams now, as well as Allenzae 
Staggers and Isaiah Jones.
In terms of collective receiving stats, the quartet had 182 receptions, 2,164 yards and 19 touchdowns. Throw in Smith's 1,415 rushing yards and 13 rushing touchdowns, and USM has a ton of offense to replace.
Things don't get much better for the defense. USM has just five returning starters from last season, and defensive coordinator Tony Pecoraro left for the same position at Florida Atlantic University.
2018 Outlook
When he was healthy, Griggs was solid in his first season as a starter. He threw for 1,879 yards with 16 touchdowns with just two interceptions, and rushed for 268 yards and three touchdowns.
Quez Watkins, Jaylond Adams and Tim Jones are the top returning receivers. Tez Parks, T'Rod Daniels and George Payne, who returns from an injury, are now the top returning backs. USM also has Parker Shaunfield, who might be the best kicker in C-USA.
New defensive coordinator Tim Billings will have to get the unit together. Linebackers Racheem Boothe and Jeremy Sangster will be the glue early on. Defensive ends LaDarius Harris and Darian Yancey should help the pass rush, along with linebacker Paxton Schrimsher. The secondary will rely on Rachuan Mitchell and Picasso Nelson, who was injured all last season.
2018 Prediction
The schedule sets up nicely for USM to rebuild this season. The non-conference slate features home games against Jackson State and Louisiana at Monroe, with road trips to Appalachian State and Auburn. Most of these opponents are beatable.
In conference, USM hosts Marshall University and plays on the road against the University of North Carolina at Charlotte. The 49ers finished last in the East, and the Thundering Herd finished third. The biggest games are against UAB and North Texas. USM ends the season on the road against the University of Texas at El Paso, which went winless last year.
The Golden Eagles should potentially have six to eight wins if the new parts of the team come together. One thing USM will need to avoid is injuries at key positions while trying to break in new starters.
Record prediction: 8-4
Schedule
Sept. 1 JSU; Sept. 8 Louisiana-Monroe; Sept. 15 @ Appalachian State; Sept. 22 Rice; Sept. 29 @ Auburn; Oct. 13 @ North Texas; Oct. 20 UTSA; Oct. 27 @ Charlotte; Nov. 3 Marshall; Nov. 10 @ UAB; Nov. 17 Louisiana Tech; Nov. 24 @ UTEP
Jackson State University Tigers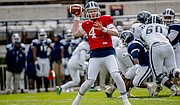 Head coach: Tony Hughes (6-16 overall, all at JSU entering third season)
2017 record: 3-8 overall, 3-5 SWAC
Radio: 95.5 FM
Stadium: Veterans Memorial Stadium
2017 Recap
Year two under coach Tony Hughes started out with a seven-game losing streak. JSU had some close losses but didn't earn a win until its 24-5 victory over Mississippi Valley State University in late October. The Tigers lost their next game 3-13 to Alabama State University.
The season highlights were narrow back-to-back wins against Alabama A&M University and East champion Alcorn.
A lack of offense was the Tigers' biggest problem. JSU averaged just 12.7 points per game, and only scored 20-plus points three times. That put pressure on the defense all season long.
Season Overview
Fixing the offense was the top priority for Hughes in the offseason. To help with that, JSU lured Hal Mumme away from Belhaven University. If there is one thing he brings to the table, it is a high-octane 
offense. Under Mumme, Belhaven set single-game and season records for offense, and averaged 28.4 points per game in 2017.
Success will depend on how quickly the Tigers pick up on his strategy. Mumme will need to find the right players for it to run at a peak level.
The good news is that JSU's defense should be a strength as the offense is trying to find its form. If their defense can further improve on last season, the Tigers could win more games off defense alone.
2018 Outlook
JSU hopes the team is greater than the sum of its parts. During SWAC Media Day, no JSU players landed on the first or second All-SWAC teams.
Mumme could turn the keys over to Navarro College transfer Derrick Ponder, who played sparingly in 2017. In the JSU spring game, though, Ponder threw for 353 yards with three touchdowns.
Running back Jordan Johnson, last season's leading rusher, will return. JSU might not run the ball much under Mumme, but experience at running back could help if the offense struggles early.
Defense is where JSU could shine. The Tigers return several players who should continue making an impact, 
including linemen Malik Hammer, Charles Anderson and Khalil Johnson. Eric Bowie, who recorded 46 tackles and 7.5 tackles for a loss last season, should lead the linebacker unit. Markel Gladney, with 17 tackles and 2.5 tackles for a loss in 2017, will head up the secondary.
2018 Prediction
SWAC officials picked Jackson State to finish third in the East this season, which doesn't seem like a stretch.
The Tigers start the season against USM before playing rival Tennessee State. JSU travels to play Florida A&M University. The only other nonconference game is against the North Alabama. JSU also plays Southern, Prairie View A&M and Arkansas-Pine Bluff out of the West.
This season feels like a crossroads. The program needs to start showing a move to toward the top of the SWAC. A six-win season us achievable and would show that things are heading in the right direction.
Record prediction: 6-5
Schedule
Sept. 1 @ USM; Sept. 8 Tennessee State (neutral site); Sept. 15 @ Florida A&M; Sept. 29 Alabama A&M; Oct. 6 @ Arkansas-Pine Bluff; Oct. 13 MVSU; Oct. 20 North Alabama; Oct. 27 @ Southern; Nov. 3 Prairie View; Nov. 10 @ Alabama State; Nov. 17 @ Alcorn
Mississippi State University Bulldogs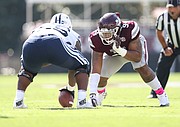 Head coach: Joe Moorhead (38-13 overall, first year at MSU, entering fifth season of coaching)
2017 record: 9-4 overall, 4-4 SEC
Radio: 105.9 FM
Stadium: Davis Wade Stadium
2017 Recap
For Mississippi State University, the 2017 season stuck mostly to script under head coach Dan Mullen. The Bulldogs 
defeated the teams that fans expected them to defeat without any shocking upsets.
MSU defeated a ranked Louisiana State University team that turned out to be vastly overrated. There was a thrilling loss to Alabama, but it was a loss nonetheless.
Trips to the University of Georgia and Auburn didn't end well, with the teams outscoring MSU 80-13 in total. The only other slip came in the Egg Bowl after quarterback Nick Fitzgerald suffered an ankle injury.
The Bulldogs bounced back with a victory over the University of Louisville in the TaxSlayer Bowl without their star quarterback. Before the bowl game, though, Mullen left the school to take over as head coach for the University of Florida.
Season Overview
Fans were frustrated when Mullen lost big games against ranked foes, but he did build the Bulldogs into a consistent winner. That made the job attractive to new head coach Joe Moorhead, who built a winning squad at Fordham University before jumpstarting the Pennsylvania State University offense. MSU fans are excited to see if he can take the program to the next level.
While some coaches jump jobs and leave little behind, Mullen left a solid foundation to work at MSU.
Fitzgerald should return healthy, but Keytaon Thompson got valuable experience after Fitzgerald's injury. The defense is loaded with talent but will have to fit into the scheme of its fifth coordinator in the last five years.
2018 Outlook
While Fitzgerald gets back up to speed, the offense will need running back Aeris Williams. He rushed for 1,107 yards and six touchdowns last year, and he might be the star of the show early this season.
MSU will vastly improve its offense if the Bulldogs can get more out of the wide receiver unit. No receiver had more than 300 receiving yards last season.
The Bulldogs bring back four starters on the offensive line, which should help Fitzgerald and get the running game going.
On defense, eight starters return, with Jeffery Simmons and Montez Sweat creating havoc. Simmons is a defensive tackle/defensive end hybrid, and Sweat is a defensive end/linebacker pass rusher.
2018 Prediction
Moorhead should improve an already strong offense, and the defense could be the best in the SEC if it can get better against the run. Fitzgerald's health will be an early-season question mark, but the Bulldogs do have some experience behind him.
The second game will be an early 
indicator. MSU travels to Kansas State University for a non-conference contest that should reveal more than its season opener.
Two key three-game stretches could make or break the season. In the first three, State will play the University of Florida with Mullen at the helm, Auburn and Louisiana State University. MSU will end the season with a trip to Alabama, a home game against the University of Arkansas and a trip to main rival UM.
Seven to eight wins should be doable based on the schedule. The real key for 
Mississippi State and its fans will be whether Moorhead can take down some teams that his squad isn't expected to beat.
Record Prediction: 8-4
Schedule
Sept. 1 Stephen F. Austin; Sept. 8
@ Kansas State; Sept. 15 Louisiana-Lafayette; Sept. 22 @ Kentucky; Sept. 29 
Florida; Oct. 6 Auburn; Oct. 20 LSU; Oct. 27 Texas A&M; Nov. 3 Louisiana Tech; Nov. 10 @ Alabama; Nov. 17 
Arkansas; Nov. 22 Mississippi
More stories by this author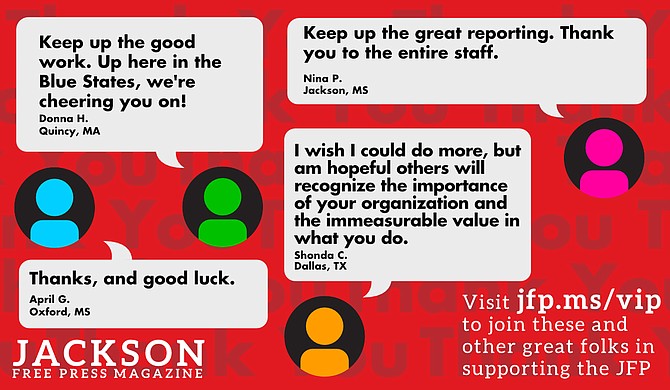 Thanks to all our new JFP VIPs!
COVID-19 has closed down the main sources of the JFP's revenue -- concerts, festivals, fundraisers, restaurants and bars. If everyone reading this article gives $5 or more, we should be able to continue publishing through the crisis. Please pay what you can to keep us reporting and publishing.