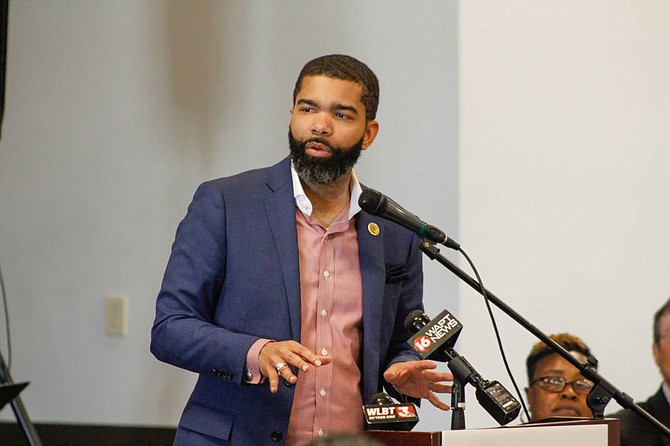 JACKSON — Mayor Chokwe Antar Lumumba publicly agreed and committed to several upcoming and ongoing projects designed to revitalize west Jackson during a luncheon on Wednesday, April 25, at New Horizon Church International.
Members from various branches of Working Together Jackson, a coalition of community organizations in the Jackson area, asked the mayor to speak about the zoo, a medical corridor, better city transportation and access to fresh food, among other topics.
Several community leaders went up to a podium adjacent to the mayor's to pose a series of questions to Lumumba to get a verbal commitment to their proposals to help west Jackson.
The natural elephant in the room was the recently announced move of the Jackson Zoo. Heather Ivery, president of the Zoo Area Progressive Partnership, asked the mayor to commit to "entertaining" ZAPP's suggestions for new zoo board members and to open those meetings to the public.
"Absolutely," Lumumba said. "Not only will I agree to I, (but) I requested it post-haste so that individuals whose lives are dependent on that resource which is in their community have some say-so in how it is overseen."
Ivery said that the mayor's chief of staff, Safiya Omari, told her that there are vacancies on the zoo's board that the City can fill. Ivery also said that ZAPP members have never been asked to serve on the board or help find potential board members, although it has been in place to support the zoo since 1999.
The mayor added that the leadership at the zoo is "nice" and "sincere," but that he sometimes disagrees with them. He also brought up its pending move to LeFleur's Bluff, which is on State-owned land, and the zoo's potential name change. There are rumors it might be renamed to "Mississippi Zoo."
This came a day after a spirited, lengthy city council debate about the zoo after Ward 3 Councilman Kenneth Stokes proposed cutting ties immediately by breaking the contract within the next 90 days. The council decided to send the item into an ad hoc committee so that it could hash out where the members stand on the issue.
Lumumba also agreed to help with developing the proposed medical corridor, saying he is already doing things behind the scene to get it off the ground. The mayor also committed to doing a ridealong to get the experience of the JATRAN bus system, but said he would do so without informing the public so it wouldn't become a spectacle.
"Most people don't understand the importance of JATRAN unless you've had to use JATRAN, so it is a necessary resource that we have to improve," the mayor said. "And I will openly admit to you that we have significant improvements to make."
The mayor also committed to employing qualified graduates from the Jackson 500 program for infrastructure jobs. He said he was looking into fixing the human-capital issue within the public works department.
"In public works, we have more vacancies for the positions for filling potholes than we have individuals actually filling potholes," he said. "One of the challenges is that we don't offer competitive wages. ... To be honest, someone working in public works earns less than someone working at Walmart."
Lumumba's remarks at New Horizon came just a day after city workers from various departments protested at City Hall for better wages.
The mayor volunteered the City's director of planning, Mukesh Kumar, to join an initiative to bring fresh food options to Jackson through cooperatives and other markets. He also promised to ensure access to clean drinking water in Jackson Public Schools.
"Clean drinking water is not a luxury; it's a necessity," Lumumba said before acknowledging the "strong" school board, as two school board members, President Jeanne Middleton Hairston and Robert Luckett, sat in the audience. The board is still missing a member from Ward 3, a mayoral appointment.
Email city reporter Ko Bragg at [email protected]. Read more at jfp.ms/zoo.
Support our reporting -- Follow the MFP.