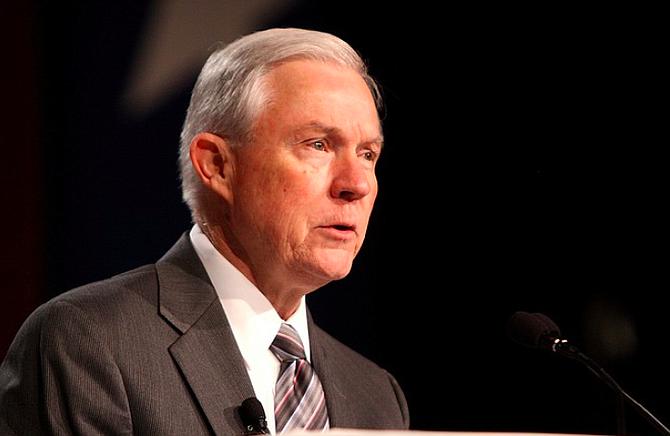 JACKSON, Miss. — The U.S. Department of Justice and Attorney General Jeff Sessions released a statement today praising its operation last week alongside the Jackson Police Department and other agencies that swept up 45 people in Jackson, including 31 "documented gang members, the release says. The sweeps were a part of the controversial Project Eject/Safe Neighborhood strategy that Sessions resuscitated since Donald Trump's election. The DOJ press statement follows, verbatim:
JACKSON, MS – The U.S. Marshals Service's Gulf Coast Regional Fugitive Task Force, made up of Deputy U.S. Marshals and other federal, state and local law enforcement officers, increased their numbers, expanded their operations, and led a successful violent crime reduction initiative last week in the Jackson metro area, announced U.S. Attorney Mike Hurst and U.S. Marshal George White. This surge of law enforcement, in cooperation with the U.S. Attorney's Office and Project EJECT, executed outstanding warrants, targeted known gang members and their associates, and searched for sex offenders who had violated the terms of their supervised release. The Task Force also worked to identify targets and collect tangible criminal intelligence to further its work in the future of removing violent criminal offenders from the streets.
"When law enforcement officers work together, we get results," Attorney General Jeff Sessions said. "The arrest of more than 30 gang members in Jackson is the result of effective collaboration between all levels of law enforcement – federal, state and local – to target the most violent criminals in our communities. It's also an example of how customizing our strategy at the local level through the Project Safe Neighborhoods program helps us use our resources more effectively. I want to thank our Deputy U.S. Marshals and all of the task force members who played a role in these arrests. They exemplify the proven law enforcement methods that we will continue to prioritize going forward."
"We are dismantling gangs, prosecuting violent criminals and removing sex offenders from the streets of Jackson," said U.S. Attorney Hurst. "I commend the U.S. Marshals and the Gulf Coast Fugitive Task Force for substantially increasing their manpower this past week in our Capitol City, becoming a force multiplier on our streets and proactively taking the fight directly to the criminal element. I look forward to our office prosecuting some of these violent criminals under Project EJECT. It is only through such cooperation among law enforcement, and by empowering our citizens and our communities, that we will make Jackson and its people safer and more secure."
During last week's operation, the Fugitive Task Force increased its manpower to 60 members and was able to arrest 45 individuals, 31 of whom were documented gang members, including Gangster Disciples, Vice Lords, Simon City Royals, Latin Kings, and the Aryan Brotherhood, among others. During these arrests, a number of firearms were seized and several arrestees were found to be in possession of various illegal drugs, including marijuana, ecstasy, and crystal methamphetamine. While the details of these arrests cannot yet be made public, as investigations are ongoing, some of these individuals are expected to be prosecuted under Project EJECT.
U.S. Attorney Hurst, who accompanied the Task Force one night during their operations, praised the tenacity, dedication and professionalism of these Deputy U.S. Marshals and Task Force Officers from the following agencies:
Jackson Police Department
Mississippi Bureau of Narcotics
Hinds County Sheriff's Office
Mississippi Bureau of Investigations
Rankin County Sheriff's Office
Mississippi Department of Corrections
Pearl Police Department
Homeland Security Investigations
Madison County Sheriff's Office
Bureau of Alcohol Tobacco Firearms and Explosives
Madison Police Department
United States Attorney's Office
Ridgeland Police Department
Metro 1 Medical Air Support
Biloxi Police Department
Project EJECT is an initiative by the U.S. Attorney's Office for the Southern District of Mississippi under the U.S. Department of Justice's Project Safe Neighborhoods (PSN), a program bringing together all levels of law enforcement and the communities they serve to reduce violent crime and make our neighborhoods safer for everyone. Attorney General Jeff Sessions reinvigorated PSN in 2017 as part of the Department's renewed focus on targeting violent criminals, directing all U.S. Attorney's Offices to work in partnership with federal, state, local, and tribal law enforcement and the local community to develop effective, locally-based strategies to reduce violent crime.
More stories by this author
Support our reporting -- Follow the MFP.