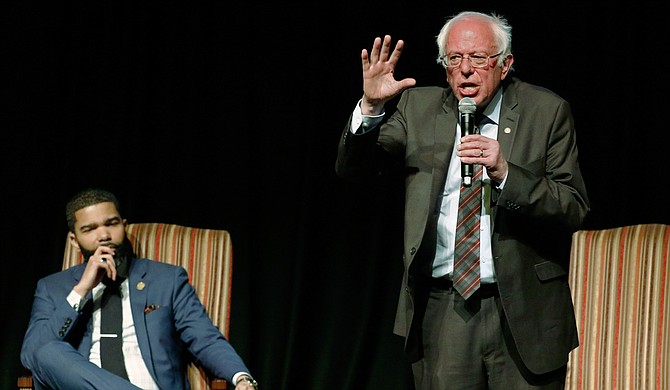 JACKSON — Cries of "Bernie 2020!" accented the conversation between U.S. Sen. Bernie Sanders and Mayor Chokwe Antar Lumumba at a town hall on economic justice 50 years to the night since Dr. Martin Luther King Jr. was assassinated in Memphis.
Thalia Mara Hall in downtown Jackson hosted the predominantly white audience, mostly Sanders supporters in T-shirts with slogans like "Feel the Bern" or even one that said "Don't Blame Me I Voted for Bernie," among other paraphernalia with Sanders' face on it. Some arrived an hour before the doors officially opened at 6 p.m.
Sanders told the crowd that he had come to Mississippi because he believes the Democratic Party has to become a 50-state party, which prompted enormous cheers from the crowd.
In line with the theme, Sanders said King was his "major political inspiration," and that he resonates with the work for economic justice King did toward the end of his life.
"You have got to ask yourselves ... how it could be that in this great country with so much wealth, we have the highest rate of childhood poverty of almost any major country on earth? Bad for whites, much worse for African Americans," Sanders said. "How could it be that we are the only major country not to guarantee healthcare to all people—," but the cheering crowd didn't let him finish.
Sanders picked back up saying that Dr. King taught us to have a bold vision and to move the country forward to create the America the late hero envisioned. 


Race, and Also Class
Hours before the town hall, Sanders was in Memphis for the "I Am 2018" rally and events throughout the city where King took his last breaths after a white assassin shot him on the balcony of the Lorraine Motel. King had gone to Memphis in 1968 to support a sanitation workers' strike after two black men, Echol Cole and Robert Walker, had been crushed in a faulty trash truck.
Less than two weeks later, black men from the public works department in Memphis went on strike to fight poor wages that left many of them on welfare and food stamps and working on dangerously malfunctioning trucks.
King stepped in to help, as the mission of this strike directly supported his Poor People's Campaign for economic justice. With hesitation, King went back to Memphis on April 3 and spoke before sanitation workers there, delivering his final and now iconic speech, "I've Been to the Mountaintop." He was killed the next day.
The Memphis sanitation strike in 1968 was inextricably linked to race, and therefore class because black people were second-class citizens still. Sanders described it without including that important nuance, or the race of the sanitation workers, which often draws him criticism.
"All of us know where he was when he was assassinated 50 years ago today," Sanders said. "He was in Memphis to stand with low-income sanitation workers who were being exploited ruthlessly, whose wages were abysmally low and were trying to create a union."
Racial inequality in Memphis is still real 50 years later. 2015 U.S. Equal Employment Opportunity Commission statistics say white people in Memphis held 88 percent of senior-level management and executive positions, while more than 70 percent of labor workers and service workers were black. In the 2010 census, Memphis ranked sixth out of 10 American cities with the largest number of black people.
Those same 2015 EEO numbers show that white executive/senior-level officials and managers in Jackson make up more than 86 percent of those positions, while black people only represent 12 percent of those roles, despite Jackson being nearly 80 percent black.
As Lumumba pointed out, economic injustice in Jackson, and the entire state is prevalent, too.
"The Wednesday after Donald Trump was elected, I woke up in Jackson, Mississippi," Lumumba said. "And what that means to me is no matter whether Donald Trump is the president, to be honest no matter whether Barack Obama, Bill Clinton or George Bush, we've always been at the bottom.
"Jackson, Mississippi, or Mississippi as a state, no matter whether the country is experiencing great booms or busts in terms of its economy, we are always at the bottom. And so what is apparent to me is that we have to begin to rescue ourselves," Lumumba added.
'Charismatic' Obama and a 'Big Giant Redneck'
Sanders also evoked President Barack Obama's name in a comment that some on social media took to be offensive because they felt the senator downplayed America's first black president in an event meant to honor another black leader.
"The business model, if you like, of the Democratic Party for the last 15 years or so, has been a failure," Sanders said in response to a question about how to harness millennial energy in efforts to reimagine the Democratic Party in Jackson and beyond.
"[P]eople sometimes don't see that because there was a charismatic individual named Barack Obama who won the presidency in 2008 and 2012. He was obviously an extraordinary candidate, brilliant guy. But, behind that reality, over the last 10 years, Democrats have lost about 1,000 seats in state legislatures all across this country," Sanders added.
This was not Sanders' first trip to this area. In 2017, Sanders came to Canton, Miss., in support of the polarizing efforts to unionize Nissan plant workers there—a campaign that ultimately failed with more than 62 percent of workers voting against the union.
However, from the union T-shirts with Sanders on them and long-time union leaders like Johnnie Smith, 54, a white Mississippian who voted for Sanders in the primaries, last night made it clear that the 2017 loss didn't ice "the Bern" for many people.
Smith was one of the first to arrive at the town hall in cowboy boots, a John Deere trucker hat, a denim jacket over a black button-up shirt tucked into jeans held up with an American flag belt buckle. He gets frustrated that people often mistake him for a Republican or Trump supporter, when, in actuality, he voted for Hillary Clinton "when it counted," but initially supported Sanders because of his economic-justice campaign.
"They look at me as a big giant redneck, and it's probably true. But, I grew up in the sticks and poor. Trade unions helped me to get out of poverty," Smith told the Jackson Free Press. He came to the town hall to hear some progressive voices—a welcome change to what he calls, "the conservative junk that you hear day in and day out."
Email city reporter Ko Bragg at [email protected]. Follow her on Twitter at @keaux_.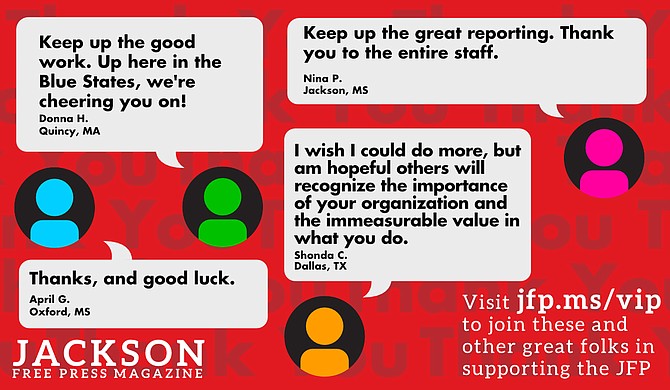 Thanks to all our new JFP VIPs!
COVID-19 has closed down the main sources of the JFP's revenue -- concerts, festivals, fundraisers, restaurants and bars. If everyone reading this article gives $5 or more, we should be able to continue publishing through the crisis. Please pay what you can to keep us reporting and publishing.