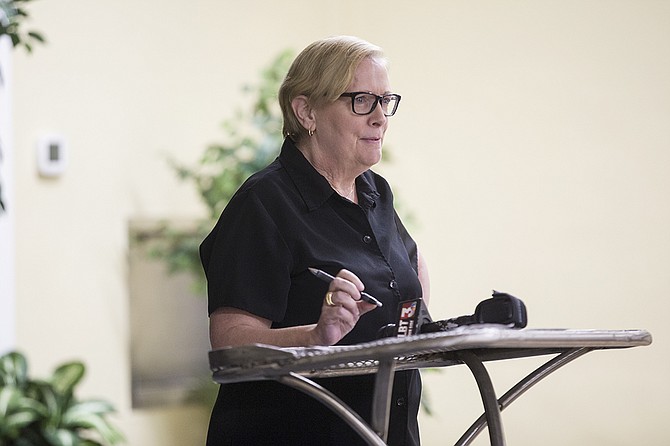 Beth Poff may be the executive director at the Jackson Zoo, but she says that she is a zookeeper at heart.
When the Virginia native attending Virginia Western Community College in Roanoke, Va., she was interested in biology and animals, but not necessarily in becoming a veterinarian, she says. Because of that, she took business and accounting classes in addition to biology.
While working as a remote engineer assistant at radio station WROV, she was setting up and testing equipment at a zoo and heard it was looking for a zookeeper.
"It just kind of clicked," she says.
She began working for the Mill Mountain Zoo in Roanoke as an animal-care supervisor and then later became the director. She received her accreditation in animal management from the University of Cambridge in 1985.
"It's been animals, animals ever since," she says.
In 1986, she became the director of the Blue Ridge Zoological Society of Virginia, and four years later, she attended the Professional Management School for Zoo and Aquarium Personnel at North Carolina State University.
In May 2005, Poff moved to Jackson to become the executive director of the Jackson Zoo.
Poff says that a zoo director position is all over the place in terms of tasks, as she has to deal with everything from the business side of the zoo to fundraising.
"What's really great about this job (is) no matter how frustrated you get at the spreadsheets, you can still walk out the door and look at animals," she says. "The animals are still dear to my heart."
On Thursday, Sept. 28, the Jackson Zoo will host one of its major fundraisers, the 27th annual Zoo Party. This year's event, which is themed "Safari Chic," will be at The South Warehouse (627 E. Silas Brown St.) from 7 p.m. to 10 p.m. Tickets are $85 per person at the door.
Poff says it will be like any great party with food, music and drinks, but the zoo will also bring in animals for the guests to meet and learn about. The event will also feature sketch artists, bourbon tastings, a silent auction where participants can bid on painted ostrich eggs, behind-the-scenes tours at the white rhino and Sumatran tiger exhibits, and more.
"There's a lot of little extra fun things that are involved in there," she says.
Fundraising events like the Zoo Party are important to the zoo because, "The zoo cannot live on admissions and government donations alone," Poff says. The proceeds from the Zoo Party will go toward underwriting programs such as the zoo's education department, conservation work and exhibits.
For more information, visit jacksonzoo.org.
More stories by this author
Support our reporting -- Follow the MFP.