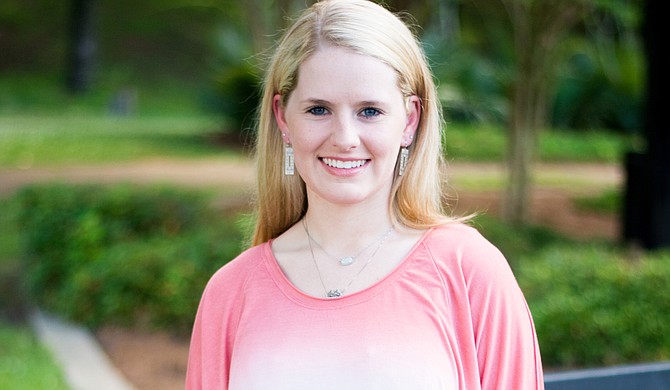 Hannah Lawrence says she had a normal childhood up until the age of 13. She made good grades and loved to play sports such as soccer. Then, a bout with viral encephalitis left her with scar tissue on her brain. She developed epilepsy, a neurological disorder that disrupts nerve-cell activity and causes symptoms such as seizures and memory loss.
In 2008, doctors put a Vagus nerve stimulator in her chest, which is designed to prevent seizures by sending mild electrical pulses through the Vagus nerve in the neck, and in 2010 and 2013, she had temporal lobectomies to help control seizures. In 2015, Lawrence became the first patient in a U.S. pediatric hospital to receive a NeuroPace responsive neurostimulation system. The device, which is on the left side of Lawrence's brain, is about two inches long and has two connecting wires. It monitors electrical activity to help stop seizures before she has them.
While Lawrence says it would be hard to completely rid her of epilepsy because her seizures come from both sides, the RNS System and her other treatments have made it easier to deal with.
"I used to have at least two or three a day in the beginning," she says. "Now, at the most, (I have) three a month. Now, it's more like, 'OK, I feel like I'm about to have a seizure. Hold on,' and you just sit still for about a minute, and it's like, 'OK, now what are we talking about?'"
She is now an ambassador for RNS System, which means that she goes to hospitals such as Le Bonheur Children's Hospital in Memphis, Tenn., to talk to patients about epilepsy and the device.
Since her parents own Brandon Barber Shop, she decided to attend school at Mack's Barber College in Florence. She graduated in 2012 and began working with her dad, Kenny Lawrence, at the shop. Hannah Lawrence's best friend, Kelcey Bailey, also works at the shop. That is fortunate, Lawrence says, because her friend knows what to do when she begins having a seizure.
Lawrence says the hardest part of having epilepsy is the need to depend on others at all times, but with the treatments, she is slowly getting her freedom back. Recently, she got engaged to her fiance, Mason McGee, and the couple plans to get married in May 2018. She also is hoping to get her driver's license in the next couple of years.
"It was really tough in the beginning, but now, over so many years, you look back and it's like, 'You really cried over that?' Well, at the time, we probably needed the tears, but now it ... ain't even worth it."
For more information on the RNS System, visit the NeuroPace website.
CORRECTION: This story has been edited to reflect factcheck changes. The Vagus nerve stimulator was actually installed in Lawrence's chest. It sends electrical pulses through the Vagus nerve in the neck. Also, the RNS is actually called the RNS System. The Jackson Free Press apologizes for these errors.
More like this story
More stories by this author