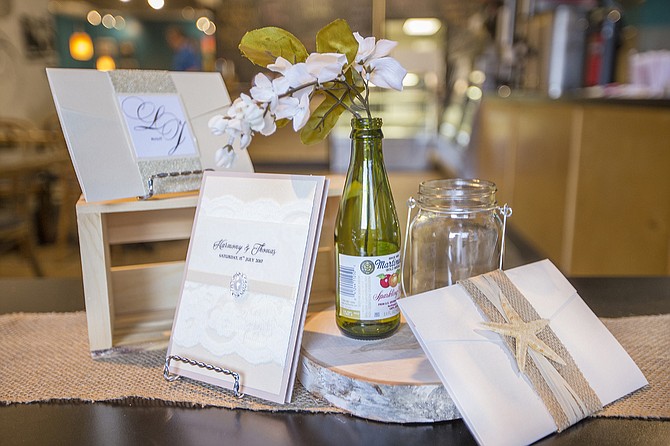 Alicia Stapleton, who also goes by Cookie, says she likes to use real embellishments for the wedding invitations she designs such as a small starfish for a destination wedding, or a piece of lace and a cameo pendant for a classically themed wedding.
Stapleton, who is a Jackson native, says she originally entered college at the University of Louisiana at Monroe as a graphic-design major, but mass communications exposed her to more areas that she was interested in such as radio and TV. Though she changed her major to mass communications, she kept the minor in art because she says she has always been creative.
"I remember in kindergarten I used to make little illustration books and sell them for like 25 cents. ... Full color was 50 cents; black and white was 25 cents," Stapleton jokes.
Stapleton began graphic-design company Inkfolio three years ago.
She says that it was her own 2014 wedding that piqued her interest in designing wedding stationery. That August, she married her high-school sweetheart, Silas Stapleton, and says that for their celebration, she handmade the invitations, the menu and the stationery. She says the positive response from people was also what made her become interested in wedding stationery.
Stapleton spent the next couple of years after her wedding preparing to add the branch, making sure she had the right suppliers, building her clientele and perfecting the aesthetics for her products. She also wanted to spend time working herself up to the point where she could handle them because weddings require a lot of work, she says.
"It takes a lot more work, and you want to make sure things are perfect for a bride," Stapleton says.
Before the wedding stationery launched on Feb. 20, Stapleton says she had designed wedding invitations for friends and for some people who were referred to her, which had helped her prepare.
Stapleton says that her favorite one to design had a "The Great Gatsby" theme. "I love that era," she says. "That was pretty fun."
She says in her business, she likes to spend time with brides, and customize and build their invitations.
"Just having that upscale experience of it just being about you," she adds.
In the future, Stapleton says that she plans to have an Inkfolio Periscope or YouTube channel so brides can get an inside look at how the invitations are made and so they can watch wedding tutorials.
Though wedding invitations are fairly new to her business, she says that that's her favorite part of Inkfolio.
"Just launching all the wedding stationery and actually just creating all the samples that we have, I've found that to be the most exciting versus just doing the graphics because I'm able to just get in, hands on, and create, and that's my true passion there," she says.
Stapleton also likes to draw and do ceramics in her spare time.
For more information about Inkfolio, visit inkfolio.net. Read more JFP Hitched stories at jacksonfreepress.com/hitched.
More stories by this author
Support our reporting -- Follow the MFP.