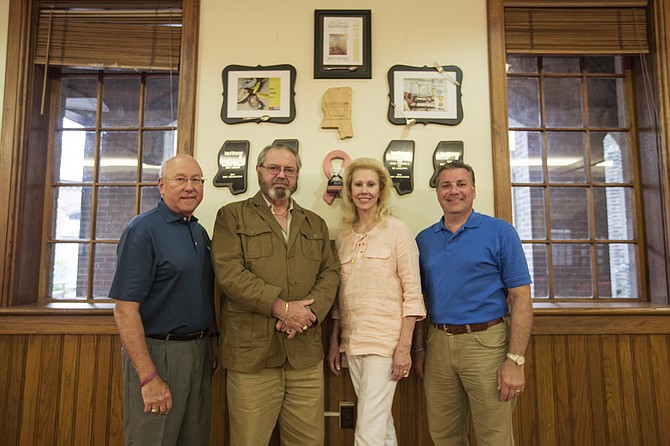 Mike Flannes, a member of the Holy Smokers, describes one of their many dishes: a marinated smoked pork tenderloin stuffed with boudin sausage, wrapped in bacon, with a raspberry chipotle sauce and gouda cheese grits. "Are you getting hungry yet?" he asks.
The Holy Smokers, which is a group based out of St. Andrew's Cathedral in Jackson, traces its origins back to 1936 when a group of women got together to start the St. Andrew's Bizarre, where they sold food and crafts to raise funds for the church.
"This has always been a cooking community," Flannes says. "Then in the 1980s the men (of the church) got involved in the Bizarre with an oyster bar, and some of us would do jambalaya and stuff like that, and did that for a number of years."
As time progressed, the group started the Parish Pig Roast in 1985, the Bishop's BBQ in 1993 and the monthly Dean's List event in 2010, where everybody brings $10 and whatever meat they want, and the Smokers cook the food.
"We're just a bunch of guys out grillin', shootin' the bull, doing it once a month and having a big time," Flannes says. "There's no agenda other than eat, drink, be merry and be home by 8:30."
In 2010 the group started participating in some competitions, and Flannes says they had to have a name, so they chose the Holy Smokers.
The group has won a total of 14 awards and has competed in local competitions such as Taste of Mississippi, the Grace Center BBQ Cook-Off, the Red Beans and Rice festival, and events such as Fondren's First Thursday.
The Holy Smokers do a lot of fundraisers, and of those, they say the one closest to their heart is Taste of Mississippi.
"That is the biggest fundraiser for (Stewpot)," Flannes says, "and that's a big deal for us at the church."
Fellow Smoker Bill Howard says St. Andrew's helped found Stewpot Community Services in Jackson.
"We were one of seven churches (that founded Stewpot) in 1981, so that's special for us, and it's a big fundraiser for them, so we'll always do that until they say we can't come back," Howard says.
Dawn Flannes, whom the guys describe as the "Mother Smoker," says one of the great things about the group is that everybody has a specialty they have developed that they do really well.
"It makes a nice cross-section of food when everybody shows up ... and everybody gets to pitch in," she says.
While the Smokers currently have about 37 members, the group welcomes anyone who wants to join.
"The running joke is that if you're in the kitchen, and you pick up a spoon or a knife, then you're a Holy Smoker," member Joe Surkin says, "but nine times out of 10, they don't come back. They just want to help out. ... We really have a core group of eight or nine who do it all the time."
And while the group definitely likes to cut up and have a good time, Dawn Flannes points out what it all boils down to for the Holy Smokers.
"I think it's important to say that this is a ministry of the cathedral," she says. "No matter how social, or how far-flung, we are in this as parishioners together, and it's a ministry of this church."
"A ministry of the stomach!" Mike Flannes adds. "First, (Jesus) fed them, then he taught them."
More like this story
More stories by this author