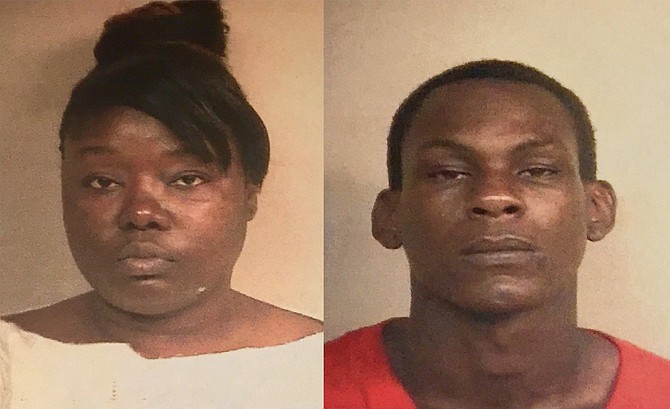 JACKSON — Richard Kyles, 9, was sleeping in the back of his mother's car Saturday night when a bullet struck him in the head. Kyles is in stable condition and expected to make full recovery. JPD tweeted that the 9-year-old is now an honorary JPD detective.
Jackson police arrested and charged Lakia Bradley, 35, and Kendrick Jackson, 26, with aggravated assault and shooting into an occupied vehicle. The vehicle held three other children at the time of the shooting, leading to three additional counts of aggravated assault. WLBT reported that Bradley was driving a white Chevy impala, following the child's mother.
Deneka Frazier, the 9-year-old's mother, says Jackson is her ex-boyfriend and has threatened her recently, WLBT reported. Jackson shot into the car on Revere Street, critically injuring the child with a gunshot wound to the back of the head. The shooting happened around 11 p.m. near Daniel Circle.
The Jackson Police Department tweeted the evening of June 18, which was Sunday, that Kyles is showing signs of improvement. WLBT reported that Frazier said that Kyles has awakened and is asking for his mother.
Police say the vehicle initially fled the scene, but police later arrested Jackson following a traffic stop and then arrested Bradley at Club Elite on Terry Road. "I don't understand what I did to neither one of them," Frazier told WLBT. "It was supposed to be me."
Last month on May 18, three teenagers allegedly shot and killed 6-year-old Kingston Frazier in the back of his mother Ebony Archie's car. Police charged Byron McBride Jr., Dwan Wakefield and D'Allen Washington with capital murder for the kidnapping and murder of young Frazier. Police have not released the current suspected roles of each young man, but prosecutors say more details will be available at the preliminary hearing on June 26 at 9 a.m. at the Madison County Justice Court.
Email city reporting intern William Kelly at [email protected] and follow him on Twitter at @William_Reports.
More stories by this author
Support our reporting -- Follow the MFP.