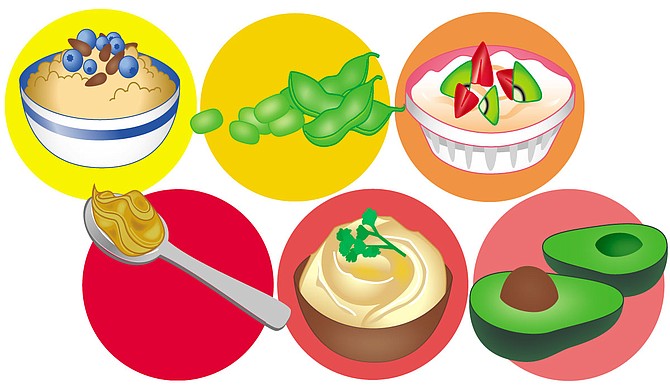 As a family physician who treats chronic conditions such as hypertension and diabetes, I encourage my patients to make positive lifestyle choices to achieve and maintain a healthy weight. Obtaining and maintaining a healthy weight helps ensure a better outcome in those that already have those chronic diseases.
A personal secret I share with my patients is to have a healthy snack between meals. This helps your metabolism work at a faster rate, causes you to store less fat and helps control hunger to help you avoid overeating.
Examples of healthy snacks I consume include hummus, which has many nutritional benefits such as fiber, which helps prevent heart disease, and it helps keep your digestive tract regular.
Another snack that has many health benefits is oatmeal, which has soluble fiber that stays in the stomach longer and helps you feel fuller longer, which may help you avoid overeating.
Because yogurt comes from milk, yogurt-eaters get a dose of animal protein, plus several other nutrients found in dairy foods such as calcium, vitamin B-2, vitamin B-12, potassium and magnesium. Yogurt also contains probiotics, which can help boost the immune system and promote a healthy digestive tract.
I also like snacking on edamame beans, because they are not only tasty, but also healthy. These beans are naturally gluten-free and low calorie, contains no cholesterol and is an excellent source of protein, iron, and calcium.
Peanut butter is also a good choice for a healthy snack. It has 2 grams of fiber and 8 grams of protein per serving. It also has vitamins such as vitamin E, magnesium and vitamin b6.
Avocados have about 20 different vitamins and minerals, including potassium, and are a good source of B vitamins, which help the body fight disease and infection. Avocados and peanut butter also have monounsaturated fat, which when eaten in moderation, can help lower bad cholesterol.
Eating five small frequent meals, including snacks, as opposed to eating two or three large meals results in a healthier weight.
More like this story
More stories by this author