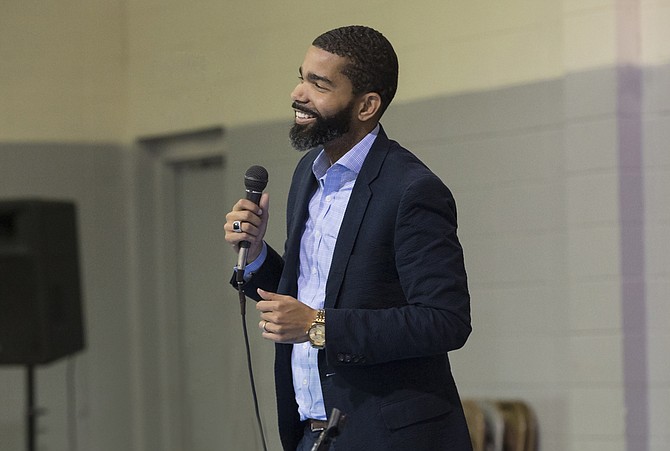 JACKSON — "We have a lot of work to do," Mayor-elect Chokwe Lumumba said Tuesday night at the King Edward Hotel when he stepped to the microphone to acknowledge his overwhelmingly victory over a Republican and several independents. "If you have the best ideas, that's what we're moving with."
At 9:20 p.m. with 98 percent of the vote, Lumumba declared victory at the King Edward Hotel in downtown Jackson, chanting "One City, One Aim, One Destiny!" as he held a clear lead with more than 22,000 votes. His nearest rival, Republican nominee Jason Wells, had fewer than 1,000. Likewise, Lumumba stunned the city on May 2 when he defeated nine Democratic challengers in the primary to avoid a runoff.
Lumumba called on supporters to remember that with him voted in as mayor, they were "elected mayor," meaning they still had a lot of work to do.
The mayor-elect, who is 34, repeated his pledge not to fire people for political reasons and to make Jackson safe for young children and for senior citizens; Lumumba ended his acceptance speech by saying "I love you all" and committing to an inclusive administration.
He also acknowledged one of his Democratic opponents, Ronnie Crudup Jr., who was at the victory party with his wife. "They have demonstrated their commitment. When Ronnie didn't win this, he didn't take his ball and go home. He joined us. He's been with us. So I'm happy to call him an ally; I'm happy to call him a friend. I thank you for that," Lumumba said.
Lumumba said that "it won't be a quid pro quo" in his administration. "No one will be fired for political reasons. We're going to make sure we choose the very best, the very best to make sure this city moves forward," he said.
He said the city will be safer. "We're not going to have any more Kingston Fraziers in this city." He said that the city will be smart and "transformative" about crime.
The next mayor pledged "creative strategies" to help bring businesses back and move the city forward.
Soon after his acceptance speech, with 100 percent of the precincts reporting, Lumumba had 23,175 votes, or 93 percent. Republican Wells had 900 votes, or 4 percent. Jaclyn Mask had 572 votes, or 2 percent, and Kenneth Swarts 175 votes, or 1 percent. Lumumba will take office in July.
Updated:
Around 8:58 p.m., Wells went to Facebook to question the ballot counting process, saying that "they are cheating and then--they ran out of ballots." Along with the Facebook status updates, Wells shared a Facebook Live video from WAPT Reporter Ross Adams, who stated that New Hope Baptist Church ran out of ballots.
The Republican received over 60 comments from enraged supporters. One commenter said, "They're pulling a Hillary on you brother." Wells responded, "Yes they are and this is one time I will not be used and cheated out."
In another Facebook comment, Wells says, "Tomorrow I am calling for a recount." The Jackson Free Press contacted Wells on Wednesday evening. "We won't decide until tomorrow. I already told him congratulations so I probably won't," Wells said. He added that he will call JFP on tomorrow with a decision.
Support our reporting -- Follow the MFP.