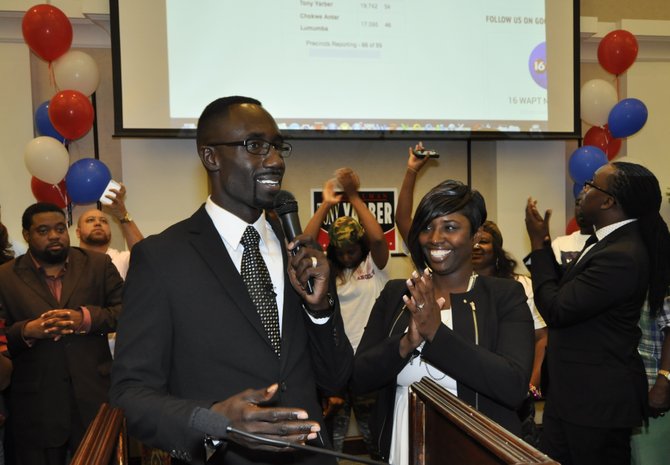 "Tony won!" exclaimed a man to a small, growing crowd outside one of the main ballrooms at the King Edward Hotel on Tuesday night.
It was early in the evening, and only 12 of Jackson's 89 voting precincts had been counted, but Ward 6 Councilman Tony Yarber had a comfortable five- to six-point lead even though, at the time, that was only a few hundred votes.
But Yarber maintained that lead throughout the night. Then with only a few precincts outstanding, Yarber, sporting a dark suit and the black-rimmed eyeglasses he began wearing during the final days before the election, took to the podium to thank his political rival in the mayor's race, Chokwe A. Lumumba.
"I want to thank this young man for being a part of the momentum that has hit this city, and he's moving us forward. Mr. Lumumba, I bless you," Yarber told supporters.
Information from the city clerk's office shows that Yarber captured 53.7 percent of more than 38,000 ballots submitted to Lumumba's 46 percent. Overall turnout was also higher in last night's runoff than in the April 8 election, with an additional 2,237 people participating; Yarber's margin of victory was 2,424 more votes over Lumumba.
Halfway across town Tuesday night, at Fondren Hall, Lumumba took the loss with grace. He congratulated Yarber on his victory and said he looks forward to working with him on the People's Assembly. He also took a moment to console his many somber supporters.
"I thank each and every one of you in this room today," Lumumba said. "... I am proud of you. Don't you hold your head down for one second because you did exactly what you needed to do ... and let me tell you this, the people's mission still continues, and it won't stop! What we fight for and who we fight for is far too important, and it is the struggle that makes us victorious."
Lumumba also thanked his many family and friends who traveled from Detroit to support his campaign and stressed to all of his supporters that although he won't be Jackson's next mayor, he plans to continue serving the people of Jackson.
"(My family) has traveled a long way to show you how much they love your city and to show you how much they love what we're trying to build and to show you how important this is—because it's bigger than Jackson, Mississippi. We're trying to change the world! ... I see family in this crowd, I see friends in this crowd, I see classmates in this crowd, and I just want ya'll to know how my heart is just overjoyed."
Yarber, 36, said he first considered running for mayor two years ago, but the death of Mayor Chokwe Lumumba presented him with an opportunity that he was not entirely prepared for. Of Lumumba's brief tenure as mayor, Yarber said, "It's a vision we will not forget and a vision we will not let die."
Yarber served as city council president and currently chairs the council's budget committee, and has proposed some nuts-and-bolts changes to how the city operates. For example, he proposed a new system for awarding city contracts by which companies would bid only on labor and the city would use its ability to buy materials through agreements with the state. He also wants to ensure that contracts go to companies that hire Jackson residents, which would include working with the city legal department to develop community engagement clauses in city contracts.
"Everybody jumps up and gets gung-ho about hotels," he told the Jackson Free Press editorial board in late March. "A hotel says it's going to produce 70 jobs, but what you're not telling me is that, of those 70 jobs, 45 of them are for housekeepers, you've got a few cooks, but there is no training program to ensure that housekeeper can one day become the front-desk manager."
During his victory speech, Yarber also promised to work with Jackson's neighbors in bedroom communities in Madison and Rankin counties, vowing to usher in a new era of cooperation.
Yarber grew up in Jackson's Sub 2 neighborhood, near Wiggins Road and U.S. 80, and graduated from Forest Hill High School in 1996. He attended the University of Southern Mississippi on an education scholarship named for former Mississippi Gov. William Winter and, later, completed his master's degree in education administration at Jackson State University in 2004.
Recently, Yarber told the JFP that his administration might look to roll back some of the water-rate increases Mayor Lumumba implemented as long as the city can also cut spending in the budget. Lumumba had proposed offering assistance to help low-income Jacksonians burdened with higher water bills, but Yarber said the proposal is in legal limbo and may not be viable.
"I voted for that," Yarber said, "but my reservation was, why couldn't we move it incrementally? We're here now. It's something that we're going to have to look at."
The Jackson city clerk's office said today that Yarber cannot take the oath of office until the Mississippi Secretary of State's office certifies election results in a day or two.
Support our reporting -- Follow the MFP.