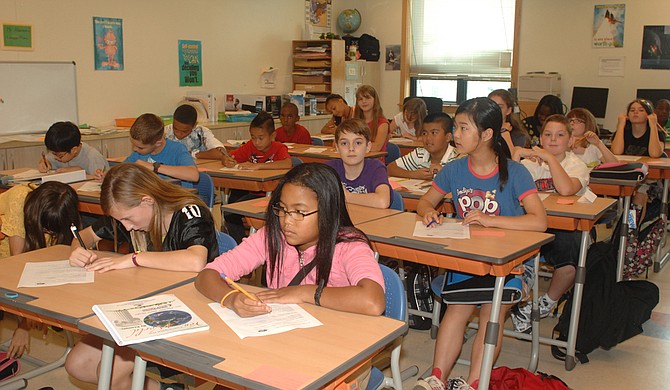 Education was supposed to be the great "equalizer" back when police officers had to escort a few brave black children past screaming white children and adults to integrate white public schools operating on a "separate but equal" theory. Integration eventually became a reality in the 1970s in Mississippi, and integrated school populations peaked nationally in the late 1980s. But re-segregation and white flight began almost as soon as court orders were signed, and the state's poorest school districts are still suffering from gerrymandering, districts splitting apart or white flight.
There are rare exceptions. Clinton Public School District is an example of integration, at least of students, done right. Its "A" rating proves integration can work if the community is willing to work and invest in the system. But that district is also small with a little more than 5,100 students.
Proficiency gaps between white and black students in the state persist, and the state school board has added measures in its Every Student Succeeds Plan to address the state's struggling schools and districts. There's not enough state or federal funding to support Mississippi's school needs, however.
Federal funding from ESSA will go to around 50 schools (based on last year's data), but 122 schools and 19 districts in the state have an "F" grade. Black students make up the majority of student-body populations in the failing school districts.
Integration is a literal way to address the racial proficiency gap, and research has shown that it works. But as journalist Nikole Hannah-Jones, who writes extensively about public-school integration/segregation, warns: Someone has to sacrifice for advantage. The state's school board plans to absorb some of the worst schools into an "achievement school district" soon, taking away local control. While the state's plan to address proficiency gaps includes professional development and hiring more diverse teachers, integration is never mentioned.
Race inequity in education must be addressed. Black children in Mississippi are disciplined much more than white peers—for the same or lesser offenses. In his myth-busting paper "Are Black Kids Worse?" (spoiler: no, they're not), professor Russell Skiba points to studies showing that "(s)chools with a more diverse and representative teaching force have been found to exhibit lower rates of racial disparity in school discipline."
Also, the racial makeup of the student body plays a role in disciplinary data. "Regardless of levels of misbehavior and delinquency, schools with higher Black enrollment have been found to be more likely to use higher rates of exclusionary discipline, court action, and zero tolerance policies, and to use fewer mild disciplinary practices," Skiba writes.
We must talk about race in schools, including better integration or inclusion to help close the proficiency gap and ensure that education is really "equal" for all students, not just a select few.
Support our reporting -- Follow the MFP.