Peter Zapletal is in his third year of reviewing films for entry into Jewish Cinema Mississippi's annual film festival, but this is his first year to co-chair the event, along with Shira Moskowitz, co-chair of the festival's selection committee.
"This year, I guess they ran out of everybody else," he says jokingly, "so they asked me to head the committee."
But Zapletal is no stranger to the world of media and arts. He moved to Jackson in 1971 to work for Mississippi Public Broadcasting as a puppeteer and became the director of production in 1998. He retired in 2003.
For the festival, he and the rest of the committee watch the works that filmmakers submit and also seek out movies from other festivals that they think will be appealing to a local audience.
"There are many film festivals with Jewish themes in places like Atlanta, Nashville, Birmingham and all around the United States, so we look at what they offer and try to figure out what would be of interest to our audiences," Zapletal says.
Their strategy seems to be working, as the festival has grown significantly since its beginning in 2002. It moved from screening at locations such as New Stage Theatre and Millsaps College to holding all of its showings at the Malco Grandview Cinema in Madison in 2012. The festival has also expanded from four to five films this year.
Zapletal says that the committee has two main criteria for choosing which films make the cut: Did they like the movie and want to see it a second time? And will it work well on the big screen?
The festival opens Tuesday, Jan. 24, with "Remember," which stars Christopher Plummer and tells the story of an elderly Auschwitz survivor with dementia who goes on a cross-country journey in search of the Nazi responsible for the death of his family.
Zapletal discovered the movie at the Atlanta Jewish Film Festival and requested it for the Jackson festival because he was familiar with director Atom Egoyan's work.
"He creates an atmosphere that will grab you and not let you go," he says.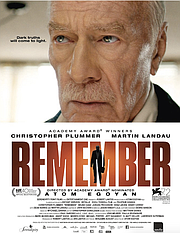 This year's selection process was easier than previous ones, Zapletal says. "In past years, we've argued, 'This one is good; this one is not so good,' but this year, when we watched the movies, we immediately agreed on them," he says. "These five came out on top of everything."
On Wednesday, Jan. 25, at 7 p.m., the festival will screen "The People vs. Fritz Bauer," which tells the story of a prosecutor's effort to bring Nazi war criminal Adolph Eichmann to justice.
The docu-drama "Sabena Hijacking: My Version" screens Thursday, Jan. 26, at 7 p.m. and chronicles the Palestinian terrorist group Black September's 1972 hijacking of Belgian airline Sabena through testimonies from those involved and reenactments.
"It's not a story everyone talks about," Zapletal says of the film. "It even features two of the hijackers interviewed in the movie, so it brings different viewpoints for both sides."
On Saturday, Jan. 28, at 7 p.m., viewers can see the romantic comedy "Moos," which tells the story of a girl who always puts others' needs before her own and decides it's time to try something different.
"When we saw 'Moos,' we knew it was a movie we liked," Zapletal says. "It was a lighter movie, which was perfect for Saturday evening."
The film festival closes on Sunday with "Fanny's Journey," the harrowing true story of a 13-year-old girl and her sisters as they tried to evade Nazis and make it to the Swiss border.
"It's really a movie that tugs on your heart," Zapletal says. "It left my wife speechless."
One thing Zapletal says that all the films have in common is their dedication to compelling storytelling.
"We felt like if we have a good story," he says. "We have a really good beginning, and we judged all of our selections from that point of view. Each one is different, and each one gives you a different experience."
Finally, Zapletal has just one piece of advice for festivalgoers: "If anybody asked me which movie to miss, I would say, 'Don't.'"
Jewish Cinema Mississippi's film festival is Tuesday, Jan. 24, to Sunday, Jan. 29, excluding Friday. Festival passes are $40 and $25 for students. Individual tickets are $10 for adults and $5 for students. For more information, visit jewishcinemams.com.
More stories by this author
Support our reporting -- Follow the MFP.