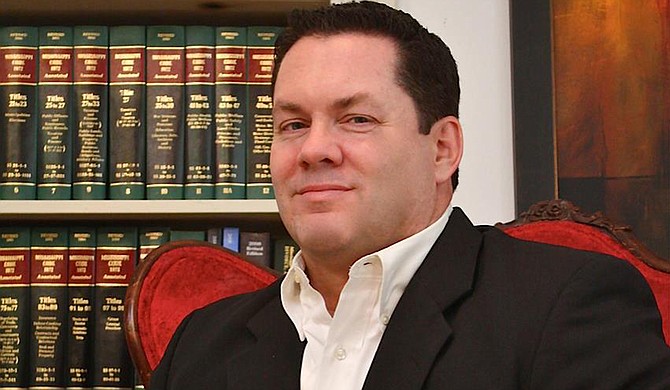 JACKSON — UPDATE: The Jackson City Council approved James Hendrix's appointment to the zoo board 3-2 today with one person abstaining. The council approved Percy King unanimously.
James Hendrix, a local blogger and controversial personality known for his Jackson Jambalaya website, is one of two candidates up today for two spots on the Jackson Zoo's board of directors.
Document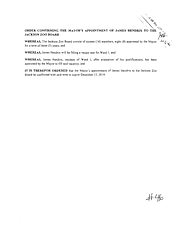 The documents announcing Hendrix's nomination say he will be taking a vacant Ward 1 seat, representing northeast Jackson. Ward 7 Councilwoman and Vice President Margaret Barrett-Simon seemed confused about the area Hendrix would represent this morning, saying that her area already has a representative to the board, JoAnne Prichard Morris (who is a consulting editor of the Jackson Free Press).
Barrett-Simon indicated she thought Hendrix wanted to represent Belhaven because he used to live in an apartment there, back when he ran for a justice-court judge position in 2011. Records indicate that his mother, Sharron Medlin, owns a house on Old Canton Road, in Ward 1, but it is unclear whether Hendrix gave up his residence in Ward 7. He did not respond to multiple attempts to reach him for this story today through Twitter, the home phone at the Old Canton house or what is apparently his cell phone.
The conservative Jackson Jambalaya website typically features political stories, and regularly displays paid advertising, usually for Republicans. Ads on the website currently include Secretary of State Delbert Hosemann, State Auditor Stacey Pickering and Insurance Commissioner Mike Chaney. He also runs occasionally sponsored blog posts, which are presumably paid advertising. The site also takes donations that are mailed to a law firm in Ridgeland, which belongs to Pamela Hancock, who could not be reached for comment today.
An extensive search of the secretary of state's business look-up site today did not show a state registration for the Jackson Jambalaya website or under Hendrix's name. He previously went by the name "James Whitehead," but that name did not yield information on his business either. The Jackson Jambalaya website does not list a phone number or business address, but has a PayPal link for donations with the email address [email protected]. He also includes a Gmail address on the website, which shows nothing, including the name of the person receiving the donations, when a visitor clicks on the site's "About" page. Hendrix, who routinely refers to himself as a journalist and a "correspondent" on the Jambalaya site does not provide his real name on his posts.
James Hendrix of Old Canton Road in north Jackson also had a bench warrant filed by Rosemary Barbour against him in 1999 for allegations of stalking. Former Sheriff Malcolm McMillin, now deceased, told the Jackson Free Press that the warrant was real and that an officer had gone out to "have a talking to" with Hendrix about the situation and nothing else came of it. He added that stalking allegations were treated differently in the past. Neither Hendrix nor Barbour have returned past media calls from the Jackson Free Press.
Mayor Tony Yarber said today that he welcomes Hendrix to help push the zoo forward, despite what he admitted was the blogger's somewhat-anti-Jackson lean, as well as that of his usually-anonymous commenters.
"I'm putting forward he and Percy King. If you have been paying attention, you've seen that we have had a lot of issues with getting folks to serve in public space, particularly on boards and commissions. We reached out to council people and have been able to get recommendations ... and Jimmy Hendrix was one of the names that came to us with the recommendations, and we will be putting forward his name today," Yarber said this morning.
"I haven't met a lot of people whose coverage is very positive."
The other proposed zoo board candidate is also known as the "Snake Man," Percy King, a former zoo employee and now paid-animal-presenter for kids' birthday parties and events. He is nominated for the Ward 3 spot, vacated in October 2016 by Sirena Wilson. King said he is excited for the position, although he was not certain who actually nominated him as of Monday morning. He wanted to help the zoo, but did not want to bring too much stress in his life.
"I love animals, and I am deeply concerned, and I want to do my best and do my part to help the Jackson Zoo in anyway possible," King said. "I'm hoping this doesn't add any more stress to my life. But I am excited."
NOTE: The above story was updated to reflect that the council approved both Hendrix's and King's nominations, that Zoo Board member JoAnne Prichard Morris is a consulting editor for the Jackson Free Press although she does not represent the JFP in public settings, and to insert the word "allegations" after both "stalking" references rather than just one of them. The Jackson Free Press is continuing to pursue an interview with Mr. Hendrix about issues discussed in the above story.
Email city reporter Tim Summers Jr. at [email protected]. See more local news at jfp.ms/localnews. Donna Ladd contributed to this story.
Support our reporting -- Follow the MFP.