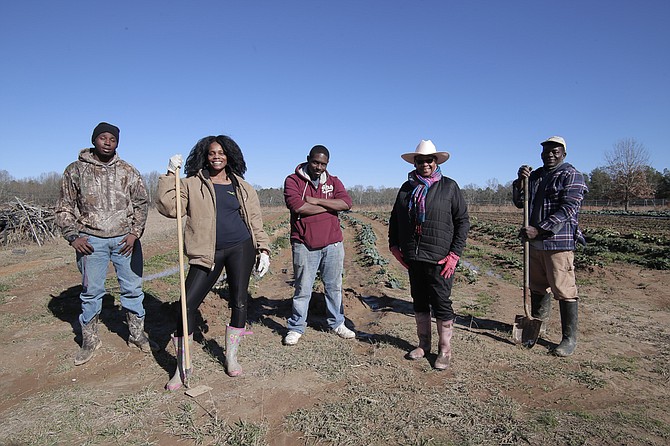 On a frigid day in December, the slightly warm air inside one of the high tunnels, also known as natural greenhouses, at Foot Print Farms in Jackson contrasts the chilly air outside.
Despite the cold weather and a recent fall drought, domestic plants, such as spinach and mustard greens, and exotic ones, such as callalloo and pumpkins from Jamaica and mizuna from Japan, grow vibrantly in large wooden planters.
Two tall cylinders with herbs growing out of them sit against a far wall. Every 30 minutes, a low whir rings out as the water pump turns on. The cylinders, which contain herbs such as parsley and basil and greens such as lettuce, are used in a relatively new farming technique called aeroponics, in which growers suspend plants in the air instead of planting them in soil.
"One of the problems we have is always (that) you have to dig up something," farm owner Cindy Ayers-Elliott says. "You have to dig it up. You have to work the space. You have to see what the soil is in order for (a plant) to grow."
But, she says, the aeroponics system is self-contained. The farmers have to check pH levels once a week, but other than that, the system allows the plants to mostly sustain themselves. Aeroponics also allows for more frequent harvesting without too much disturbance. The system is part of Foot Print's search for new ways to farm—and ways to get more people interested in agriculture.
"We're looking at diversity within the farm itself, what we can use and do to grow to add value to what we're doing and how we can get more people—young people, older people—interested and being able to grow their own food and do it efficiently," Ayers-Elliott says.
Zachary Williams, who is currently studying plant science at Alcorn State University, is one of the farmers at Foot Print and was previously a football player at Wingfield High School. He was one of the participants in Ayers-Elliott's Football and Farming program at Wingfield, which allows the players to raise money for the football team and learn a new trade.
The students train at Foot Print, and also do sweat equity, working to eventually earn a plot of land and own their own farms. Ayers-Elliott also trains community members. Williams' brother, Curtis, and Charissawn Alexander and Daniel Murray currently own farms under the Foot Print umbrella, along with their one acre of land at the farm. This season, Alexander grew peanuts.
"The whole goal of this is to create entrepreneurs as well as agriculture producers," Ayers-Elliott says. "We'll teach them every aspect of the growing, as well as the marketing."
Having students and others come train at the farm is valuable in improving access to healthy foods and how people look at making healthy options more available, she says. "It's all about what we have access to; one of the focuses on the farm here for us is to bring local, fresh, affordable food to the community for the community to have access," Ayers-Elliott says.
Foot Print is also certified as a farmers' market, which means people can use their Supplemental Nutrition Assistance Program or Electronic Benefit Transfer cards on the farm.
"To give access to them and meet them where they are, and how they buy their food—and they can now buy it from the farm here, and get it fresh and affordable—we hope (those aspects) make an impact on their health benefits, as well as let the people know where their food comes from and encourage them to look at growing some themselves, even if it's in a box or if it's in a tunnel or if it's in a tower," she says. "... There are so many different things that you can use to grow just to get some fresh food, and until we (can) take back our health and be able to control some of the costs we're dealing with, then we're defeating our purpose for a healthier life."
Ayers-Elliott says training people and getting them to understand that agriculture is a good field to go into is one of Foot Print's major focuses, as well.
"It's not my grandmother's farm techniques anymore," Ayers-Elliott says. "We look at using technology and innovation, and what's available and still ... able to grow and supply, and make some money."
Ayers-Elliott, an Ashland, Miss., native, says before she started the farm, she had never worked hands-on with one. She graduated from University of Massachusetts at Amherst with a bachelor's degree in business administration in 1977 and a master's degree in urban planning and finance in 1990. Before 2001, she held jobs as an investment banker in San Francisco, Baltimore, Md., Washington, D.C., and New York City, but after the terrorist attacks on Sept. 11, she decided to go back home to help people in Mississippi.
She graduated from Jackson State University in 2004 with a doctorate degree in urban higher education. From 2005 to 2010, she worked as the president and chief executive officer of the Delta Foundation, a community- and economic-development nonprofit focused on helping the Mississippi Delta. She also helped found the first African American-owned bank in the state, First American Bank in Jackson, and served as an assistant to former State Treasurer Marshall Bennett.
But in 2010, she changed gears and began researching ways to help small farmers grow their businesses. With help from the Natural Resources Conservation Service and land-grant institutions such as Mississippi State University and Alcorn State, she began to convert her home in west Jackson into a farm.
Foot Print Farms currently partners with churches such as St. John Missionary Baptist Church, which she says just received its own high tunnel, and Rosemont Missionary Baptist Church. The farm also supplies produce to the Up in Farms Food Hub in Jackson and is partners with AARP, and nonprofits Wholesome Ways, which looks to provide healthy, affordable and local food for everyone, and Whole Foods Markets' Whole Cities Foundation, which supports bringing fresh, nutritious food and healthy-eating education to underserved communities.
Over the next few months, Ayers-Elliott wants to add more of an agritourism aspect to Foot Print. She plans on building a cabin by one of the farm's lakes. People will be able to experience aspects of life on a farm such as planting and learning archery for hunting. Ayers-Elliott also wants to expand the farm's offerings, including preserving vegetables. She jokes that her Christmas present to herself is a large dehydrator, which she plans on using to dry herbs.
Foot Print also does community-supported agriculture, and Ayers-Elliott says the subscription plans are flexible and affordable. Jacksonians can also find the farm's produce and other products at the Mississippi Farmers' Market most Saturdays.
For more information, find Foot Print Farms (4945 South Drive) on Facebook.
More stories by this author
Support our reporting -- Become a JFP VIP.
The news business has changed dramatically in the past year, and we need your help more than ever to keep bringing you important stories about Jackson and the Metro. Become a JFP VIP with an annual membership or you can Sign up as a monthly supporter. Thanks for anything you can do to empower our journalism!