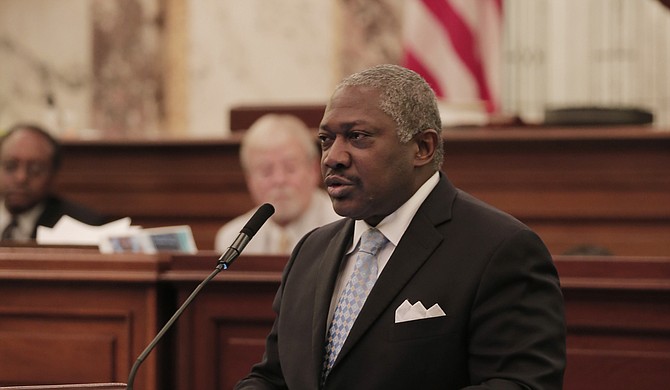 Mississippi Sen. John Horhn, who has served in the state Senate since 1993, has spent more than 30 years promoting blues music in Mississippi on top of his duties as a legislator. A lifelong Jackson resident, Horhn, 61, began his work in supporting the genre while serving as the state's tourism director from 1989 to 1992.
"During that time, I began using the state's art and culture assets to promote tourism," Horhn said. "Out of all of Mississippi's cultural assets, the blues has to be one of the most prominent."
Horhn began organizing an informal group called the Mississippi Blues Commission in 1991, which organized the creation of a map of important blues sites around the state in cooperation with the National Endowment for the Arts. After Horhn became a state senator, he and state Sen. David Jordan co-sponsored legislature to make the Blues Commission official in state law in 2004.
The Blues Commission later produced the Mississippi Blues Foundation, which provides a benevolence fund for the blues and support for indigent blues artists in the state. The Blues Foundation helps these artists with financial issues and medical bills, funerals for families of late artists and other issues. Also, expanding on the Blues Commission's map, the organization helped set up the Mississippi Blues Trail, which has erected more than 200 markers dedicated to famous blues musicians, iconic venues, record labels, and other significant sites. Horhn has served as vice chairman of the Blues Foundation since 2011.
A portion of the funds from the annual Mississippi Blues Marathon, an event that also honors the state's blues heritage, goes toward the commission's benevolence fund. The Blues Marathon's website says it has donated $60,000 to the commission since 2008. This year's race is Saturday, Jan. 7, at 7 a.m., starting at the Art Garden at the Mississippi Museum of Art (380 S. Lamar St., 601-960-1510).
Horhn said he was first exposed to the blues as a teenager, though he didn't truly learn to appreciate it until he entered college.
"When I was a young man, my father had a side business supplying jukeboxes, pool tables and pinball machines in venues across northeast Mississippi and the delta," he said. "So I ended up going to all sorts of places and listening to the music there, and then, when I went off to college, I kept hearing familiar music and wondered what it was.
"I found out it was blues music, and that I'd just taken it for granted as a young man. I came to appreciate how the blues has impacted rock, R&B, rap and so many other kinds of music in Mississippi and beyond. I decided that I wanted to find a way to support this music, the contributions it's made and the people living here, where it was created."
Hohrn is also a founding member of the Central Mississippi Blues Society, a group created in 2006 that puts on blues shows every Monday night at Hal & Mal's to help keep the genre alive in Jackson.
"Tourists that come to hear Mississippi music want to hear the blues live, and often, it's hard to find places offering the blues in a live setting," he said. "I wanted to make sure that there will always be at least one place to find this kind of music on a weekly basis."
In addition to his arts and government work, Horhn was a job developer for the A. Philip Randolph Youth Employment Program, run a cultural arts coalition, put together cultural programs for African American Mississippians. He also has worked as a program manager for the Mississippi Arts Commission, the state film commissioner and executive director of the Governor's Office of Federal and State Programs. He has served as chair of the Mississippi Senate Economic Development Committee since 2006. Horhn also ran for mayor of Jackson in 2009 and 2014, and plans to formerly announce his candidacy for the 2016 mayoral race in a few weeks.
Horhn and his wife, Lydia Gail, have a 30-year-old son named Siraj and a 24-year-old daughter named Charla.
For more information on the Mississippi Blues Marathon, visit msbluesmarathon.com and read this week's issue of the Jackson Free Press, which comes out Wednesday, Jan. 4.
CORRECTION: A previous version of this story stated that Sen. John Horhn was a job developer with the A. Philip Randalf Youth Infant pre-K Program. It was actually the A. Philip Randolph Youth Employment Program.
More like this story
Like independent media outlets around the world, the Jackson Free Press works hard to produce important content on a limited budget. We'd love your help! Become a JFP VIP member today and/or donate to our journalism fund. Thanks for considering a JFP VIP membership or one-time support.