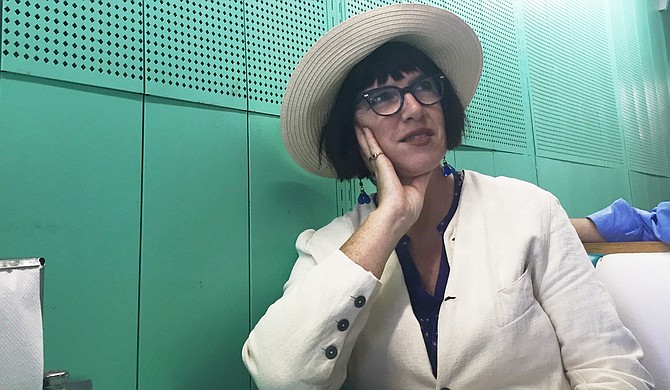 Movie fans may know Katherine Dieckmann as the writer and director of 2000's "A Good Baby" and 2009's "Motherhood," and the director of 2006's "Diggers." However, it wasn't so long ago that her career path was pointed in an entirely different direction.
Before venturing into the world of filmmaking, she worked in journalism, writing for major publications such as Rolling Stone, Vogue and Village Voice. The work became frustrating, she says.
"I got kind of fed up with that form of writing," she says. "When you wrote for magazines at that time, articles that were 3,000 words suddenly became 500 words."
Her transition to film began in the mid 1980s when she interviewed Michael Stipe, the lead singer of R.E.M. After the interview, the two became friends, and Dieckmann says Stipe was smitten with her aesthetic and visual sensibilities.
"He realized I was a very frustrated journalist and that I needed to switch gears," she says. "So actually, the first thing I ever directed was an R.E.M. video, and it was because Michael asked me to do it."
Once Dieckmann got started behind the camera, she didn't stop. She went on to direct more music videos for R.E.M. and acts such as Wilco, Aimee Mann and Everything But the Girl, and in the late 1980s, she was hired to direct the Nickelodeon show "The Adventures of Pete and Pete," first as shorts and then as full episodes.
"For me, it was like paid film school," she says of her time with the series. "I got to learn how to direct actors, direct dialogue scenes, and I worked on that show for five years."
In Dieckmann's latest film, "Strange Weather," which shot almost entirely around the Jackson area, Holly Hunter plays a mother dealing with grief over the death of her son while traveling across the Deep South with her best friend, whom actor Carrie Coon plays.
While not from the South herself, Dieckmann says that the script for "Strange Weather" was largely based on friendships that she's had with southern women.
"A lot of the dialogue for 'Strange Weather' came from many years of spending time with my southern girlfriends and observing the way they spoke to each other," she says.
When trying to decide where to film, Dieckmann narrowed the options down to Mississippi and Georgia. The production ultimately landed in Mississippi after she and producer Rachel Cohen visited Jackson, and Ward Emling, who heads the Mississippi Film Office, showed them around the city. 2014
"(Emling) read the script, really liked it, and he understood what I was up to in it," Dieckmann says. "He just had a great sense of what it was that I wanted."
Once the location was settled, the crew began filming all around the state, including a cotton field near Yazoo city, an old hotel in Vicksburg, a street in Flowood that they made to look like post-flood Louisiana, and Mississippi College, which served as a stand-in for the University of Georgia. They used locations all around the metro area to depict Georgia, Alabama, Mississippi and Louisiana. The only location the used that was outside the state was on the causeway over Lake Pontchartrain.
"I hate road-trip movies where you feel like they shot the whole thing within an hour of one location, and Jackson really afforded us the ability to create a bunch of different worlds within that world, which was amazing," Dieckmann says.
Of course, that also means that locals might raise an eyebrow at a thing or two in the film.
"People in Jackson are going to laugh when they see the movie," Dieckmann says. "There's a shot of Holly Hunter and Carrie Coon crossing the street with the (Mississippi) Capitol in the background, and it's supposed to be downtown Birmingham."
Dieckmann says Holly Hunter's performance is what she's most excited for people to see in the film.
"I think Holly gives one of the greatest performance of her career," she says. "It's like a dream when you get actors that good performing your words."
Dieckmann says she has taken to heart some of the lessons that she learned while filming from her last movie, "Motherhood," and applied them to "Strange Weather."
"'Motherhood' was my least favorite I've done, for a wide variety of reasons, but it just didn't quite work," she says. "So I've learned to be super specific about what I want, and to be stubborn about that, to not yield just for the sake of being agreeable. Anything I thought was really right for the film, I just fought like hell for it."
That attitude led to one of Dieckmann's favorite shots in the film. Toward the end of filming, they shot some scenes at the Admiral Retirement Center on North State Street. As they shot in the courtyard, a flock of birds flew into the scene, making lots of chatter. All the sudden, Hunter broke character, incorporating the birds into her dialogue.
"I loved it because it was totally spontaneous," Dieckmann says. "When we got done, Holly said it would be great to go back and get some shots of those birds."
On the last day of filming, while the crew was on the causeway of Lake Pontchartrain, Hunter asked Dieckmann, "Hey, we're going to go back and get those birds, right?" Dieckmann, in complete agreement with her and despite being two and a half hours away, called the manager of the Admiral.
"Do these birds even still come to the courtyard every day?" she asked, as it had been three weeks since they shot there.
"They come every day between 4:30 and 5 in the afternoon," he told her.
They drove back to the Admiral, went up to the balcony with the camera, and she and Holly banged on the door, scaring the birds so that the cameraman could get a shot of them flying through the air.
"It ended up being one of my favorite shots in the movie," Dieckmann says. "So that's what I learned—make that happen; don't let go of that one little thing that you want."
The Crossroads Film Society hosts a screening of "Strange Weather" at 7 p.m., Monday, Feb. 20, at the Malco Grandview Cinema (221 Grandview Blvd., Madison). Admission is $15 in advance [TICKET LINK: http://bpt.me/2861284] and $20 at the door if available. For more information, visit crossroadsfilmfestival.com.
More like this story
More stories by this author