Though chef Nicole Medrano has only been in Jackson for a year, she is making waves in the local culinary scene. After Jesse Houston stepped down as executive chef at Saltine Oyster Bar, Medrano took the helm in early January.
Medrano, who is a Chicago native with Mexican roots, met her husband, Hunter Spears, while he was working in Sears Tower there The couple moved to Memphis to be closer to his family in 2013, and while there, Medrano worked at restaurants such as Fleming's Steakhouse, Flight, Hog and Hominy, and Porcellino's Craft Butcher. She and Spears then moved to Jackson for his job as a filmmaker.
When Medrano began at Saltine in 2016, she was a saute cook. She soon picked up more responsibilities and became the kitchen manager, then the sous chef, and now she is the executive chef.
The Jackson Free Press spoke with her to talk about stepping into her new role with Saltine.
Tell me about how you got into the restaurant industry.
In grammar school, we had a culinary program that we had after school, and then that kind of followed me into high school. The instructor that taught my elementary school ended up being the home (economics) teacher in high school, and ... she had an afterschool program. So for four years, my elective was home ec, and then I did her afterschool program, which was pretty awesome. It was through a program called ASM, which is an acronym for After-School Matters.
From then, I did a couple of internships and a little stage (or chef apprenticeship) here and there through that program, and it kind of got my foot in the door of ... the restaurant business and (showed me) how it truly works instead of (me just) being behind the book.
What do you think drove you to cooking and food?
In all honesty, I was in a position where I knew I wasn't going to go to college. I knew I was going to finish high school, and I knew I was going to have some college, but I knew I wasn't going to finish. One thing that (my mentor) told me is: "Everyone has to eat, no matter what. They're going to eat, and if they're going to eat, you're always going to have a job."
And that kind of stuck with me. I figured, if I'm going to do this, then I'm going to do it right. I'm going to not (just) collect a paycheck. I'm going to put all my train of thought into this and do something with it, and it worked. I enjoy doing it, too. It doesn't feel like work. I love coming here, and I love my staff here, too.
What made you want to work at Saltine?
My husband and I had brunch here, and we had the brunch loaf. It was awesome, and that got us hooked. Then we came back and had the oysters Lafitte. My husband loves those things. I read a little bit (when) Jesse (Houston) first got nominated as a semi-finalist for the James Beard award, and I was like, "Oh, man. I bet I can learn a bunch of stuff from him, and so that was (what) grabbed me."
What's it like being the executive chef of a restaurant like Saltine?
It is challenging because Jesse was a great chef, so he ... set the bar, basically. Now I ... just want to keep that going, and keep that bar set ... keep it high for Jackson because Jackson needed a chef like Jesse, and like Alex (Eaton of The Manship Wood Fired Kitchen) or Derek (Emerson of Walker's Drive-In), and so they set that bar. It is challenging but fun at the same time.
How is it being a female executive chef?
It's not as challenging as most women would think because 90 percent (of my kitchen staff is) men, and they all have my back. They're amazing. I don't really have that kind of challenge when it comes to that kind of thing, but it's cool because I get to show my little sisters back home that from where they come from that they can do it, too, whether they're male or female.
What is your personal aesthetic as a chef, and how are you going to bring it to Saltine?
It depends on what's available at the time, the seasons. Spring is coming up, so peas are going to come in the season, and corn, so it definitely varies throughout the year of what vegetables are available during that time.
My thing is well, one, I am a big breakfast person. For my personal touches, just making a bigger brunch menu here, and (deciding) what Mexican food screams "breakfast"—Chorizo and eggs, papas fritas ... and there's the Delta tamales that are down here, too, that are somewhat similar. My personal touch is just making that brunch menu bigger and putting a little bit of that Mexican flair on it, just a little bit.
Why is it important to you to add a Mexican flair here?
It's important to me just to show a little bit of my background. ... It's just putting a little bit of flair. It's important to me because my grandmother and my uncle, I've watched them cook my entire life and spend two days on a soup. (At Saltine earlier this month), we had our past ramen, which was pozole ramen, and I was telling our guests that I had made it because it was special to me because my grandmother only made it twice a year. It had to be something special like your birthday or a holiday, and it just means bringing people together.
What is your favorite dish to make?
I love to make quiches. Quiche is my favorite thing. ... For one week straight, we had a different potpie everyday, and that was the bomb to me because it's comfort food. ... We have our regulars that come in sometimes, and they look forward to that potpie, and they're just smiling the whole time, and they love and enjoy it, and they ask for me. Food ... that just brings people together, it excites me.
For more information on Saltine Oyster Bar (622 Duling Ave., Suite 201, 601-982-2899), visit saltinerestaurant.com. See more food coverage at jfp.ms/food.
More like this story
More stories by this author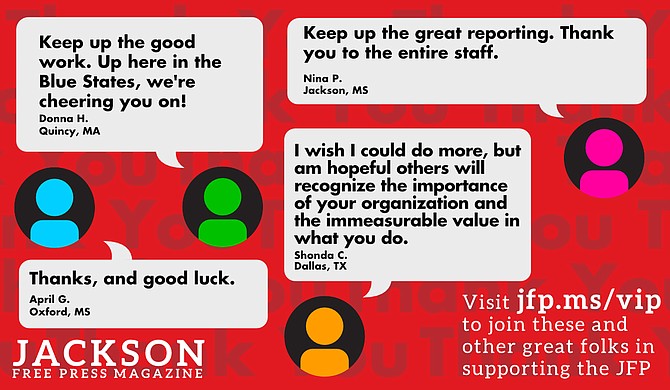 Thanks to all our new JFP VIPs!
COVID-19 has closed down the main sources of the JFP's revenue -- concerts, festivals, fundraisers, restaurants and bars. If everyone reading this article gives $5 or more, we should be able to continue publishing through the crisis. Please pay what you can to keep us reporting and publishing.