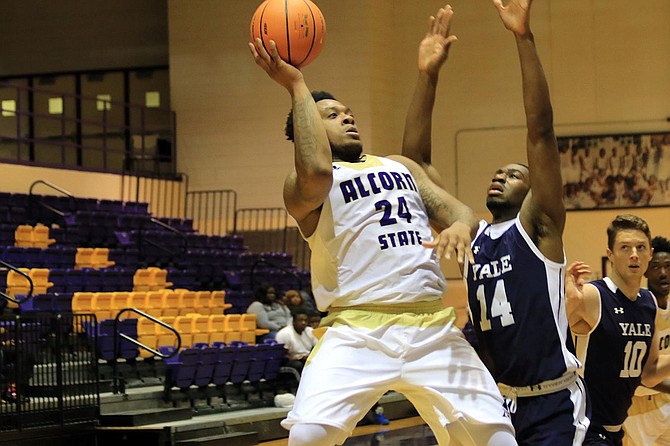 Alcorn State Braves
Last season, Alcorn State challenged Texas Southern University for the top spot in the SWAC. The Braves battled TSU close but could not figure out a way to beat a team that has been on top of the conference the last few seasons. Alcorn State finished at 18-14 overall and 13-5 in SWAC play.
In his third season, coach Montez Robinson might have his best team, which includes Conference Preseason Player of the Year Reginal Johnson and Preseason Co-Defensive Player of the Year Yalen Reed. ASU guard A.J. Mosby earned SWAC Preseason Second Team honors, adding to the Braves' talent.
Alcorn State plays a tough non-conference slate that will have this team battle-tested before conference play—that is, if injuries don't pile up. The Braves will once again battle Texas Southern, Jackson State and Southern University for the SWAC title.
Mississippi Valley State Delta Devils
There might not be a harder job at the Division I level than at Mississippi Valley State University. Last season, the Delta Devils played every out-of-conference game on the road and played four teams ranked in the top 20. MVSU started the season with a 15-game losing streak before earning its first win of the season. The team stumbled to a 7-25 overall record and 7-11 SWAC record.
Once again this season, MVSU plays a tough non-conference slate. The Delta Devils won't even play a home game until SWAC play begins on New Year's Day, and then the team hit the road again for two straight road games.
Mississippi Valley State can compete in conference play if they make it out of the nonconference slate healthy. The Delta Devils don't have to win the SWAC but just start showing that the rebuilding effort is heading in the right direction.
Delta State Statesmen
Delta State relied on Devin Schmidt last season, as the senior All-American helped the Statesmen to a 23-9 overall record and 16-6 in conference. The Statesmen reached the NCAA South Region Tournament before losing 61-88 to Rollins College. While Schmidt is not returning, DSU has talent, including junior Armon Benford and freshman Matthew Wilson, whom the Gulf Coast Conference named Top Newcomers. In the preseason, the conference picked DSU to finish fourth. The faster DSU can find a scoring replacement for Schmidt, the better this team will improve in the standings.
Mississippi College Choctaws
The transition from Division III to Division II has led to some rough seasons for Mississippi College.
MC finished last season on a two-game winning streak and winning three of its final five games. The Choctaws struggled to a 7-19 overall record and 4-18 record in Gulf South Conference play.
In this year's preseason, GSC picked Mississippi College to finish 12th. The conference named newcomers junior Donovan Ham and senior Howard Thomas as players to watch.
MC needs to focus on improvement over last season. The Choctaws are not ready to play for the conference title, but they should start becoming a tough team to face.
Millsaps Majors
There is nowhere to go but up for Millsaps College after the team went 4-22 overall and 1-13 in conference play. The Majors hope first-year coach Jimmy Smith can turn the program around.
Smith hopes that his lone senior Sam Kohnke will provide leadership for this young team. Sophomore Buck Blanz will need to step up his game to give the Majors a one-two scoring punch.
Don't expect a young team with a new head coach to turn things around quickly. A team that lost 20-plus games last year isn't going to challenge for the Southern Athletic Association title this year. Smith will have to take some lumps this year with his young squad and hope that next season, his team has the experience to compete for the conference title. Things should look brighter this season but do not expect a major upswing just yet.
Belhaven Blazers
Belhaven basketball has struggled while it transitions from NAIA to Division III. The last winning season for the Blazers was the 2013-2014 season before the school moved to the new classification.
Last season, Belhaven finished with a 4-21 record overall and just 2-16 in conference play. The Blazers enter this season still unable to compete for the conference title and postseason. That makes recruiting players harder on fourth-year coach Jonathan Vines. His team was picked to finish sixth in the East Division of the American Southwest Conference.
Vines will lean on three guards who made the conference preseason watch list: senior Ron Davis, junior Brent Webber and sophomore Rick Hodum.
Record wise, Belhaven should make improvement this season but still isn't ready to compete with conference heavyweights. Things should get better for the Blazers when they become full Division III members.
Tougaloo Bulldogs
Tougaloo finished last season with a 10-16 overall record and 5-7 in conference play. The Bulldogs were in close games in nearly every loss. Being unable to get wins in close games is a reason why they finished near the bottom of the Gulf Coast Athletic Conference.
The conference picked a more experienced Tougaloo team to finish second in the conference this preseason. Anfernee Parker and Tonzell Handy were selected Preseason All-Conference, and will provide scoring and leadership.
Coaching will be a strength for Tougaloo with Thomas Billups back to guide the Bulldogs. This could be the year Tougaloo makes a deep postseason run.
For more coverage, check out jfpsports.com.
More stories by this author