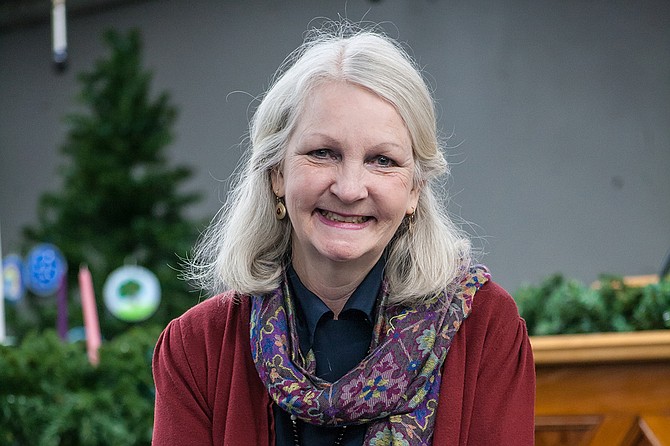 Ann Rogers-Brigham says that she believes church should be about inclusivity and sharing God's love with others.
In March, the Collins, Miss., native became the designated senior pastor at Safe Harbor Family Church, a United Church of Christ congregation in Flowood. She will serve at the church for a year. During that time, Safe Harbor will not search for another pastor, and Rogers-Brigham will not look for another ministry position. At the end of the year, which will be in spring 2018, she and the church will decide whether or not she will become the permanent pastor.
She says many of the church's members are also members of the LGBT community.
"Safe Harbor has a unique calling in this community and a service for the people here," she says.
While growing up, she says that she always felt called to serve in the church.
"I always felt attracted to church work in terms of my identity and my calling to be helping the world, making the world a better place through serving the church," she says.
She attended Mississippi College, where she met her husband, Bill Brigham. Rogers-Brigham graduated from MC in 1974 with a bachelor's degree in psychology and music. She then attended Southern Baptist Theological Seminary in Louisville, Ky., and received her Master of Divinity degree in 1979. She later received a Doctor of Ministry degree from Andover Newton Theological School in Newton, Mass., in 1993.
In 1979, she and Brigham were ordained at the First Baptist Church of Yazoo City. For the next 10 years, she worked in campus ministry in Bangkok, Thailand, as well as Miami, Waltham, Mass., and a host of other cities around the U.S.
Rogers-Brigham says the Southern Baptist Convention's ban on ordaining women in 1984, along with its conservative, fundamentalist worldview, spurred her to search of a more ecumenical denomination connecting Christians from all backgrounds while also working toward the causes of equality and social justice.
"I had never been a fundamentalist or conservative in terms of my world view or my view of theology or faith," she says. "I knew I needed to find a denomination that would fit who I was to be able to have some community."
She and her husband returned to the United States from Thailand in 1986, and three years later, she transferred her ministerial standing into the United Church of Christ. She then worked as a pastor at Union Congregational Church in Walpole, Mass., Montvale Church in Woburn, Mass., the Federated Church of Orleans in Orleans, Mass., Immanuel United Church of Christ in Plymouth, Wis., Congregational Church of Almaden Valley in San Jose, Calif., and the United Church of Hinesburg in Hinesburg, Vt. She also taught at Christian University of Thailand for a few months, returning in December 2016.
Rogers-Brigham has two children, William Paul Brigham and Ann Martha Brigham. Her husband passed away in 2008. She currently lives in Yazoo City.
For more information about Safe Harbor Family Church (1345 Flowood Drive, Flowood), visit safeharborfamilychurch.org.
More stories by this author
Support our reporting -- Follow the MFP.