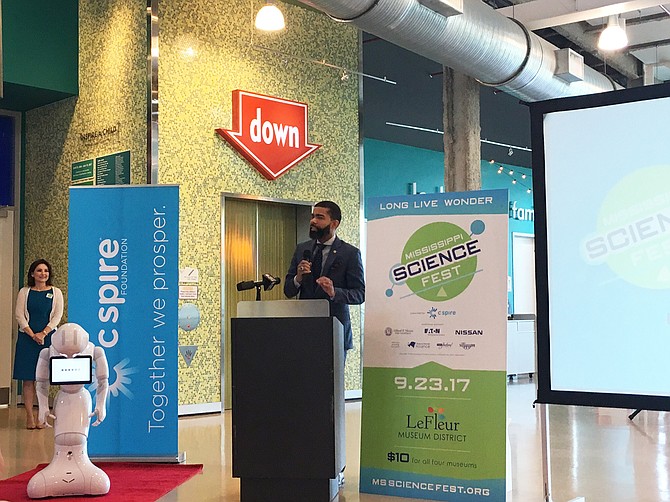 JACKSON — A white 4-foot-tall humanoid robot, Pepper, stood on a red carpet, talking and interacting with the children and adults who had gathered around her on Wednesday, Aug. 23, at the Mississippi Children's Museum. As luminaries such as Jackson Mayor Chowke A. Lumumba and Lt. Gov. Tate Reeves introduced the inaugural Mississippi Science Festival, Pepper looked toward the speaker, only occasionally nodding off because no one was interacting with her.
C Spire will demo Pepper, which SoftBank Robotics America created, during the science festival on Saturday, Sept. 23. The LeFleur Museum District—the Mississippi Children's Museum, Mississippi Agriculture & Forestry Museum, Mississippi Museum of Natural Science and the Mississippi Sports Hall of Fame & Museum—are collaborating on the festival, which will celebrate science, technology, engineering and math, or STEM.
Children's Museum President Susan Garrard said the LeFleur Museum District received a grant from the National Science Festival alliance for the event.
"What joins all four of our museums is curiosity and scientific discovery," Garrard said at the Wednesday press conference. "... Our future depends on developing a workforce that's ready by the 21st century with 21st-century skills."
Ag Museum and LeFleur Museum District President Aaron Rodgers said the festival is an opportunity for the community to come in to see the museums' exhibits, and learn about the state's history, contributions to science and its future.
"As educators, as historians, as scientists among these four museums, we find it incredibly important to try and inspire the next generation of innovators and engineers and visionaries to really help promote and push the state forward," he said.
Lumumba talked about the Alliance for Science and Technology Research in America's prediction of an 11-percent increase in STEM job opportunities between 2015 and 2024.
"We have to make certain that we encourage, inspire and engage our young people for all of the opportunities that are presented before them," he said at the press conference. "We are excited. We see Jackson as not only being a model for the state of Mississippi, but we look forward to Jackson being a model for the world. These types of opportunities, these types of collaborations are important to that aim."
The event begins Sept. 22 with Field Trip Friday. At 3 p.m. that day, the ag museum will host the Sandbox Live agriculture-technology hackathon, where teams of developers, designers, creatives, coders and mentors will try and solve agriculture-specific problems with technology. On Sept. 23 at 3 p.m., a panel of judges will host a pitch competition, and judges will select the winner based on the scores. For more information about the hackathon, visit sbljxn.live.
At 6 p.m. on Sept. 22, astronaut Fred Haise, who was the lunar module pilot on Apollo 13, will deliver a keynote address in the ag museum's Sparkman Auditorium. The doors for the keynote will open at 5:30 p.m., and the event will have a cash bar.
The science festival officially kicks off at 10 a.m. on Sept. 23. Admission is $10, and a ticket will get participants into all four museums. The LeFleur Museum District will have transportation available and also food trucks, STEM exhibits, hands-on activities and more.
"Discovery Night: Journey to Space" will be that night from 6 p.m. to 9 p.m. at the Mississippi Children's Museum (2145 Museum Blvd.). Tickets are $25 for adults and $10 for children. The event celebrates children's literature and also delves into STEM subjects and art, collectively known as STEAM, and will have food, drinks, music, a silent auction, rock wall, anti-gravity gyroscope, moon bounce and more. For more information, visit mschildrensmuseum.org.
For more information on the Mississippi Science Festival, visit mssciencefest.org.
More stories by this author
Support our reporting -- Follow the MFP.