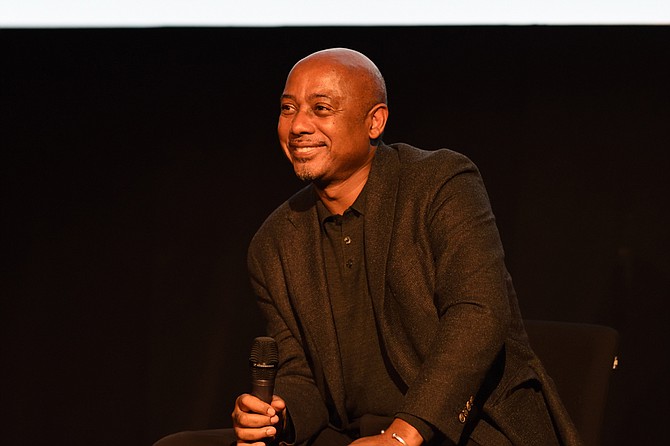 Haitian native Raoul Peck has amassed a variety of careers in his 63 years, including stints as the minister of culture for the Haitian government, a New York City taxi driver, a journalist and photographer, and now, an Oscar-nominated filmmaker.
Peck's film career really began in 1986 while he was living Berlin, Germany, and created the production company Velvet Film, which he used to make films primarily centered on social and political issues.
He first gained recognition for his 1990 film "Lumumba: La mort du prophete," a documentary on Patrice Lumumba, a prime minister of the Belgian Congo who was assassinated in 1961. Peck returned to the story a decade later with the 2000 biopic "Lumumba."
He is also known for films such as the 2013 documentary "Assistance mortelle" and the 2014 feature film "Murder in Pacot," which both focus on the aftermath of the 2010 earthquake in Haiti. Peck's most recent film is 2017's "Le jeune Karl Marx," a biopic on the early years of German philosopher Karl Marx, his wife Jenny von Westphalen, and his colleague Friedrich Engels.
Peck's now Oscar-nominated documentary film, "I Am Not Your Negro," premiered at the Toronto International Film Festival to critical acclaim in 2016 and is still playing in numerous film festivals across the world.
The documentary tells the story of African-American author and playwright James Baldwin, and is based on Baldwin's unfinished manuscript, "Remember This House." The film focuses on Baldwin's analysis of black life in America, along with examining the lives of civil-rights leaders Medgar Evers, Malcolm X and Martin Luther King Jr.
Peck told National Public Radio in an interview in February that Baldwin was a crucial influence on him.
"James Baldwin was one of the first authors ever where I felt not only at home, but he was speaking directly to me," Peck told NPR. "He gave me very early on the instruments I needed to understand and to even deconstruct the world around me."
"I Am Not Your Negro" utilizes archival footage, photographs, recent footage of racial unrest in locations such as Ferguson, Mo., and clips from other films to tell its story. Peck avoids the "talking heads" form of documentary storytelling and solely uses Baldwin's own words for the narration. When clips of Baldwin himself are not on screen, actor Samuel L. Jackson delivers the author's prose.
Since its premiere, "I Am Not Your Negro" has scored several prestigious awards, including Special Mention in the 2016 Black Film Critics Circle Awards, the Audience Choice Award in the 2016 Chicago International Film Festival, Best Documentary in the 2017 Dublin Film Critics Circle Awards and the Creative Recognition Award for Best Writing in the 2016 International Documentary Association, to name a few.
"I Am Not Your Negro" screens as part of the Crossroads Film Festival at 6:15 p.m. tonight, Friday, April 7, at the Malco Grandview Cinema (221 Grandview Blvd., Madison). The screening is free to attend, but space is limited. For more information, visit crossroadsfilmfestival.com.
More stories by this author
Support our reporting -- Follow the MFP.