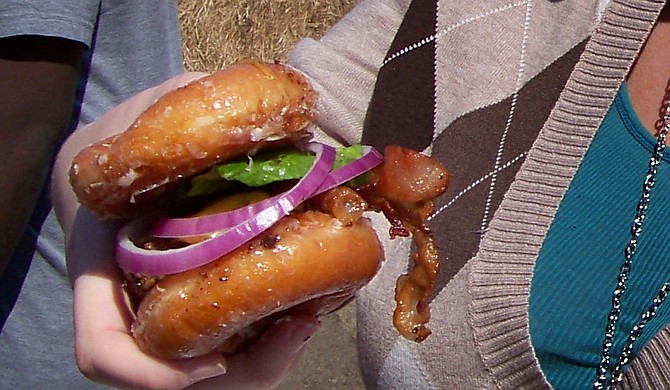 Krispy Kreme burger (Dean O Foods, Tampa, Fla.)
It's a burger between two glazed donuts, and it tastes better than it sounds. The donuts are, of course, sweet, but the burger's heaviness cuts through that, making for a really good salty and sweet combination. You can get with toppings such as cheese, bacon, lettuce, tomato and pickles.
WonderStick Ice Cream Cones (WonderStick, Shreveport, La.)
One of the worst parts of ice-cream cones is the dripping, right? WonderStick in Shreveport, La., has fixed that problem with their product of the same name. A WonderStick is a gluten-free J-shaped ice-cream cone that's filled with soft-serve ice cream, so you can hold it, eat the ice cream (and the cone, of course), and not worry about getting sticky or messy. The cone comes in original or cinnamon.
Porkychos and Deep-Fried Beer-Battered Burgers (Smokey Gals Catering, Byram)
Porkychos are nachos with ingredients such as barbecue pork and jalapenos, but these come with a surprise. Instead of tortilla or corn chips, Smokey Gals make these nachos with pork rinds. And they also do a deep-fried beer-batter burger that looks sort of like a Monte Cristo sandwich (you know, the fried sandwich with fruit preserves and powdered sugar).
Alligator on a Stick (The Whistle Stop Cafe, Byram)
If you've never had alligator, the Mississippi State Fair might be the perfect time to try it. The Whistle Stop's is fried and put on a stick with onions. Hence, alligator on a stick. Some say it tastes like chicken.
Mississippi Vendors
Fairs tend to attract people from all over the nation, and many of them have interesting foods to try. But sometimes, there's nothing better than eating local or at least at vendors from Mississippi, so here are some of the local options.
Malone's Candy Company (Byram)
Thing to get: taffy
Patton Farms (Hermanville)
Thing to get: roasted corn
Penn's Fish House (multiple locations)
Thing to get: funnel-cake fries and chicken on a stick
Takum Outum (Pearl):
Thing to get: shish-k-bobs
Ed's Lemonade (Raymond)
Thing to get: lemonade
RWD Concessions
Thing to get: non-alcoholic daiquiris
Other Mississippi Vendors
A&W Concessions
Back Yard Burger
Costa's Place
Colonial Enterprises
Mississippi Cattlemen's Association
Pig Out BBQ
This is It
For more information, visit mdac.ms.gov.
More stories by this author
Support our reporting -- Follow the MFP.