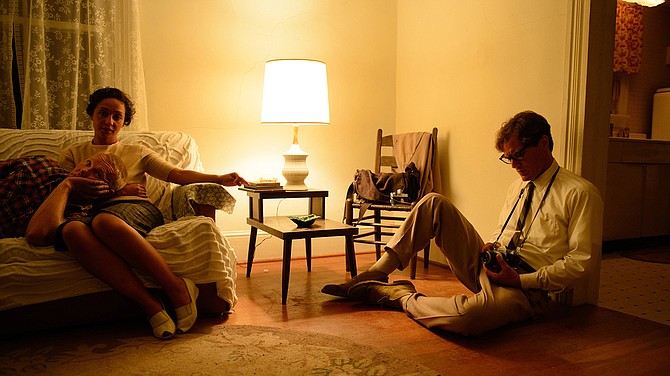 Director Jeff Nichols is no stranger to the nuances of the South.
"Where you're from dictates so much about who you are," he told the Jackson Free Press about how growing up in Arkansas influences his aesthetic as a filmmaker. "There's just a different rhythm and cadence to things in the South."
You can feel that specifically quiet, humble southern flavor in his latest work, "Loving." The Virginia-based film tells the story of Richard and Mildred Loving, whose battle against discrimination and racism led to the U.S. Supreme Court decision that invalidated laws prohibiting interracial marriage.
The story follows the interracial couple over nine years. In 1958, shortly after the couple discovered Mildred is pregnant, they got married and were quickly arrested for breaking the state's anti-miscegenation law. Not knowing what else to do, the Lovings pled guilty to the charges, forgoing jail time under the condition that they leave the state for at least 25 years. The couple moved to the safer and more tolerant Washington, D.C., until the American Civil Liberties Union took on their case, giving them the courage to tentatively move back to Virginia.
Eventually, in 1967, the battle reached the U.S. Supreme Court, which struck down the Virginia law. Decades later, the high court cited that ruling when it legalized same-sex marriage in 2015.
While the film's themes are undeniably resonant with issues prevalent in today's culture, Nichols says the movie does not have a specific agenda.
"We were just trying to tell a love story," he said, "and in doing so, what you're going to do, hopefully, is connect to people. Maybe they connect to the (concept) and say, 'Hey, these are two people that at some point in our American history were told they couldn't love each other, and maybe, gosh, that has parallels to something else that's going today.'"
Even though interracial couples do not have to fight for the right to marry whom they love anymore, African Americans in Mississippi are not in the clear when it comes to civil-rights battles, even more than 40 years post-Loving v. Virginia. Issues like voter disenfranchisement are still alive and well, all while the Confederate battle flag, a symbol of slavery, flies over the Mississippi state capitol.
It is easy to imagine issues such as voting rights and the state flag going under the radar for people not directly affected by them in a similar way to interracial marriage decades ago. Joel Edgerton, who plays Richard Loving in the film, told the Jackson Free Press that the reason he thinks the Lovings are not as known as other civil-rights figures is because news stories are often about "a flash of violence, or a tipping point," he said.
"This was a couple who were enduring nine years of constant 'can't do this, can't do that,'" Edgerton said, "but there was no real news event. Until they got the helping hand that took them to the Supreme Court."
This subtlety and lack of bombast is also part of what makes "Loving" such a powerful film. The lives of Richard and Mildred are not overly dramatized. Instead, the film tells this pivotal story of the Civil Rights Movement through the intense psychological pain that the Lovings experience. The lead actors, Joel Edgerton and Ruth Negga, beautifully convey the fear and degradation that interracial couples went through at the time. They do not accomplish this through Aaron Sorkin-esque speechmaking or lecturing, but by the visceral heartbreak on their faces and in their voices through so much of the film. Nichols says he purposely emphasized this aspect of the film, along with the apolitical nature of the couple.
"What they were doing wasn't an act of defiance, or a symbol of that movement," he said.
"They just loved each other, and were trying to stay married. ... Their existence is what was so offensive to certain people and the government. Just the fact that they existed was the problem."
Being told you cause offense by just existing is unfortunately a pain many Mississippians still experience today. LGBT people potentially face legalized discrimination on a daily basis in our state, simply for existing. It is currently legal for private businesses to not serve LGBT people if they deem not to. Title VII does not recognize sexual orientation and gender identity as categories for discrimination, and only as of March have same-sex couples been allowed to apply for adoption in the state. Most recently, LGBT Mississippians were subjected to House Bill 1523, which Gov. Phil Bryant signed into law. It would have allowed clerks to recuse themselves from issuing marriage licenses and broadened the scope of who can deny service to government agencies, had a federal judge not struck it down.
The governor has appealed the district court's ruling, and the case is currently in the 5th U.S. Circuit Court of Appeals.
The Lovings' fight for the equality of their marriage bears strong similarities to the recent fight by same-sex couples for equality in the same institution, and the continuing fight against anti-LGBT discrimination laws. Edgerton brought this up when discussing the importance of the film with today's audiences.
"To reach forward, to what's going on now, Loving v. Virginia was cited in the changing of the rights for same-sex couples in this country," he says. "Even now (Richard and Mildred) are having an effect over the freedoms of other people."
Nichols, who grew up in the South, understands both sides of the issues. "There are good people that just carry around bad views," he said. But then he reiterated Edgerton's point by quoting the Lovings' lawyer, Bernie Cohen, in his oral arguments at the Supreme Court.
"What is the danger of inter-racial marriage to the state of Virginia? What is the state of danger to the people of Virginia of interracial marriage?" Cohen said.
"There are people at the center of this story, and there are people at the center of this marriage equality debate, people that matter," Nichols said.
Edgerton articulated the daily struggle of both black and LGBT Mississippians. "It's such a sad thing when you learn to be silent, or you're forced to be silent," he said. "One of the great freedoms of this country is the freedom of speech, the freedom to be vocal and to be heard. And to think that right is somewhat kicked out of you, and you eventually lay down and shut up, and you learn to be quiet, and that's a shame. Because none of us should ever feel that way."
"Loving" is a brilliant reminder to people whose rights are still being stepped on, that we should never learn to be silent.
Where to See "Loving"
The film premiered in Atlanta, Ga., on Nov. 11 and opens in Los Angeles and New York on Friday, Nov. 18. For updated information on local release dates, visit focusfeatures.com.
UPDATE: "Loving" comes to Jackson on Wednesday, Nov. 23.
More stories by this author
Support our reporting -- Become a JFP VIP.
The news business has changed dramatically in the past year, and we need your help more than ever to keep bringing you important stories about Jackson and the Metro. Become a JFP VIP with an annual membership or you can Sign up as a monthly supporter. Thanks for anything you can do to empower our journalism!