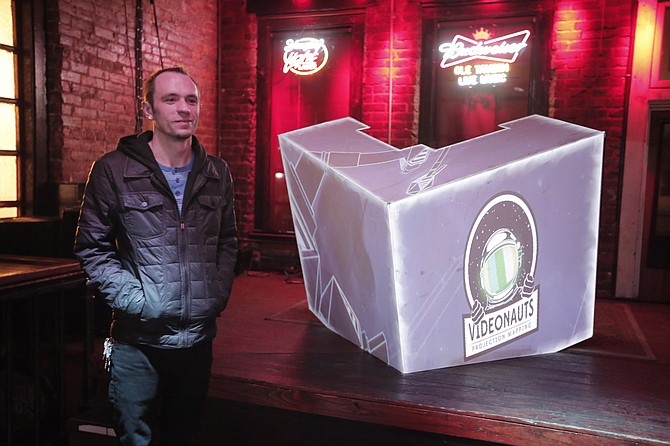 From projecting images onto shoes, concert stages and any imaginable surface, video-projection mapping is a technology that, years ago, you would only see in movies set in the future. Steven Pergande is the founder and CEO of Videonauts, a video projection-mapping company that transforms concert venue stages into 3-D psychedelic light shows.
Jacksonians most likely know Pergande by his stage name, Gandhi, which caught on like wildfire when his manager at Guitar Center, Chris Rawls, started introducing him by the moniker about four years ago.
"People began to catch on to the similarities in my last name and what my manager called me, and it just stuck," Pergande says.
Originally from Orlando, Fla., Pergande has moved back and forth from Mississippi since he was 12 years old. He has made Jackson his home for the last eight years, and stage-projection mapping has brought him into the local electronic-dance music scene. He also works at Guitar Center in Jackson, where he often interacts with deejays, church audio engineers and artists.
Pergande says it all started when he helped run a friend's studio that did live shows. The studio owner saw projection mapping at a nightclub in Florida and told Pergande and Joey Raines, a mutual friend who was a graphic designer at the time, about the effect.
"Projection mapping is an art form," Pergande says. "It uses everyday video projectors, but instead of projecting onto a flat surface, the light from the projector is mapped onto any type of surface or object."
With projection mapping, any object can turn into a creative 3-D video display, he says, and the technology can be applied to whatever the user imagines.
"You can project onto anything: shoes in retail stores, theater performances, decorations, any sort of advertising and even on wedding cakes," Pergande says.
He and Raines started playing around with video mapping as a side project. The duo wanted to get better at their hobby and started sharing ideas and tips. Over time, Raines became busy with other work projects, but Pergande continued developing and learning more about the art form.
One summer in 2014, he showed a local deejay, DJ Rozz, a video to give him an example of what projection mapping can do. Rozz wanted to know if he would be interested in creating a projection show for his next performance. He agreed.
Over time, word spread and more people wanted him to transform their concert-venue stages into live works of art, Pergande says. He realized that it was time to come up with a name for what was quickly turning from a hobby into business.
"I wanted a name that is spacey, and when I ran Videonauts by Raines, it hit home," Pergande says.
Some promoters Pergande works with will ask for specific themed shows, so he often imposes specific pictures and videos into his projections. Others let him take the reigns and prefer to enjoy his style.
Pergande uses a variety of software, including Motion 5, Adobe After Effects and Resolume, when creating his sets. The visuals he creates dance to the music, and he also incorporates sound-active visuals, which help certain musical cues to leap out, such as a heart monitor projected onto a stage where the line spikes with every beat.
The 2015 Jackson State University Homecoming Gospel concert, which featured Dathan Thigpen, the winner of BET "Sunday's Best," is the largest event that he has worked on thus far.
Pergande has mostly worked in Jackson since starting Videonauts, but he says that he is looking forward to following his business wherever it takes him.
For more information, find Videonauts on Facebook.
More like this story
More stories by this author