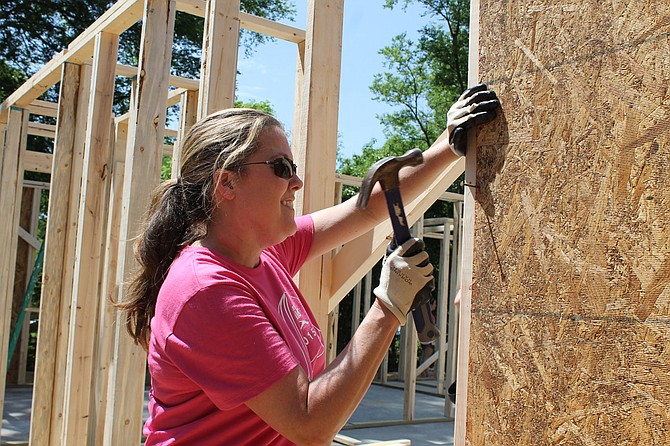 In a previous version of this story, we referred to Simmons as the chairperson of women build. She is actually a co-chairperson. We apologize for the error.
Kathryn Merrell Simmons, vice president in wealth management for Trustmark Bank in Jackson, is the co-chairperson of Habitat for Humanity's 19th Women Build in Jackson, which will see woman volunteers construct a new home for mother of two Natasha Thomas on Greenview Drive.


Simmons, 51, was born in Jackson and currently lives in Madison. She attended Jackson Preparatory School before enrolling at the University of Mississippi, where she received a bachelor degree in banking and finance in 1986. She later received a master's degree in business administration from University of Mississippi in 1989.

After earning her bachelor's degree, Simmons decided to enter a management-training course with Trustmark, having worked as an intern there the summer before. She became vice president in wealth management for Trustmark in 2011. Wealth management, also referred to as the personal trust department, involves providing support and money maintenance for individuals named as beneficiaries in a will. Simmons' main duties are transferring wealth for family businesses and helping customers manage their estate.


Simmons first became involved with Habitat for Humanity in the late 1990s and has worked with Habitat off and on ever since. She became co-chair of the organization's Women Build steering committee last year and became a co-chairperson this year.


"I volunteered to work with Women Build because I have an empty nest now and wanted to redesign my time," Simmons said. "Habitat is a direct way to get out there and work with hammers to build something for someone else, which is just so rewarding."

In addition to co-chairing the current Women Build, which Habitat has been raising money for since January 2016, Simmons is also preparing a special project that Women Build plans to host at Providence Hill Farm in Madison in 2017. Details for the event are still in the works, but Simmons said she hopes to have skeet-shooting, a sunset dinner, and auctions for art and trips.

"I urge everyone to support Women Build and Habitat for Humanity in their missions," Simmons said. "It gives people a place to live and call their own, which is something everyone deserves. This is the kind of event that happens in our community that benefits everyone in it."

Simmons has three adult sons, Wood, Daniel and Luke Simmons.
Support our reporting -- Follow the MFP.