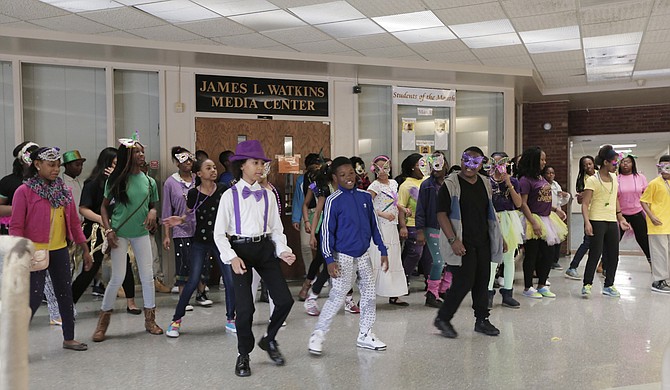 JACKSON — Decked out in feathers and beads and decorative umbrellas, the sixth-grade Northwest Jackson IB Middle School students hosted a lively parade celebrating the historical and cultural significance of Mardi Gras in the front hallway of the school to an enthusiastic audience of their peers.
Their teacher Barbara Williams used to teach French, but now she leads an impressive group of Open Doors, or intellectually gifted class, students with an aura of authority characterized by smooth humor and style. So when she told the crowd of students gathered in the school's front hallway today to let the good times roll in seamless French, both students and faculty couldn't resist having a good time.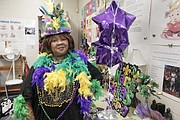 "This is a culmination of a learning process where students had the opportunity to explore and showcase their learning about religion and culture and language, a celebration that is about more than just having a party," Northwest principal Denese Sutton said.
The parade itself was more than a party for the students. Gifted programs in the Mississippi require students to participate in an interdisciplinary approach to learning about particular subjects in their unit. Sometimes it's the stock market, or Greek or Egyptian mythology. In this case, it was Mardi Gras.
Before the parade, Williams explained the religious history of Mardi Gras celebrations, and the importance of the cultural relics on display during parades.
"What we did was fulfill one of the objectives of (the) gifted (program)," Williams said. "We're doing the college-ready standard, the historical work, cultural work, the cultural environment, how Mardi Gras got started—all the elements of Mardi Gras. These are some of the relics, because I felt it was important to know why when you go to New Orleans you see people wearing masks and costumes."
Not only gifted students at Northwest Jackson IB Middle School get to participate in project-based learning, however. The IB, or international baccalaureate, curriculum challenges students' creativity and individual learning identity as well as their emotional intelligence.
"It teaches the whole student," Sutton said. "It's not just about a child and where they come from, but a child and their sense of place in the world. It connects them to global aspects of their existence, so they know that what's happening on the other side of the world—they're directly connected to it."
"The IB program is a district initiative, and we're very proud in JPS that we have all divisions represented in the IB programs," Sutton said. "We have primary-years (elementary) programs, and Northwest is one of two schools to have the middle years programs, and (Jim Hill) high school has the last two years for the diploma program. They were underwritten for advanced academic students who were performing at high standards at or above grade level."
Jackson Public Schools district already uses various programs in order to diversify the academic experience of its students from the elementary to high-school levels. JPS scholars enjoy a smorgasbord of academic programs from which to choose: in addition to gifted and IB programs, students can also attend Academic and Performing Arts Complexes, or APAC schools; Academies of Jackson, a program inaugurated in 2014 that addresses the long-term professional interests of JPS high school students; Arts Access classes, JROTC programs and Montessori schools.
Sierra Mannie is an education reporting fellow for the Jackson Free Press and The Hechinger Report. Email her at [email protected] For education coverage visit jfp.ms/education.
Support our reporting -- Follow the MFP.