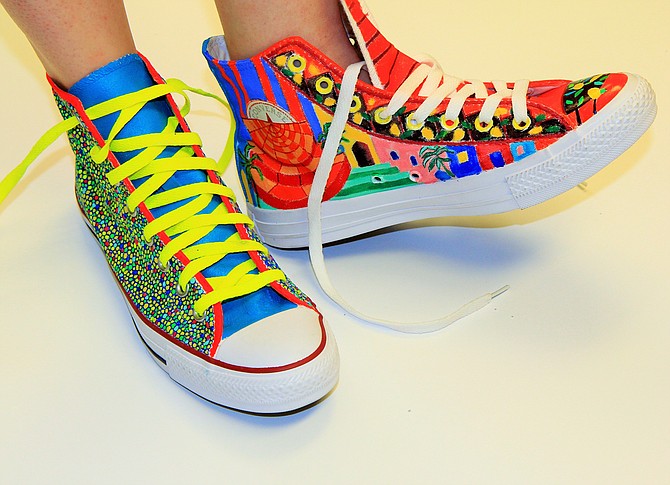 Two pairs of Converse Chuck Taylor shoes sit on Mississippi Museum of Art Director of Marketing and Communications Julian Rankin's desk.
One pair of sneakers, which New York City-based artist Jessica Maffia designed, has yellow, light blue, green and red dots with navy blue borders. The outer walls are outlined in neon orange, the tongue is blue-green, and the laces are neon yellow.
On the second pair, Vicksburg artist Martha Ferris, who is Maffia's grandmother, painted a tropical cityscape with different-colored Spanish villas on her sneaker canvas. On the outer wall of the right sneaker, palm trees line the sidewalk in front of the villas, and dark and light brown-checkered steps lead to the front door of a yellow house.
While not altogether unfamiliar, Chuck Taylors are a unique medium to work with for many artists, despite being made from canvas. For Ferris, the sneakers' material actually presented an interesting challenge.
"Usually, I really don't work on canvas," she says. "I work on board, so it was quite a difference. It was very malleable and little, and it had its challenges."
At first, Ferris thought she'd be working in markers but ended up using acrylic paint, which she says worked well for the sneakers' surface. She sketched out her pattern on the sneakers and went over it with paint and markers.
In contrast, Maffia started immediately with outlining circles with a pen to create her design.
Ferris and Maffia are two of the artists who will be featured in the latest installation of MMA's monthly pop-up exhibit series, Third Thursday, which takes place Thursday, March 17. Rankin say that the sneakers at the event, titled "Sneaker Madness," will represent a wide array of artists, from long-established painters such as Ferris and William Dunlap to some younger artists such as Adrienne Domnick.
"We try to keep pushing the envelope, and we always want to make each (Third Thursday) something different," he says. "We like to say, 'It's the same time every month, (and) never the same thing twice,' so that means we have to keep thinking of new slices of visual art to include and feature."
Rankin says he and Garrad Lee, who is a local deejay and co-owner of local record labels Homework Town and Elegant Trainwreck, had been talking for a while about doing a sneaker-centric event.
"The initial idea was just to feature sneakers as artworks, but not necessarily this way—just finished Jordans and things that already exist, just to showcase the art of that," Rankin says.
It's not new to see shoes as art, he says, pointing to examples such as the Brooklyn Museum's 2015 exhibit, "The Rise of Sneaker Culture," and also artist-designed sneaker lines. Converse itself has a line of shoes created in conjunction with the Andy Warhol Foundation, based on the late artist's works. However, Rankin says, it's not as common to encounter that variety of art in Mississippi.
"We thought it would be a fun way to really embrace this canvas," he says.
Sneaker collections from Conkrete Kicks owner Keith Richardson, SneakerBoxx Studios owner Terrel Winters and local collector Iric Irving will contextualize the local-artist-designed Chuck Taylors. Since the event falls around NCAA March Madness, the museum will also project the second round of the tournament, and for the first Screen on the Green of the year, it will show the film "Weird Science." The museum will also host another installment of the High Note Jam concert series with a hip-hop show with performances from SilaS, Antwone Perkins, DJ Young Venom, DOLO and Ray Kincaid. Chef Nick Wallace will have a special pop-up dinner at The Palette Cafe from Thursday to Saturday. The theme for March is "Go Green" in celebration of St. Patrick's Day. Each dish will showcase products from Mississippi purveyors and feature an element of greenery from local farmers. Some of them include Guinness barbecue chicken wings and Harp-battered fish and chips. "Sneaker Madness" will also have a cash bar.
"Sneaker Madness" is from 5:30 to 10 p.m., Thursday, March 17, at the Mississippi Museum of Art (380 S. Lamar St., 601-960-1515). It is free to the public. For more information, visit msmuseumart.org.
More like this story
More stories by this author
Like independent media outlets around the world, the Jackson Free Press works hard to produce important content on a limited budget. We'd love your help! Become a JFP VIP member today and/or donate to our journalism fund. Thanks for considering a JFP VIP membership or one-time support.