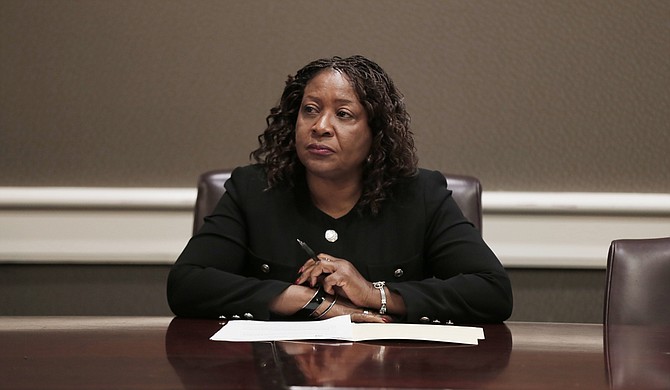 When Flint, Mich., Mayor Karen Weaver declared a state of emergency in her city due to the increasingly desolate water crisis, she spoke about the children first.
Weaver's Dec. 14, 2015, declaration indicates that increased blood-lead levels in children are irreversible and detrimental to a child's IQ, resulting in learning disabilities, the need for special education and mental-health services, as well as more young people in the juvenile-justice system.
Concerns about lead poisoning in Jackson increased in recent weeks since the Mississippi Department of Health notified the city in January that it found lead in some of the city's households last summer.
The National Center for Health Housing in conjunction with the state Department of Health also reported that approximately 208 Mississippi children are newly diagnosed with lead poisoning each year, with lead exposure attributed to the presence of lead-based paint in older homes and drinking lead-tainted water.
The report also suggests that this number might not reveal the true number of children actually affected by lead poisoning, as only Medicaid-eligible children are screened, and of those, only 17 percent of them.
This lead, often due to corrosive pipes, can be devastating to children, their families and the community as a whole.
A recent National Center for Healthy Housing study reported that "there is no safe level of lead exposure for children" and that "lead affects intelligence even at very low levels."
Jackson Schools to Test Water for Lead, Elementary First
Researchers estimate that it would cost nearly $40,000 more to educate a child with lead poisoning. In addition to lowered IQ levels, lead-poisoned children are more than likely to suffer from ADHD, antisocial disorder, criminal activity and drug abuse—all of which have the ability to severely negatively impact a child's school performance.
The report also speaks to lead's impact on test scores—the higher the child's blood-lead level, the lower the child's performance on standardized tests. Lead poisoning thus, in turn, leads to widened achievement gaps and generational inequities, as health and educational achievement are closely related, researchers found. That means that unhealthy children would ultimately grow up to become unhealthy parents of likely unhealthy children.
'Urgent Investments' Needed
Hinds County is one of 16 in the state that the Mississippi Department of Health designates a high-risk area for lead poisoning; even Democratic presidential candidate Hillary Clinton has highlighted Jackson's elevated levels of lead in drinking water in a statement last month:
"I'm heartened that Jackson city officials are taking the right steps to fix the problem, including repeated testing and openness with the results, so families can stay informed. ... And we as a nation must make urgent investments to modernize our utilities and infrastructure, to keep families and communities safe and healthy."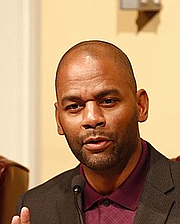 Councilman De'Keither wants to "ring the bell" about lead in Jackson pipes.
Jackson Public Schools will test the water at area schools, beginning with the elementary schools and encourage parents to send water with their children if they are concerned about possible lead in the water.
"We are going to follow the recommendation from the Mississippi State Department of Health and the city officials so we are particularly interested in the elementary schools," Jackson Public Schools Board President Beneta Burt said at a press conference on Feb. 25.
"So yes, we will determine which schools need that testing and use every precaution we can to remedy the situation," she added.
Burt echoed the statements Mayor Tony Yarber made in the last couple of weeks concerning the city's water.
"We understand that the mayor and city officials have said the city water has not been deemed unsafe," Burt said. "There have been no reports of unsafe water in the Jackson Public Schools district, nor has there been a disruption in the water supply or usage of the Jackson public schools."
'It Is Our Responsibility'
Although the schools will not turn off the water, they are allowing parents to send water with their children.
"We clearly want the kids to be able to have water during the course of the day. Parents may send water with their children," Burt said.
"And for children who come to school whose parents may not send water with them, then we will make sure we will try to secure water for those that may not bring water with them."
Burt did not explicitly state that the schools would provide bottled water to children.
"I don't know what the city will do, but we understand that it is our responsibility to make sure that our students have safe water," Burt said.
"We will do whatever is required to make sure that it happens."
Burt said that the school-board administration is currently determining which schools to test first, beginning with the elementary schools.
"What we will try to do is first identify those schools," Burt said. "And we are specifically looking at the elementary schools because that is what the Department of Health identified first. So we want to look at those elementary schools and try and test them to see if there are high levels of lead in those schools. Which we will then move to the next step based on the results of those tests."
"We want the parents to know that their children's safety is our primary concern. Regardless of what they may hear, we are concerned about their children, and we want to make sure that they are safe everyday."
Burt said that the state department of health would be performing the tests but did not know how long the tests would take.
"I understand that it doesn't take that long."
Read more about the lead issue at jfp.ms/jxnwater. Email city reporter Tim Summers Jr. at [email protected] and education fellow Sierra Mannie at [email protected]sonfreepress.com.
Lead: What to Do
State-approved Micro-Methods Laboratories Inc. and the Mississippi Department of Health's Public Health Laboratory provide testing to detect lead in water. If the amount of lead in the water exceeds 15 parts per billion, or ppb, the City of Jackson suggests the following methods to prevent exposure.
Only use cold water, as lead may dissolve more easily in hot water; boiling water won't reduce lead levels.
Flush your system by letting cold water run for one to two minutes before using it for drinking or to cook.
Collect this "first flush" water and use it to wash dishes or water plants.
More tips on how to identify the source of lead and have professionals identify and replace potentially dangerous items in your home can be read here: jfp.ms/jxnwater.
Support our reporting -- Follow the MFP.