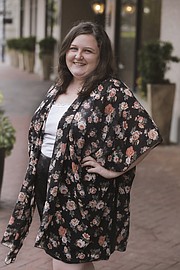 Why does it always seem like the only times many of us say thanks for what we have is either when we or someone close to us has gotten out of (or is in) a terrible situation, or it's Thanksgiving and giving thanks is just what you do?
I'll admit that during the holiday, I don't really do much thanking. It's not a political statement or anything; I just tend to feel like my gratefulness wouldn't be genuine because it's just part of 
the tradition.
But a few things have made me realize that it's important to give thanks every day—not just one day of the year.
My dad and stepmom were recently in a motorcycle accident. I won't get into their injuries, but just know they're OK. It was a jarring experience to get that phone call, and an even worse one when I saw my dad the next weekend. I've never seen him so helpless. It hurt me so deeply to see a strong man who never, ever stopped moving in his life have to have help with almost everything, even something as simple as texting.
We talk about once a week now, and he tells me about how he's recovering, what doctors he has seen and what they're saying. Recently, he said to me that after he recovers, he'll try his best to help those who need it. He's always tried to do that anyway, he said, but now he really gets it.
After that accident, I realized how grateful I should be to have a body that works the way it's supposed to. I can run, jump, play, lift really heavy weights, play tennis or swim. It's not a big ordeal. I just get up and go. So the next time I went to my early-morning workout class at the gym, I ran a couple of laps just for him, just because I have working (and dare I say fine) legs.
The weekend after seeing my dad, I sprained my ankle pretty badly, and suddenly, I actually did want to run. During my own recovery period, I kept thinking that I couldn't wait to finally be able to run again. Or at least swim laps. I'll probably always hate running, but at the very least, those experiences made me grateful that I can do those things. And I'm grateful to finally be able to go up and down stairs again without having to be so careful. My injury pales in comparison to his, of course. I recovered in about two weeks, while he has to spend the next eight months healing.
A couple of days ago, I was reminded again how lucky I am, how lucky all of us are, to just be alive. On the early morning of June 12, Omar Mateen opened fire in Pulse nightclub in Orlando, killing at least 50 people and injuring 53 more.
Mateen took 30 people hostage, and it took police three hours to finally take him down. I saw the news alert around 7 a.m., when I was half asleep. I glanced at it, put my phone down and went back to sleep. So I was sleeping peacefully while people fought for their lives.
It's times like these when we should all pull together and protect one another, no matter where we are in our lives. But on my Facebook feed, I saw a lot of people either focusing on statements that the shooter allegedly pledged his allegiance to ISIS or posting Donald Trump's ridiculous speech about the incident, in which he attacked President Obama for saying nothing about "radical Islam" and slammed Hillary Clinton for saying that she wants to admit 64,000 Syrian refugees into the U.S.
"In his remarks today, President Obama disgracefully refused to even say the words 'radical Islam,'" Trump said. "For that reason alone, he should step down. If Hillary Clinton, after this attack, still cannot say the two words 'radical Islam,' she should get out of this race for the presidency. ... If we do not get tough and smart real fast, we are not going to have a country anymore because our leaders are weak."
He said his condolences to the victims in the beginning, but then he just used the cameras pointed toward him to attack and divide.
But Obama spoke on a platform of unity. "What is clear is that (Mateen) was a person filled with hatred," Obama said during his speech. "... This is a sobering reminder that attacks on any American, regardless of race, ethnicity, religion or sexual orientation, is an attack on all of us and on the fundamental values of equality and dignity that define us as a country. No act of hate or terror will ever change who we are or the values that make us Americans."
Though I don't know who to attribute it to, I've always liked the quote, "When you have more than you need, build a longer table—not a higher fence." As a country, we do have more than we need. Where else could you get a grilled-cheese sandwich with cheese sticks in the middle, which is, while truly delicious, also not really that necessary?
In a way, building a longer table is part of the rhetoric of southern culture, so why not do it now? We love to tell stories, right? What better way to do that than to build a longer table so more people can sit at it and listen and talk? It's all about inclusion, not exclusion. I think including others is part of a grateful mindset. You're grateful for what you have, so why not include others in that? Include everyone, no matter his or her or their skin color, gender, religious background or sexual orientation. We need to surround the victims of the Pulse shooting, their friends and families, and give them our support, love and help. We need to surround the injured and the sick, those who are hurting ... and those whose liberties are violated day in and day out.
I don't have family or friends in Orlando. I don't know the victims. But I don't have to know them to feel devastated at the senseless loss of so many lives. My heart goes out to those people, to the city's LGBT community, to the LGBT communities around the world and to our LGBT friends right here in Mississippi.
I stand with you.
Assistant Editor Amber Helsel likes music, art, food and food-related art. She is a member of both the Horde and the Alliance, depending on how she feels that day. Send her story ideas at [email protected]. To see more LGBT coverage, visit jfp.ms/lgbt.
More stories by this author
Support our reporting -- Follow the MFP.