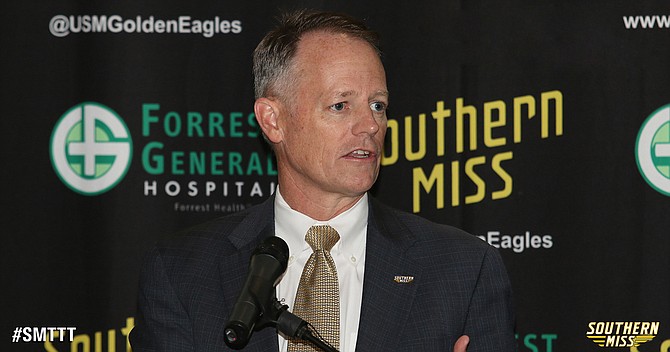 You'll have to forgive University of Southern Mississippi football fans if they act like it is 2011 again this week. They could be experiencing a severe bout of deja vu after the news broke in the middle of the NFL's AFC Championship Game that the Golden Eagles' head coach, Todd Monken, was leaving the school.
The situation is eerily familiar to the same spot USM was in at the end of the 2011 season. In that instance, the Golden Eagles had a breakthrough campaign, won their division and went on the play in the Conference USA title game.
This season, USM did the same thing, though the difference is that the 2011 team won the C-USA title game and their bowl game, whereas this team lost both.
After the 2011 season, head coach Larry Fedora left the program to take the head coaching job at the University of North Carolina. Monken has now left the program to become the offensive coordinator and wide-receivers coach for the Tampa Bay Buccaneers in the NFL.
People should have no hard feelings toward Monken for leaving Southern Miss. Schools don't have much loyalty to coaches, and in turn, coaches don't have much loyalty to schools. There is no telling who turned on who first, but that is how the system is now.
Similarly, no one can fault a coach for trying to reach the top of his or her profession, and for Monken, doing a great job in Tampa Bay could give him the chance to become a NFL head coach down the line.
Besides, Monken is gone, and there is no need in crying over a lost coach. It is time for USM to move on and move on quickly, with high-school players making their college choices on National Signing Day, Wednesday, Feb. 3.
What Southern Miss has to avoid is a repeat of its hire after Fedora left. That hire, Ellis Johnson, led the program to a winless record in the 2012 season.
Monken struggled for two seasons before finally righting the ship this season. USM can't afford to get this hire wrong and take 10 steps back after taking five steps forward.
The formula for success has been hiring Oklahoma State University offensive coordinators. Both Fedora and Monken held that position before they were hired as the head coach at Southern Miss.
Currently, Mike Yurcich is the offensive coordinator at Oklahoma State. It might not be wise to go to the well for a third time, but if something works, it is at least worth considering again.
Whomever USM selects to be its newest head coach, the candidate needs to be a young, hungry assistant coach at the moment. Preferably, the hire should be an offensive coordinator who knows the spread offense.
Southern Miss Director of Athletics Bill McGillis is about to make the biggest hire since he took his position in 2013. This selection is ultimately going to be much bigger than the hiring of Doc Sadler as head basketball coach in 2014, and it could end up costing McGillis his job if he gets it wrong. Otherwise, if this hire goes south, the USM football program could be set back another four years or more.
Southern Miss has to get this one right.
Read more sports coverage at jfp.ms/sports.
SPORTS FACT OF THE WEEK
by Amber Helsel
Former Seattle Mariners center fielder Ken Griffey Jr. had a candy bar named after him—the Ken Griffey Junior Milk Chocolate Bar—even though he was allergic to it.
Update: USM has hired former Alcorn State head coach Jay Hopson as its new head coach.
More stories by this author
Support our reporting -- Follow the MFP.